Videos: NPP Primaries Marred By Blows, Slaps And Confusion At Different Polling Stations
The ruling New Patriotic Party (NPP) has gone to the polls today to elect parliamentary candidates for this year's general election.
Voting is still underway at some polling but has also ended at some polling stations with winners being announced.
Join our Telegram Group to get notified when LATEST NEWS IN GHANA & JOBS IN GHANA are posted. Click Here to Join EnewsGhana Website Telegram Group
But as predicted by many experienced figures when it comes to elections in Ghana, the elections have been characterized by a lot of instances of misunderstandings and physical fights.
Social media, particularly Twitter and Youtube are fraught with videos of delegates and aspirants settling their differences with fights.
The first to record a fight scene was Bantama constituency. It ensued between delegates of Francis Asenso Boakye and the incumbent MP, Honourable Daniel Okyem Aboagye.
Reports coming in points out that, Francis Asenso Aboakye, who is also a deputy Chief of Staff has defeated Hon. Daniel Okyem Aboagye to represent the constituency.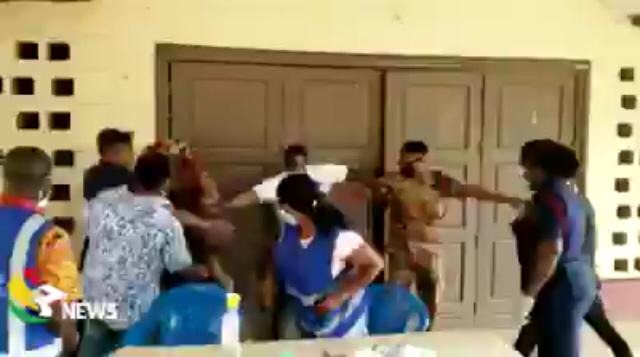 Among other constituencies that have so far witnessed fights include;
la dadekotopon Constituency, Ngleshie-Amanfro constituency etc
See some of the videos below;
#theelectioneye #nppprimaries
Current situation at Ngleshie-Amanfro #Angeltv #ABN pic.twitter.com/ev1jF8cEbl

— AngeltvGhana (@Angeltv_Gh) June 20, 2020
Fight breaks out at Bantama Constituency. #NPPPrimaries #ElectionCommandCenter pic.twitter.com/IhPzZNb118

— SelormAmenyah (@iamdrsupremo) June 20, 2020
Akuffo-Addo's Slayqueen will come and tell us this is the most peaceful elections ever.#NPPPrimaries pic.twitter.com/HAHyrti44U

— Lion (@kinglino32) June 20, 2020
Confusion rocks Bantama as incumbent threatens court suit #GMABCElectionCamp #NPPDecides #NPPPrimaries pic.twitter.com/D4qdviXh3w

— Ayishatu Zakaria Ali (@ayishatu_) June 20, 2020
Confusion breaks over vote buying allegations @ la dadekotopon Constituency. #NPPPrimaries #ElectionCommandCenter pic.twitter.com/GlifVLjZvL

— SelormAmenyah (@iamdrsupremo) June 20, 2020