Single Nurse Celebrates After Buying Her Own House Without The Help Of Any Sugar Daddy, See Photos
A popular nurse on social media, who is only known as Chidinma, has celebrated her first achievement in 2021 — buying her own house.
It is a common truth that most African ladies buy their properties with the help of their boyfriends, or Sugar daddies – in most cases.
However, Chidinma, who is a nurse in the United States of America has revealed she bought her first house out of her own sweat.
Sharing photos of her new house on twitter, she wrote; "Hi..bought my first house as a Nurse in the United States no sugar daddying or hoeing just pure grace and hard-work"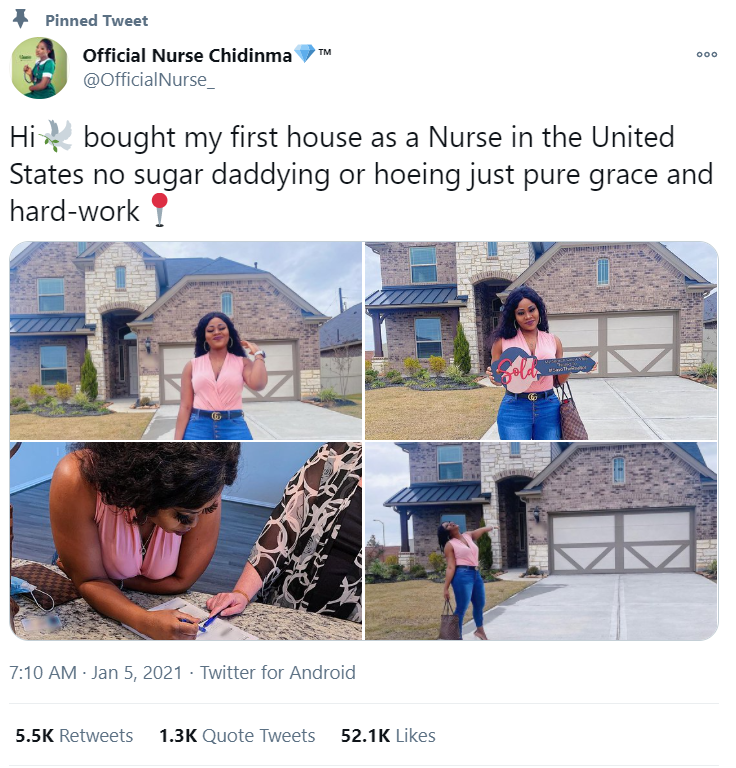 Chidinma's feat comes as a message of hope for all hardworking ladies in Africa that they can also achieve their dreams without hoeing around with men old enough to be their grand fathers.
SEE PHOTOS BELOW:
READ ALSO; More Than Eight Men Claim They Are My Biological Father – Confused Kuami Eugene Bemoans
READ ALSO; [Watch] Shatta Michy Shows Perfect Way To Suck a "D!ick"