Senior Minister, Osafo Marfo Tests Positive for COVID-19
The senior minister of Ghana, Yaw Osafo-Marfo, has tested positive for COVID-19, according to an official announcement on Tuesday, July 7, 2020.
Speaking at a press conference, the Minister for Information, Kojo Oppong Nkrumah said the senior minister is doing well and receiving treatment.
Join our Telegram Group to get notified when LATEST NEWS IN GHANA & JOBS IN GHANA are posted. Click Here to Join EnewsGhana Website Telegram Group
"Senior Minister Osafo-Marfo has been informed that his sample taken has returned positive for COVID-19," Oppong Nkrumah said.
The President, Nana Addo Dankwa Akufo-Addo has since Saturday, July 4, 2020, been on self-isolation after coming close to someone who tested positive for Coronavirus.
Ghana's case count
Seven more persons have died of COVID-19 in Ghana, increasing the death toll to 129, according to the latest Ghana Health Service report on July 6, 2020.
Also, 992 new coronavirus cases have increased the total casecount to 21,077.
The recoveries have shot up to 16,070 with the active cases standing at 4,878.
Regional breakdown:
Greater Accra Region – 11,508
Ashanti Region – 4,534
Western Region – 1,846
Central Region – 992
Eastern Region – 835
Volta Region – 369
Upper East Region – 278
Western North Region – 154
Bono East Region – 139
Northern Region – 137
Oti Region – 112
Upper West Region – 55
Savannah Region – 46
Bono Region – 38
Ahafo Region – 26
North East Region – 8
READ ALSO;
Ghana's Minister for Health tests positive for Coronavirus
The Minister for Health, Kwaku Agyeman Manu is recovering in hospital after testing positive for COVID-19.
Information available to Citi News indicates that the Minister has been receiving treatment at the University of Ghana Medical Centre in Accra over the past week.
Multiple sources in the medical team at the hospital who confirmed the information to Citi News say the Dormaa Central MP was admitted to the hospital on Tuesday and is "in a stable condition".
Join our Telegram Group to get notified when LATEST NEWS IN GHANA & JOBS IN GHANA are posted. Click Here to Join EnewsGhana Website Telegram Group
Citi News checks at the Health Ministry has corroborated the story as information there suggests Mr. Agyeman Manu has taken "a few days off from work" and has not reported to work all week.
The UGMC currently has 4 patients on admission at the ICU with several others in the main wards of the hospital's COVID-19 wing.
READ ALSO; Voter's Register: Preacher Arrested After Threatening EC Boss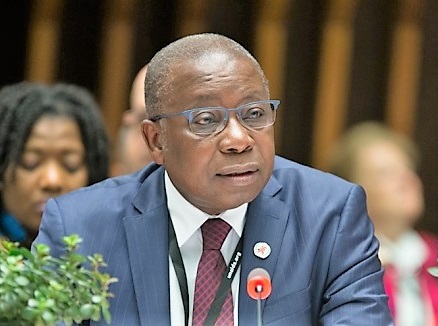 The Health Minister who announced Ghana's first COVID-19 case in a night broadcast in March this year would be the first high profile government official to have confirmed positive for the novel Coronavirus.
He is known for urging the public to be cautious of the virus during his regular appearances at the bi-weekly press briefings on COVID-19 by the Information Ministry which has been conspicuously put on hold for a while.
The information is coming at a time the leader of government business in Parliament, Osei Kyei Mensah has lamented how MPs, Parliamentary Service staff, and journalists who tested positive for the virus have refused to self isolate.
READ ALSO; NPP Primaries: Delegates Refuse Bribe After Being Asked To Swear By 'Antoa' Deity
Although no names have been mentioned, Mr. Mensah Bonsu's lamentations suggest more than one person in the House of Legislature has tested positive and this could include MPs.
Meanwhile, the Mayor of the Sekondi-Takoradi Metropolitan Assembly in the Western Region, Anthony K.K. Sam, has passed away due to an illness close associates have disclosed as COVID-19.
A source at the UGMC in Accra where the MCE died told Citi News his Coronavirus case was compounded by a failure of the lung.
Source: Citi Fm
Ghana to receive Madagascar's coronavirus 'herbal cure'
Ghana is to receive quantities of Madagascar's highly publicized Covid-19 remedy and preventative herbal mixture, the Ghana Health Service has revealed.
According to Director of Public Health at the Ghana Health Service Dr Badu Sarkodie, Madagascar has made an offer to Ghana concerning the herbal solution but the FDA will have to assess the product.
As to whether the remedy will be circulated for use, Dr. Sarkodie said he could not confirm.
Countries like South Africa have begun examining the drug for possible use.
Dr Sarkodie said at a Ministry of Information press briefing on Covid-19 on Thursday "I believe that a quantity might be made available to the country and we will ensure collaboration with FDA. They have to do some assessment and then we take it from there."
Join our WhatsApp Group to get notified when latest news in Ghana AND JOBS IN GHANA are posted. Click Here to Join EnewsGhana Website WhatsApp Group
"So, I will not be able to say whether it will be used or not. But I think they have made an offer and we can take a look at it," he noted.
Meanwhile, the WHO has dismissed the Madagascar president's claims that the herbal tonic produced within the country can cure patients of COVID-19.
Other African countries such as Tanzania and Guinea-Bissau have made plans to import the tonic, which contains the artemisia plant, which is normally used to treat malaria.
Source: Starr FM