Party Footsoldiers Can Pull Gun On Security Officers Because They Know They Are Protected
Under Akufo-Addo's leadership, party footsoldier pulled a gun on a sworn police officer with threats in the presence of men in military uniform.
And, the supposed military men rather talked to the police to calm down while the party thug threw his weight about.
This nonsense started from the infancy of his administration, and it's mature well enough to consume us.
People are now pulling guns out carelessly because of the force behind them.
READ ALSO; President Nana Addo sends his presidential chair to a radio interview in the Northern Region
Our security is dominated by lawless vagabonds taking authority from 'Above'. And, everybody is looking on horrrrrrr like egbor till the ultimate consequence hits home amidst national mourning.
We're joking with the fragile tranquility we've here.
Your fear of being tagged opposition members is making you accomplices to what's going on. Isn't it better to be named opposition people to save yourselves and your families?
Remember, our borders are closed. And, even if they weren't, where will you escape to? Be wise. Speak up. Help avoid the consequences of such lawlessness and impunity.
Nobody is safe in this.
READ ALSO; Money Cannot Buy Wisdom – Party Communicator Fires Chairman Wontumi And The NPP
Ghanaians List Reasons Why They Think Akufo Addo Is Corrupt
Currently trending at number one on Ghana Twitter today the 11th of August, 2020 is #AkuffkAddoIsCorrupt.
Well apparently, some Ghanaians have decided to chronicle their various reasons why they think Ghana's president, Nana Akufo Addo is corrupt.
This came after many state officials in his government have not been prosecuted after they have been found guilty of being corrupt.
READ ALSO; Why Is Government Not Preventing Foreigners In Kumasi From Registering To Vote? – A Plus Asks
Ghanaians have decided to come at the president today for reneging on his promise of tackling corruption when he comes into power.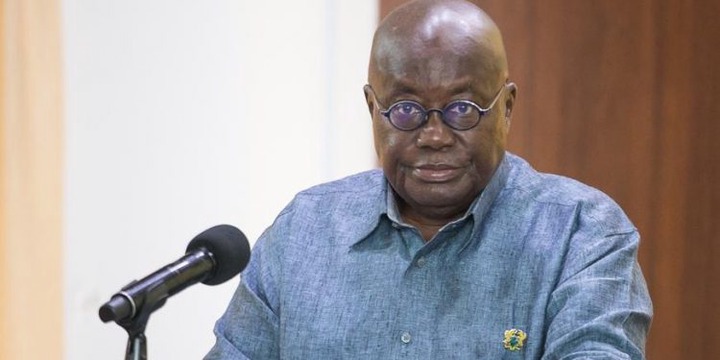 However, when he came into power, he has rather allowed corrupt officials to walk free even when they are found guilty.
According to some of them, corruption has always been characterised by many successive government but this NPP administration has rather taken the social canker to an unprecedented another level.
So, they have taken to the Twitter App to chronicle the various instances they believe Nana Addo allegedly demonstrated how corrupt he is as a leader of Ghana today.
Check some of the tweets here;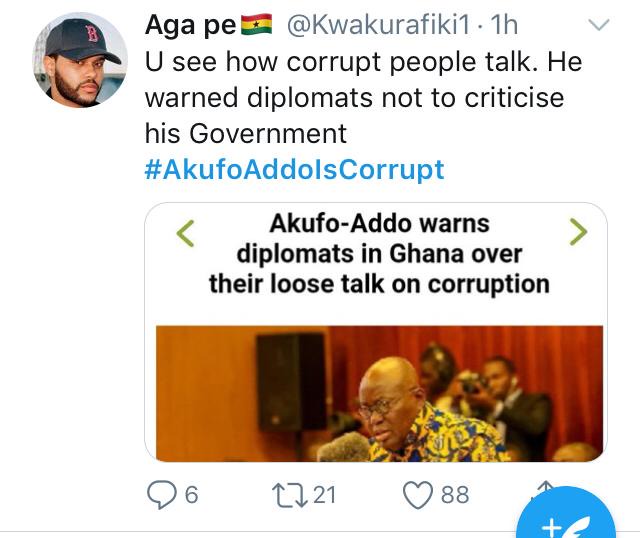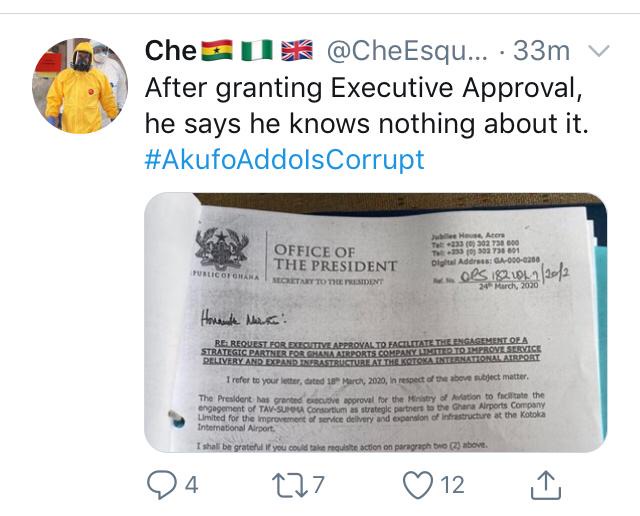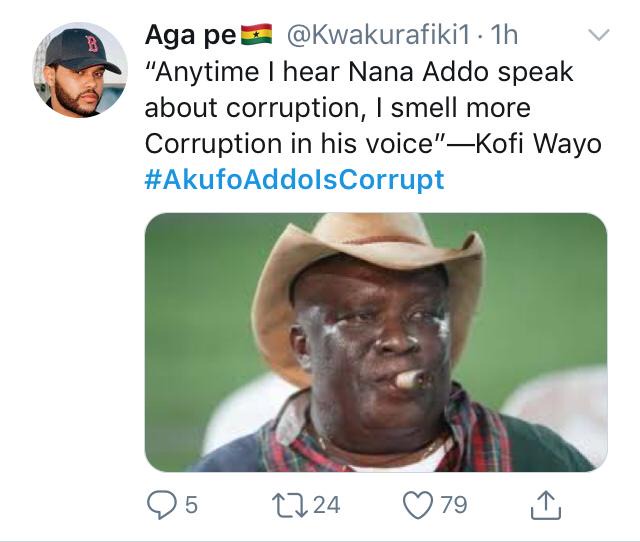 READ ALSO; Video: One Dead As NPP And NDC Supporters Clash At Nkrankwanta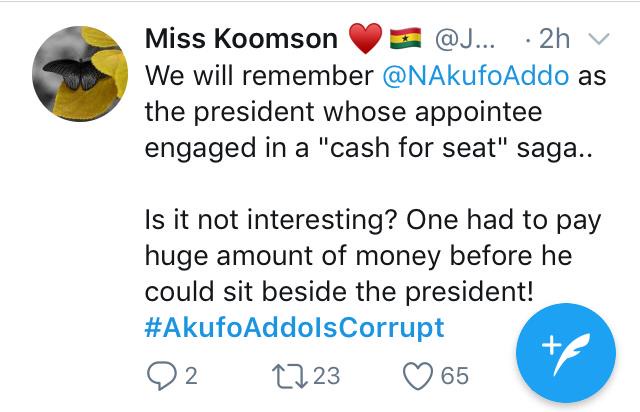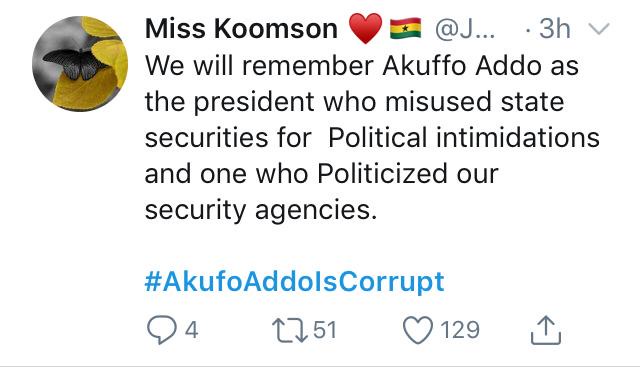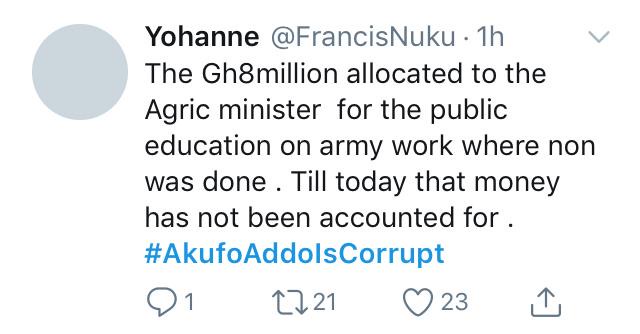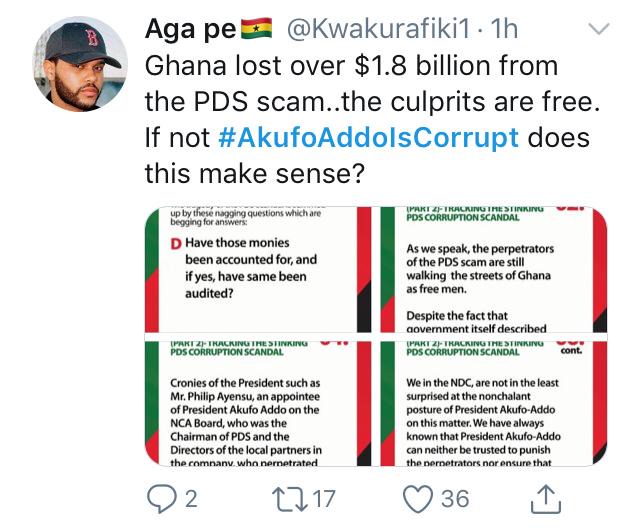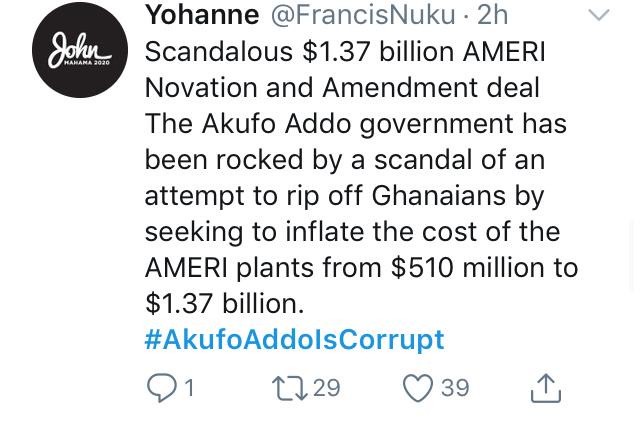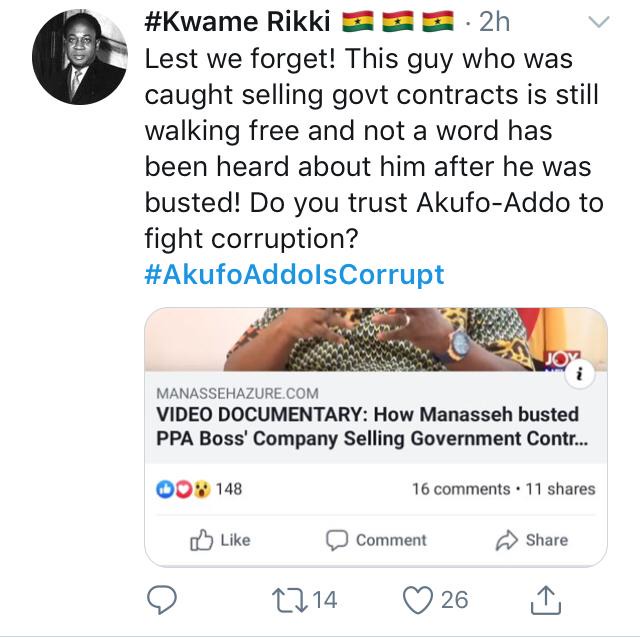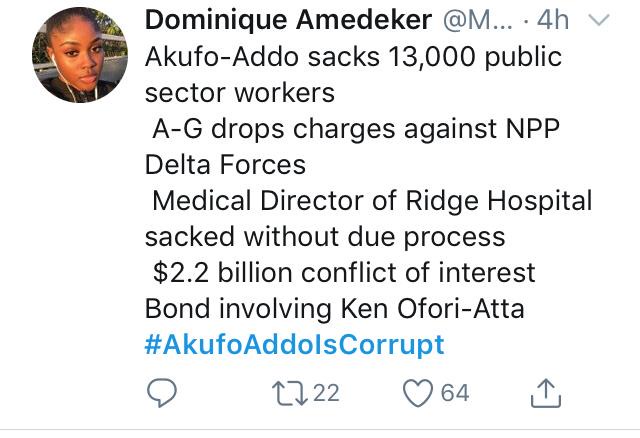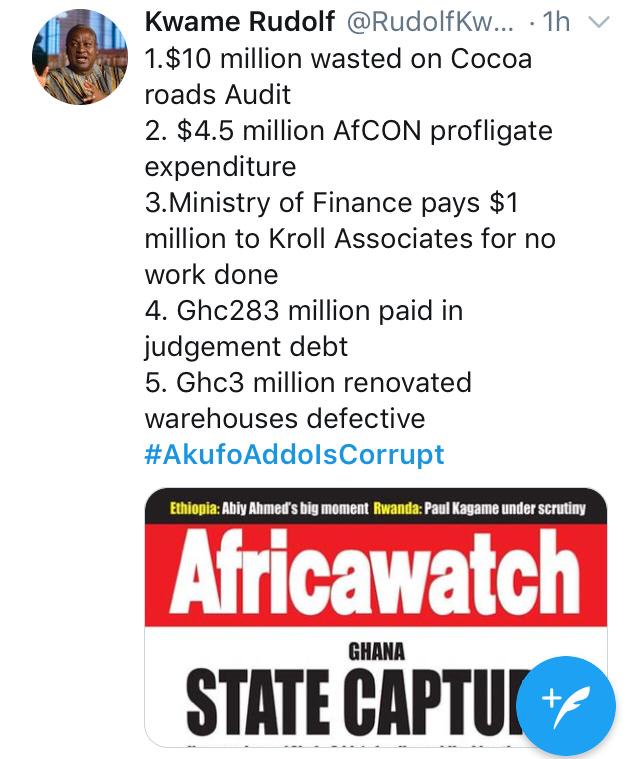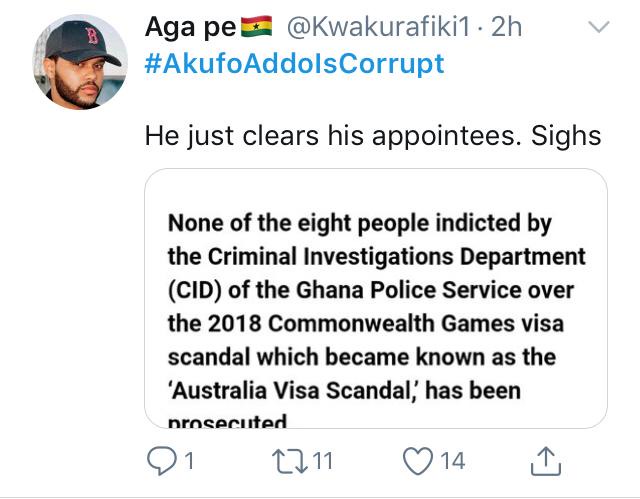 READ ALSO; NPP And NDC Customers At Kumasi Mall Fight Among Themselves Over Which Political Party Built The Mall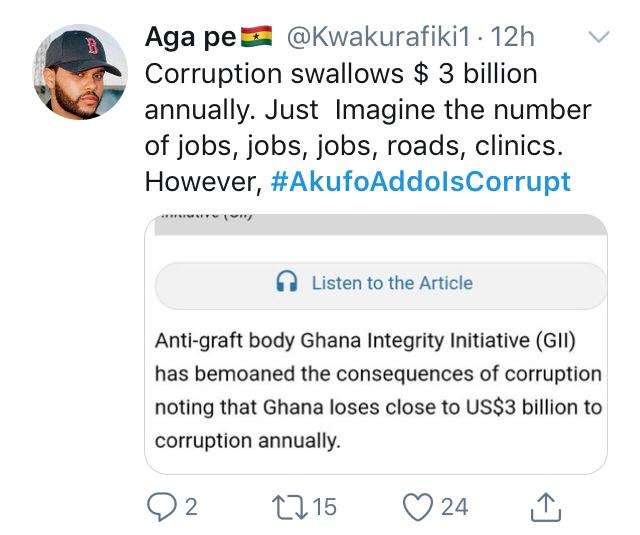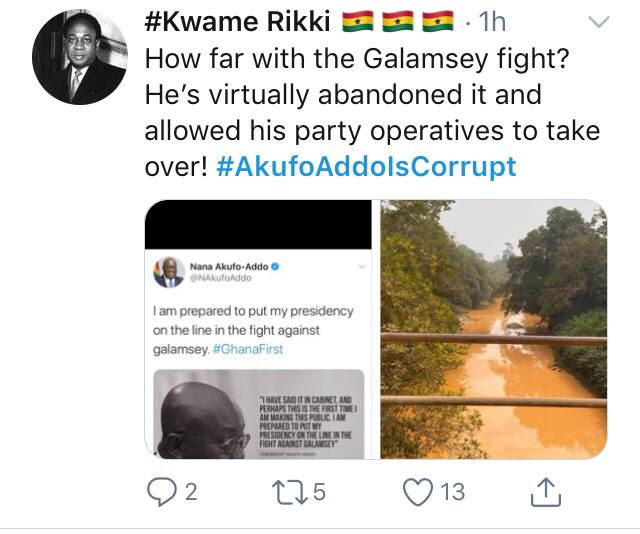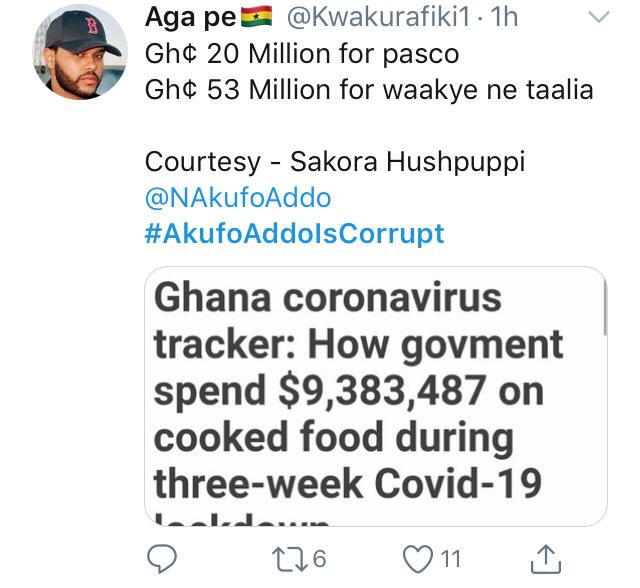 Kindly check this link to follow the conversation;
https://twitter.com/search?q=%23AkufoAddoIsCorrupt&src=trend_click
RAED ALSO; Ex-Prez Mahama Announces $10bn BIG PUSH Infrastructural Plan
Our Vigilance Has Reduced Foreigners On Number Of Voters- John Boadu
The General Secretary of of the governing New Patriotic Party (NPP), Mr John Boadu says the vigilance of the party's polling agents during the mass voters registration exercise which ended last week has led to a drastic reduction in the number of voters in constituencies along Ghana's borders.
According to him, this was achieved by the vigilance of the party's agents in challenging foreigners, mostly those close to the border towns from registering.
Join our Telegram Group to get notified when LATEST NEWS IN GHANA & JOBS IN GHANA are posted. Click Here to Join EnewsGhana Website Telegram Group
He said in some border constituencies, the number of voters on the register reduced by over 12,000 people as compared to what existed on the previous voters register.
Mr Boadu was addressing a press conference in Accra Monday afternoon, August 10, 2020 on the just ended mass voter registration exercise.
New Registration Helped To Reduce 'Bloated' Register
Arguing in support of the Electoral Commission's decision for the new voters register, Mr Boadu said the exercise has helped to prevent about three million names from staying on the electoral roll which hitherto should not have been there going by the law.
He said at the end of the voter registration exercise last week, the EC registered a little over 17 million people.
That, according to him, if the EC should have gone ahead to use the old voter register and conducted a limited registration exercise, per the statistics, the EC would have added three million more people who are not qualified to register, hence increasing the figure to over 20 million people.
Join our WhatsApp Group 3 to get notified when new Job Vacancies in Ghana are posted. Click Here to Join Our Jobs in Ghana Website WhatsApp Group 3