Gloria Akuffo Does Not Deserve to be Chief Justice After Helping the EC to Deny Sall the Right to Vote – Franklin Cudjoe
Founder and CEO of IMANI, Mr. Franklin Cudjoe continues to fume over how Jean Mensa led EC and aided by the Chief Justice Anin-Yeboah denied the people of SALL their right to vote for representative in Parliament.
He has been very consistently very critical of the government and the EC for deliberately disenfranchising a section of Ghanaians the right to vote in the 2020 general election for an MP.
READ ALSO; Electoral Commission Who Is Still Unable to Collate Techiman South Results Says Mahama's Petition Is A Total Waste Of Court's Time
Mr. Cudjoe made this fresh attack in a Facebook post today the 224th of January, 2021.
He wrote;
"It is a shame that we have an Attorney-General designate who was NEVER interested in the grave disenfranchisement of almost 30,000 human beings by his beloved do-no-good EC. He was in a hurry to argue in court that the SALL citizens should remain stateless, without representation in Parliament. I wonder why he must be made a Minister of Justice seeing how he was in great haste to not only deny SALL justice, but by extension, render all SALL people useless. What is this???"
See the post below;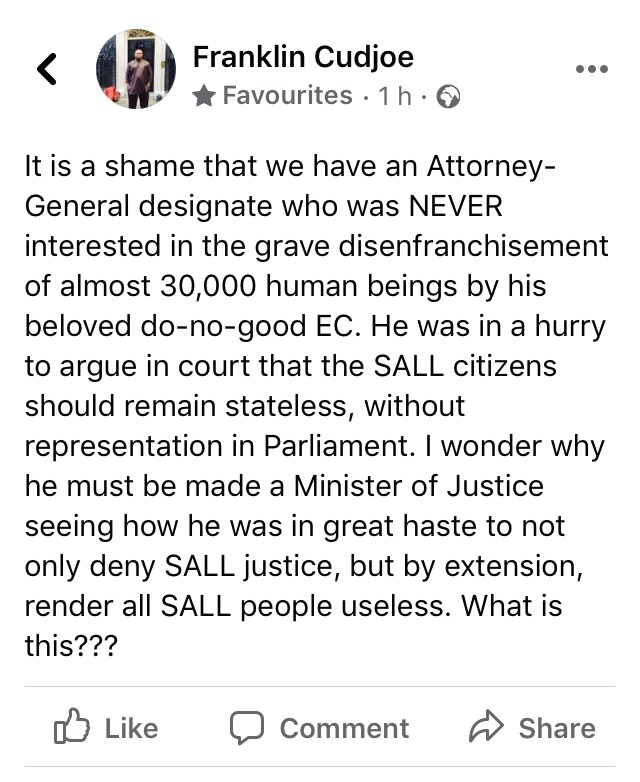 READ ALSO; Reject Ursula Owusu's Ministerial Appointment as Punishment for Wickedly Shutting Down Pro-NDC Stations – Kwaku Asafo Agyei Appeals to NDC MPs