Ghanaians Left In 'Shock' After Supreme Court Ruled That Birth Certificate Not A Form Of Identification
It came as a total shock to Ghanaians this morning after the highest court of the land has ruled that the Birth Certificate which is issued right after the birth of any citizen is not a form of identification.
The ruling was unanimously held by seated judges chaired by Justice Ashie Kotey.
Writing the decision in the judgment sighted online, they ruled that a birth certificate does not link its holder to the information it contains. It adds that it provides no evidence of citizenship.
See the complete judgment below;
READ ALSO; Ursula Owusu Publicly Disgraced By Her Own Fan After She Attacked John Mahama's Running Mate
Meanwhile, Ghanaians were left in awe as to how the court can arrive at such a decision when the birth certificate has always been the primary ID used for everything in this country including acquiring an international passport.
Many argued citing the 1992 Constitution that, Birth by Ghanaian parents is key to being a citizen of this country. So at birth, a birth certificate is issued as evidence. Now SC says that document doesn't qualify as a form of citizen identity. Must we now issue a passport at birth to be a Ghanaian? I am struggling to understand the logic here. It's like saying the profile and foundation cannot be recognized as part of a building but the walls, windows and roofs are the building.
See some other reactions below;
READ ALSO; Why are schools open when the Supreme Court, Finance Ministry are closed – Bentil asks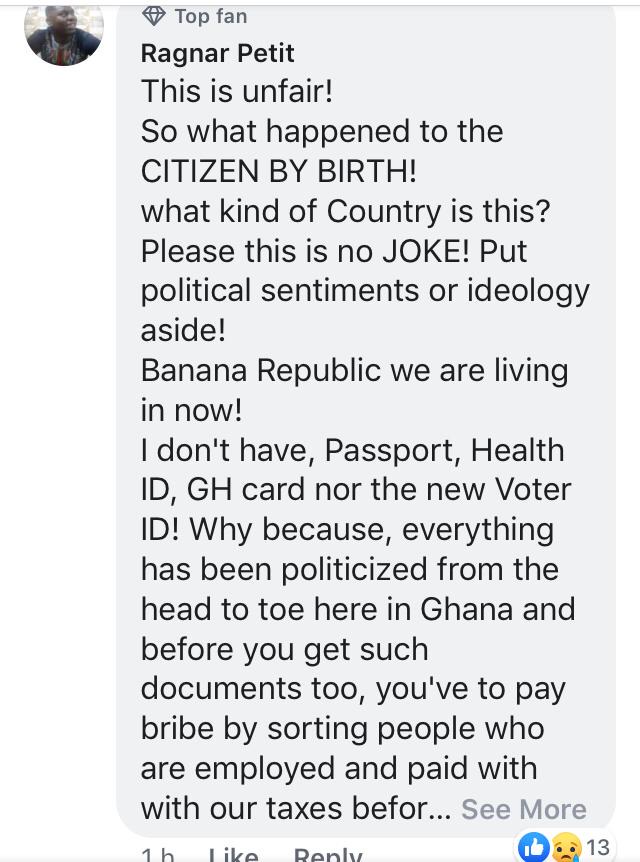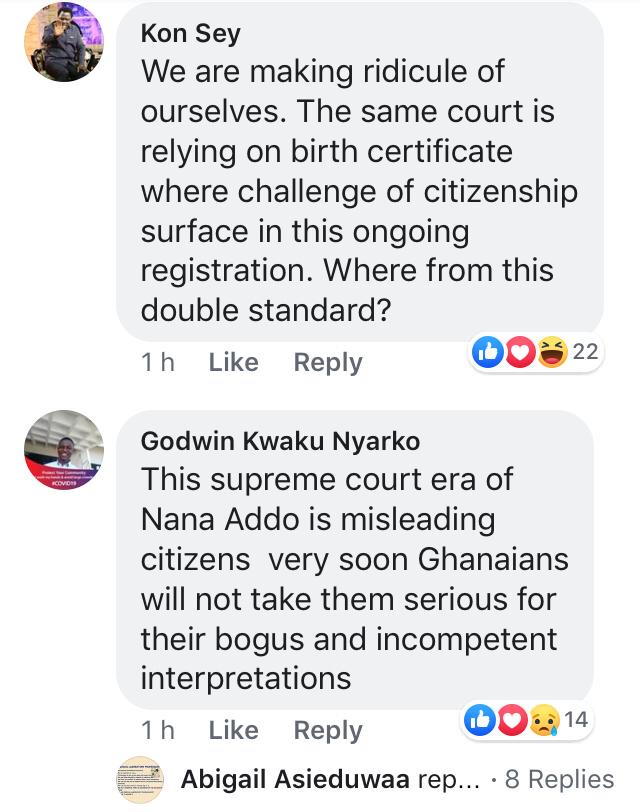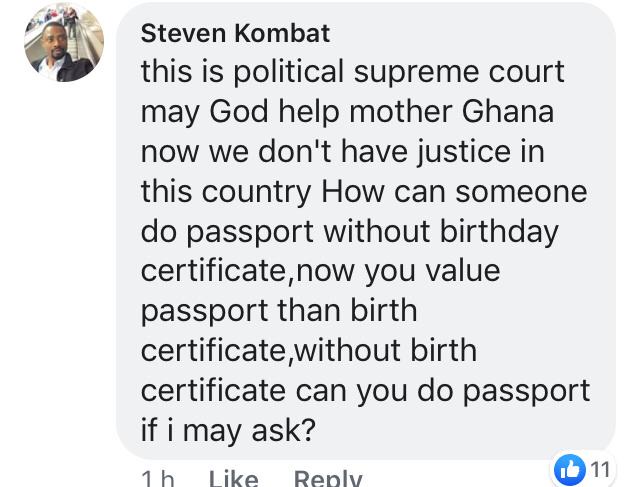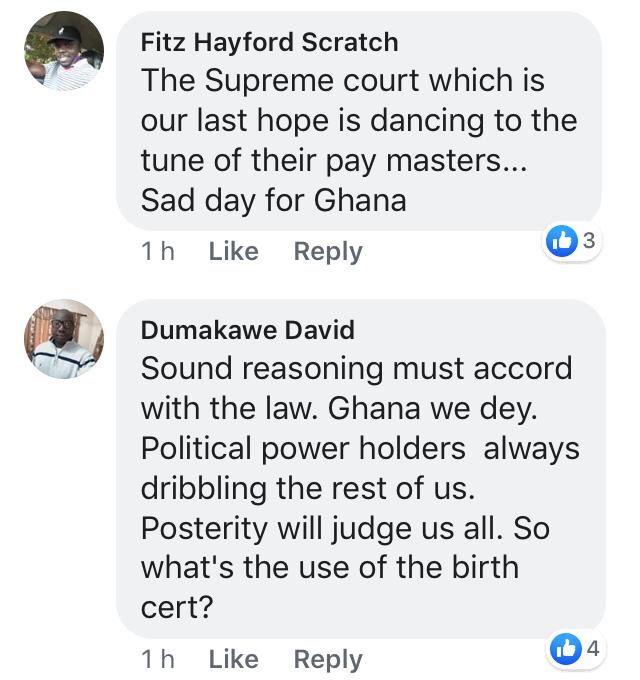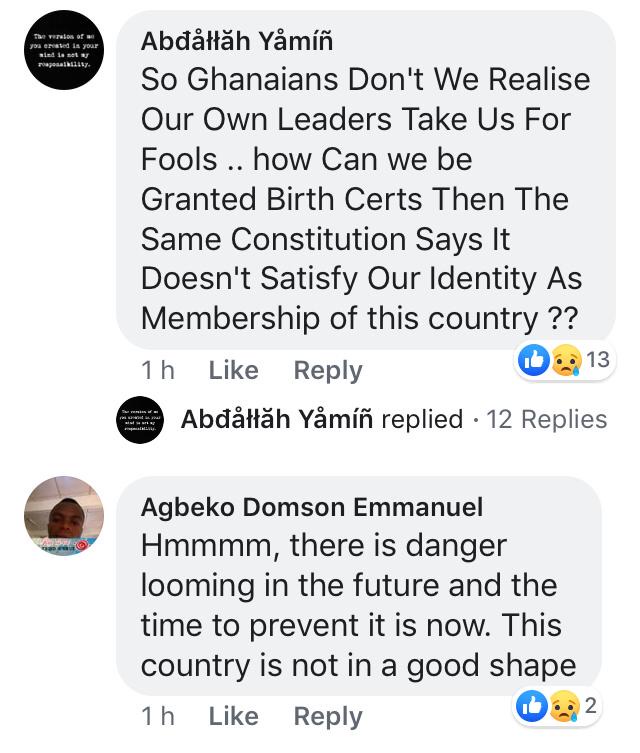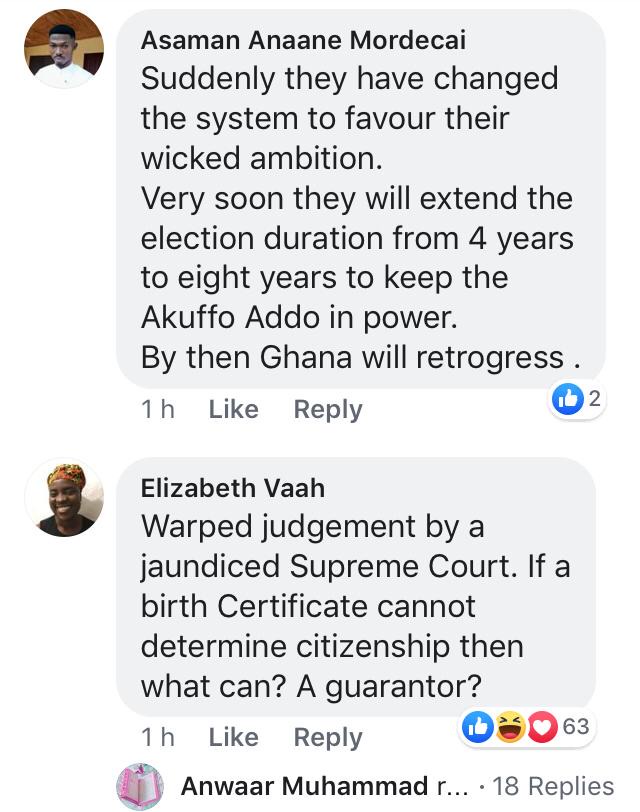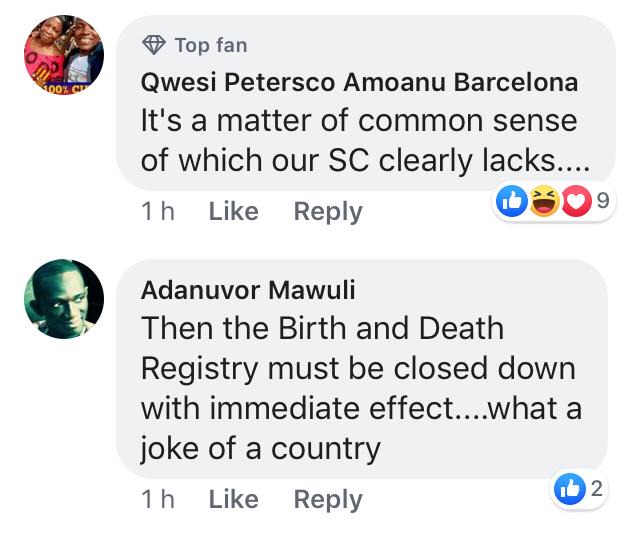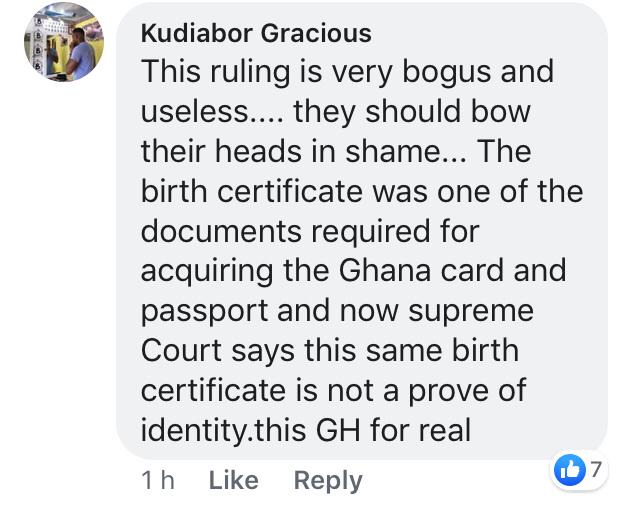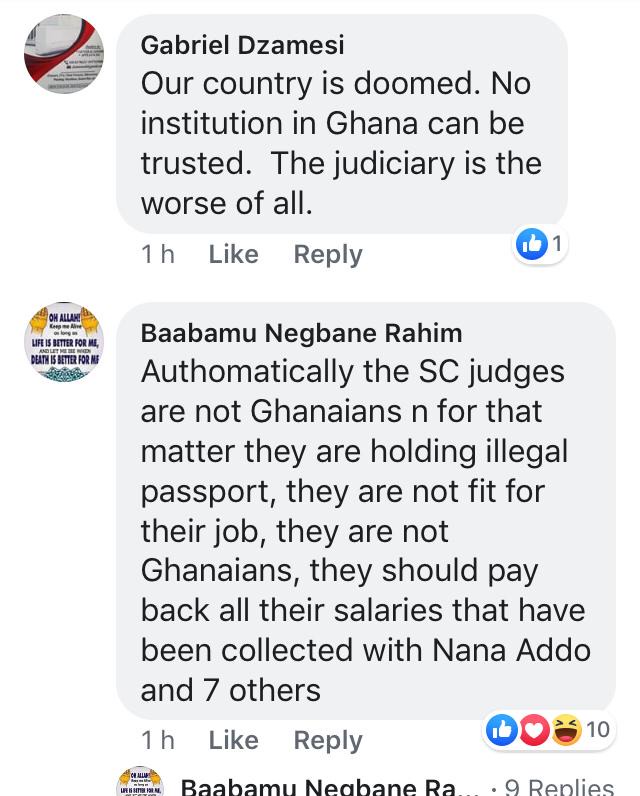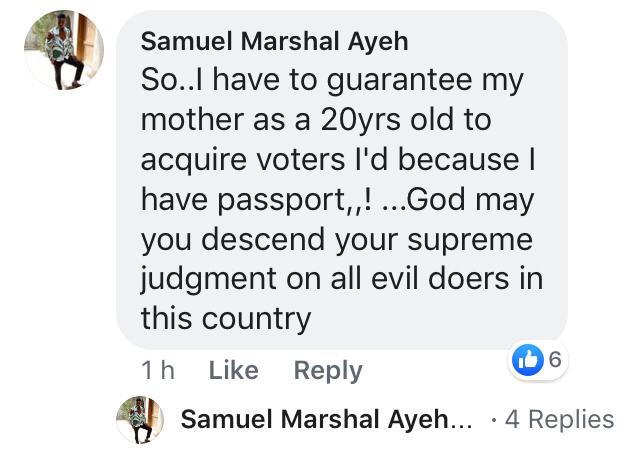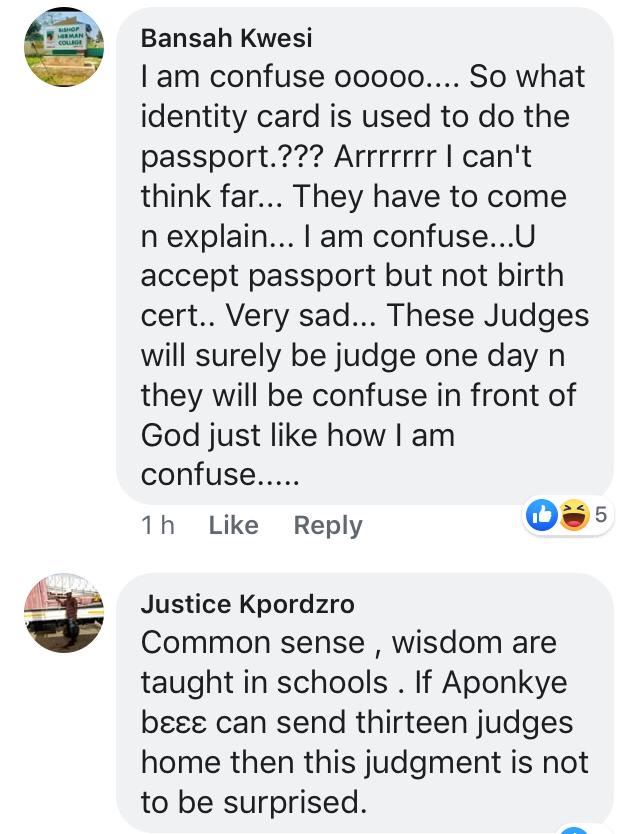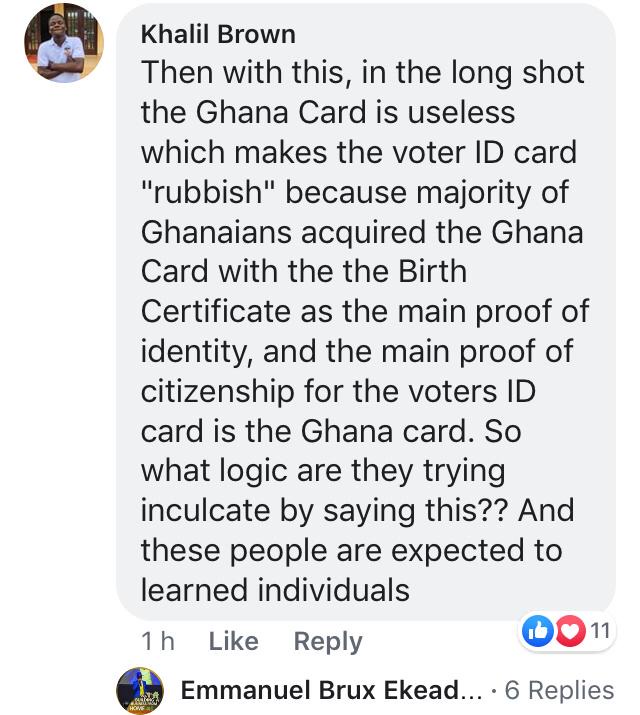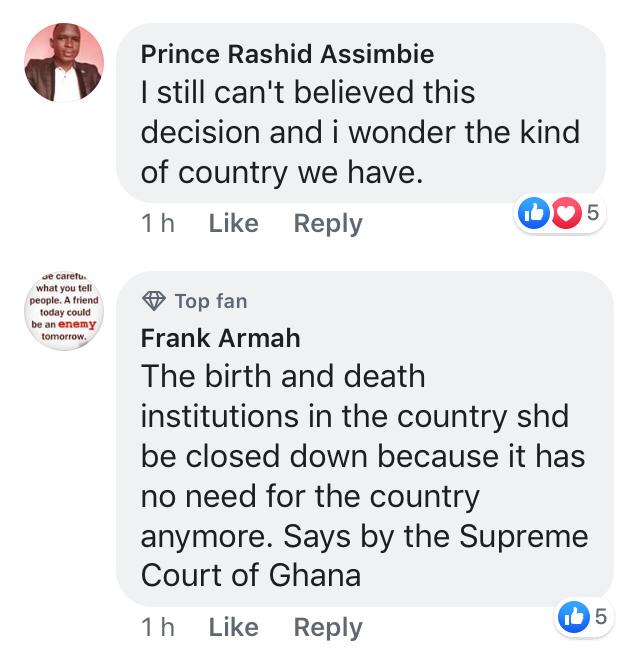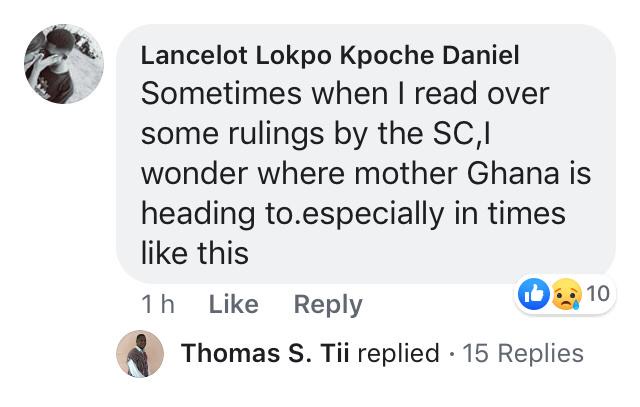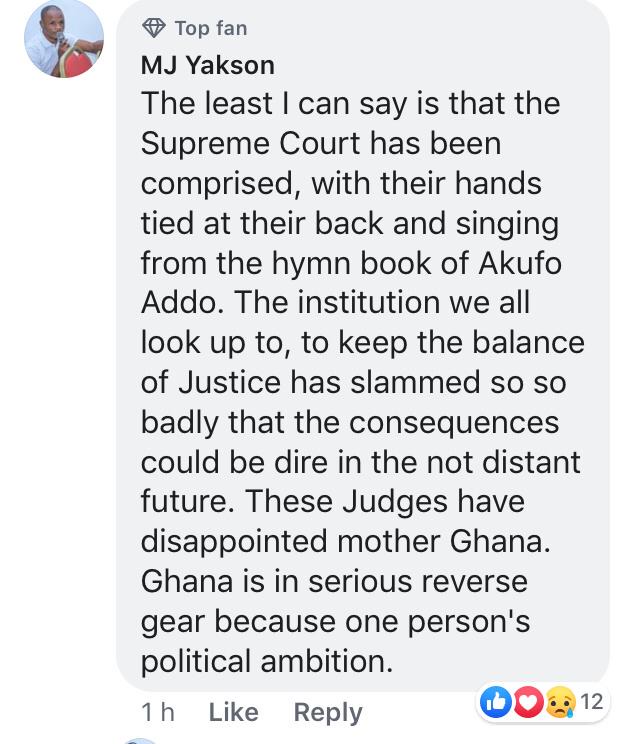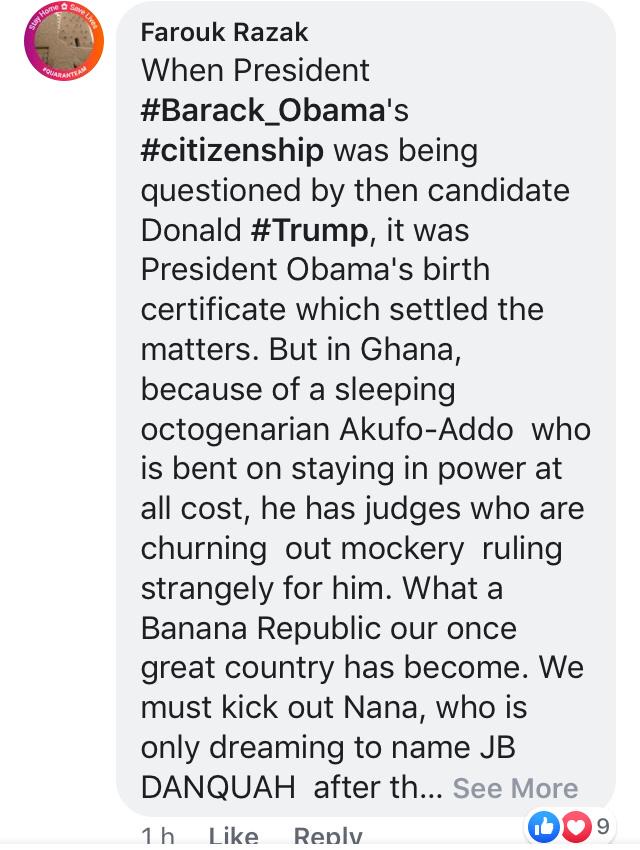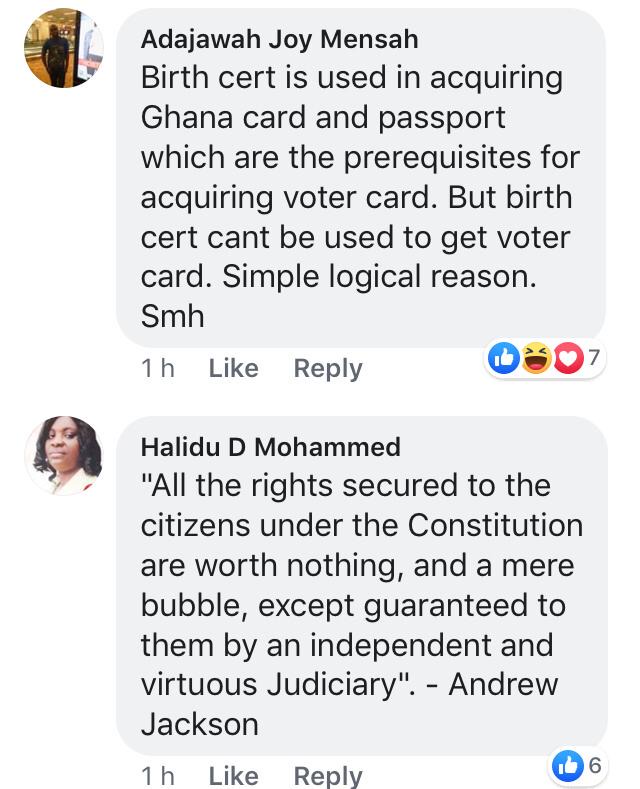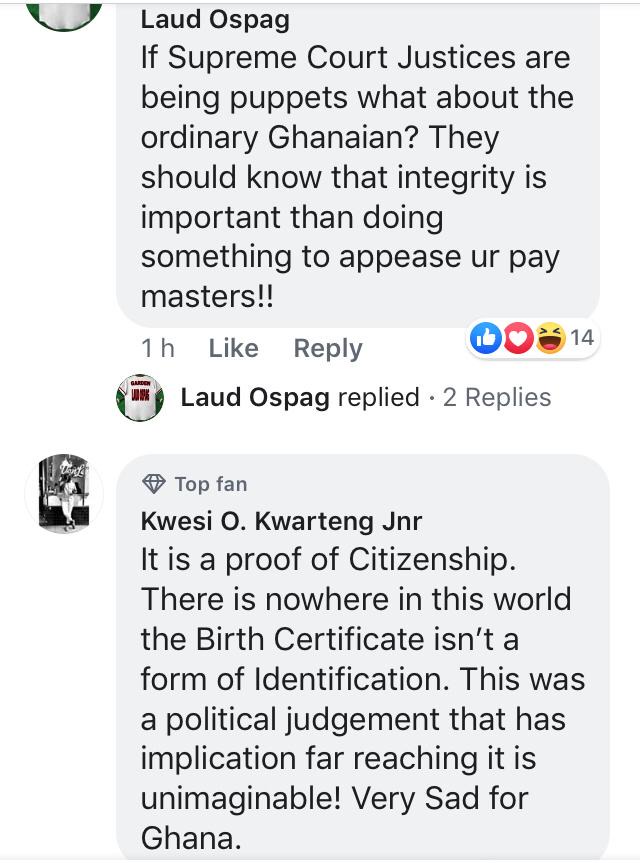 READ ALSO; NPP Youth Organizer Caught Campaigning In Senior High Schools In Kumasi (Photos)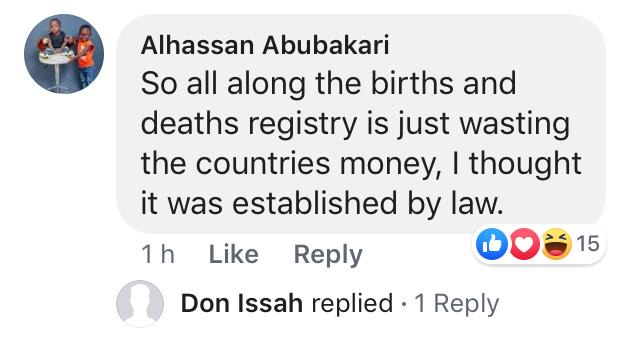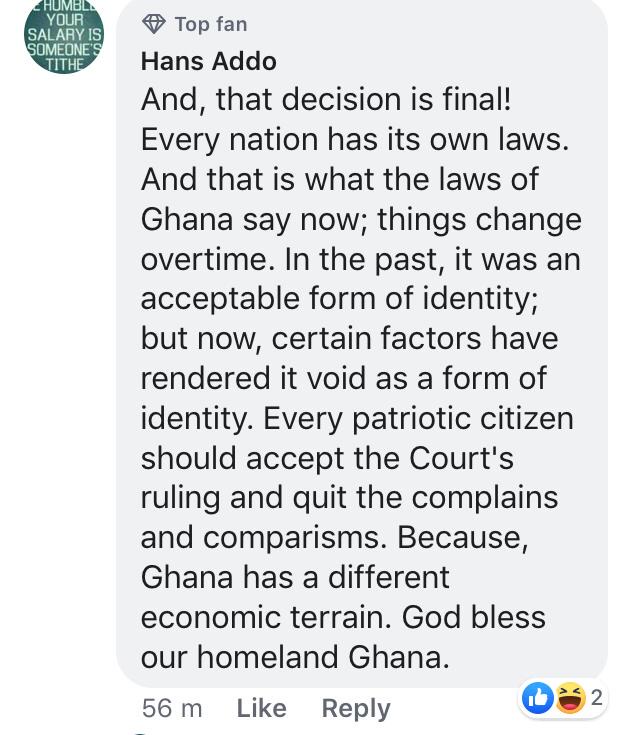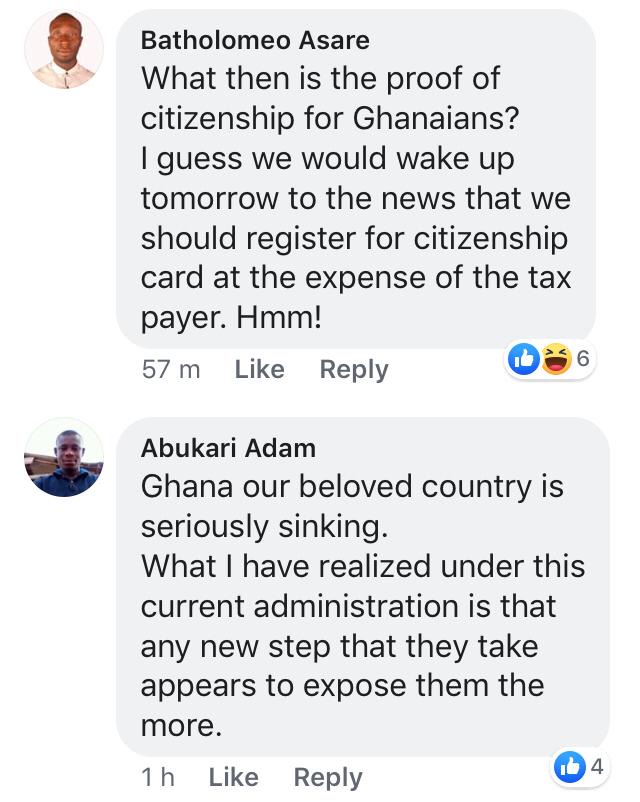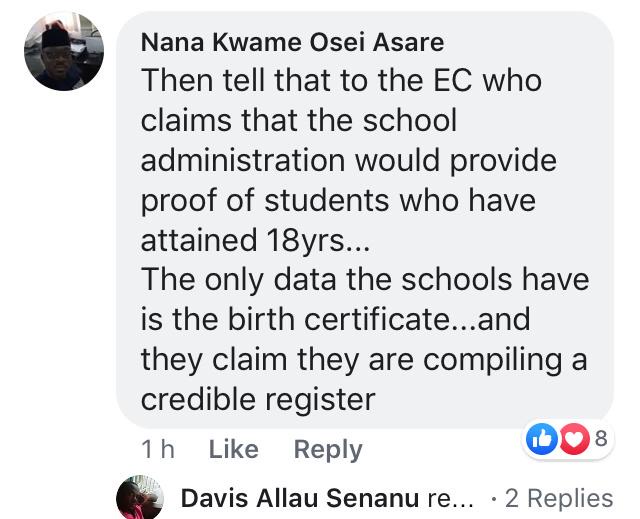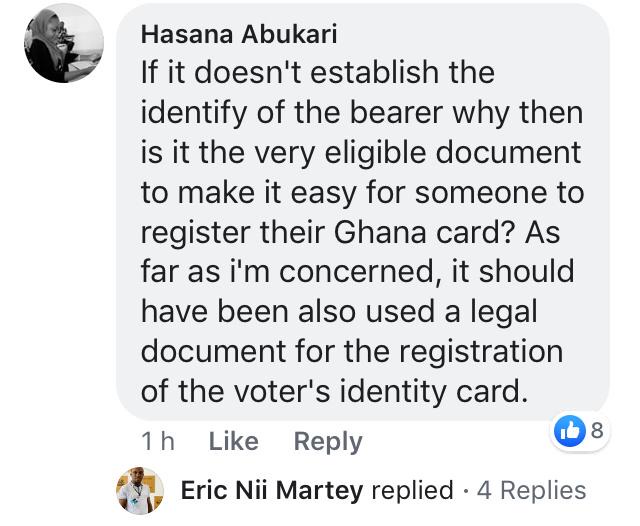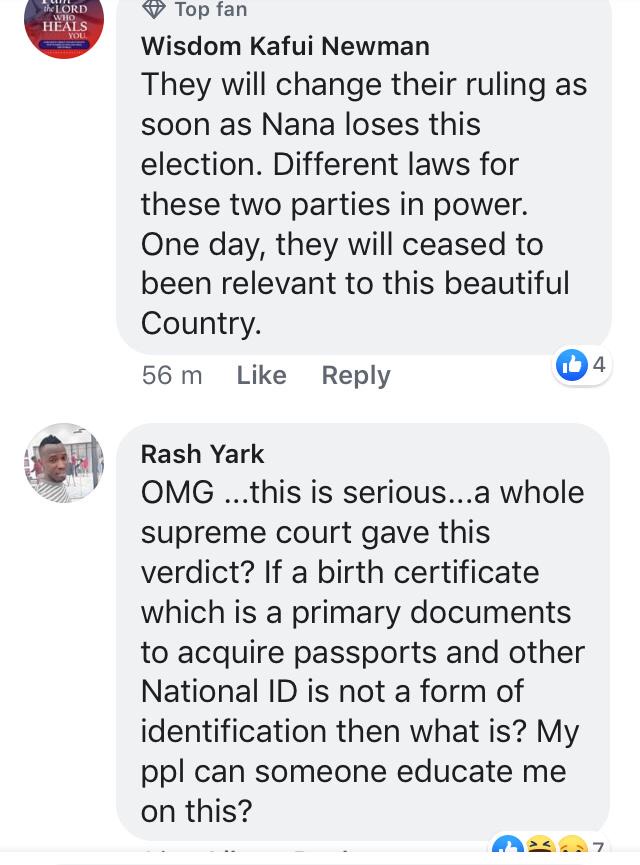 READ ALSO; A-Plus Reveals The Reasons Why President Akufo Addo Is The Most Corrupt And Dishonest President In Ghana's History
Ghanaians List Reasons Why They Think Akufo Addo Is Corrupt
Currently trending at number one on Ghana Twitter today the 11th of August, 2020 is #AkuffkAddoIsCorrupt.
Well apparently, some Ghanaians have decided to chronicle their various reasons why they think Ghana's president, Nana Akufo Addo is corrupt.
This came after many state officials in his government have not been prosecuted after they have been found guilty of being corrupt.
READ ALSO; Why Is Government Not Preventing Foreigners In Kumasi From Registering To Vote? – A Plus Asks
Ghanaians have decided to come at the president today for reneging on his promise of tackling corruption when he comes into power.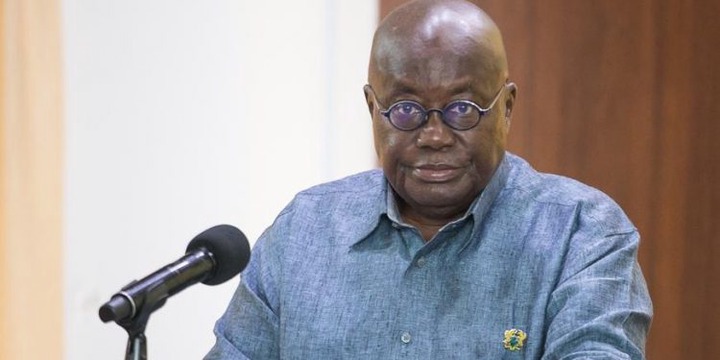 However, when he came into power, he has rather allowed corrupt officials to walk free even when they are found guilty.
According to some of them, corruption has always been characterised by many successive government but this NPP administration has rather taken the social canker to an unprecedented another level.
So, they have taken to the Twitter App to chronicle the various instances they believe Nana Addo allegedly demonstrated how corrupt he is as a leader of Ghana today.
Check some of the tweets here;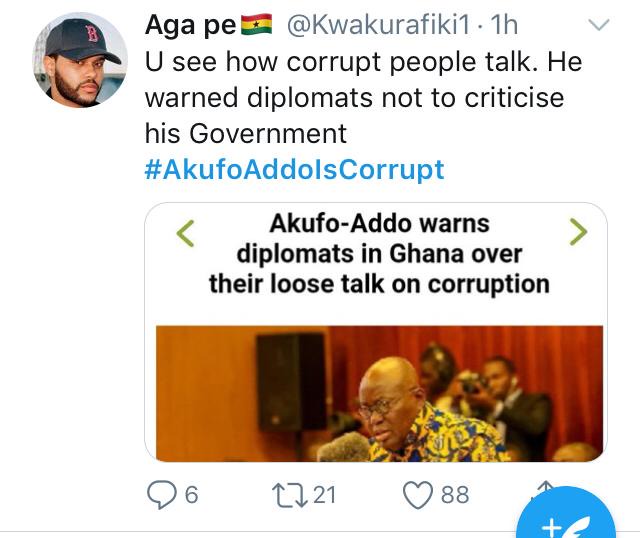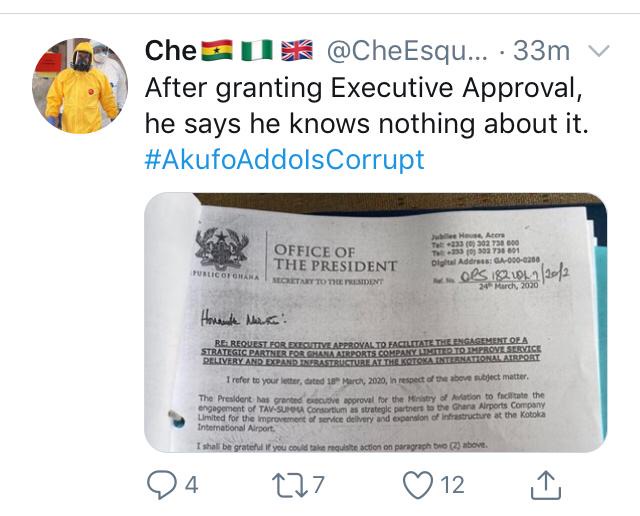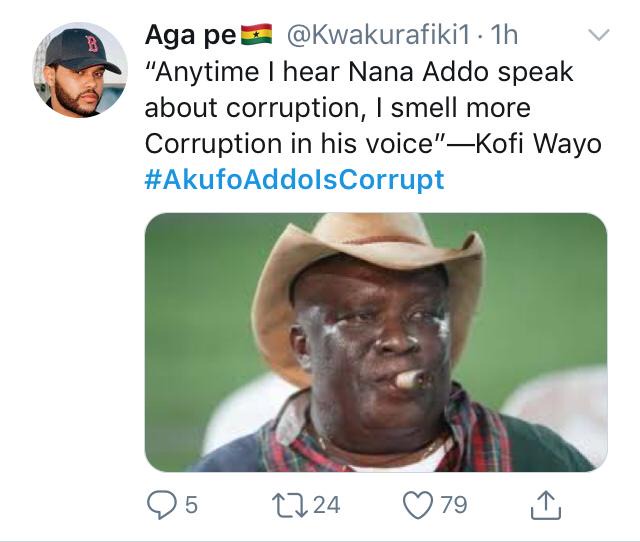 READ ALSO; Video: One Dead As NPP And NDC Supporters Clash At Nkrankwanta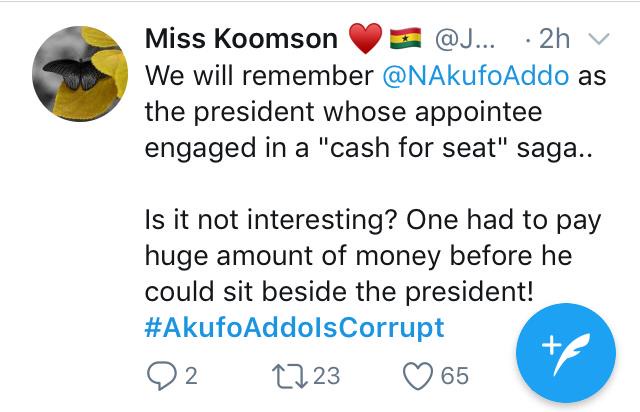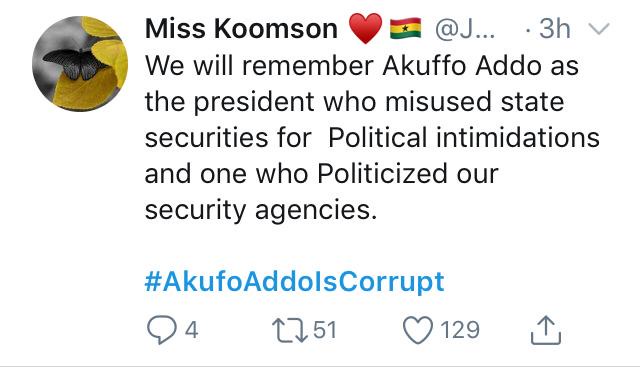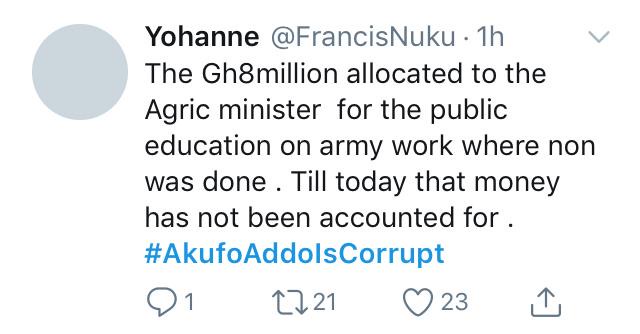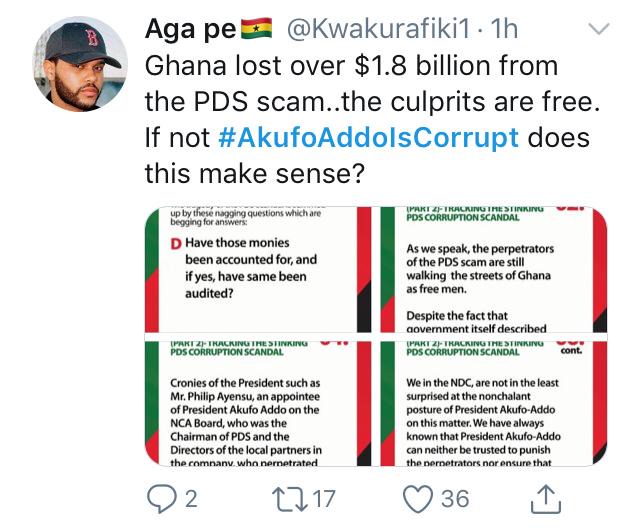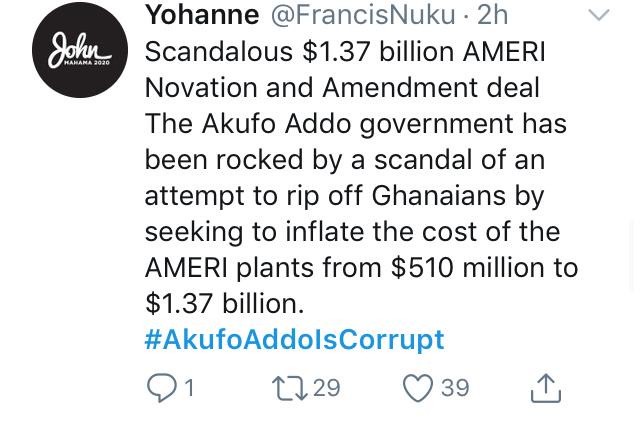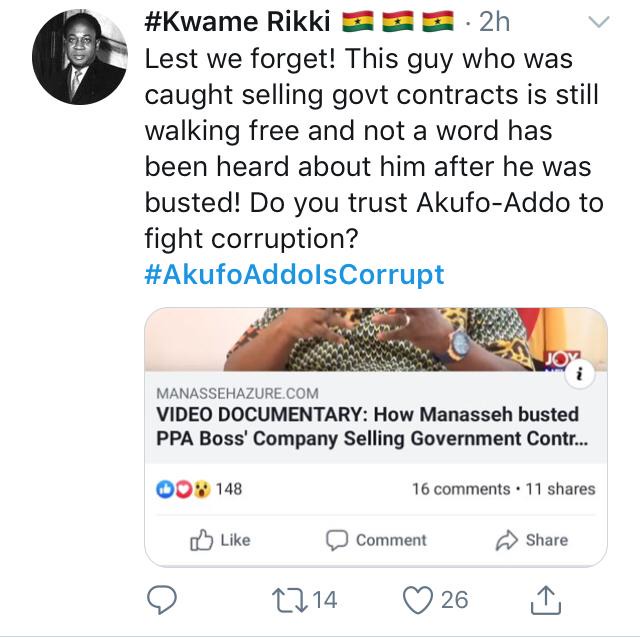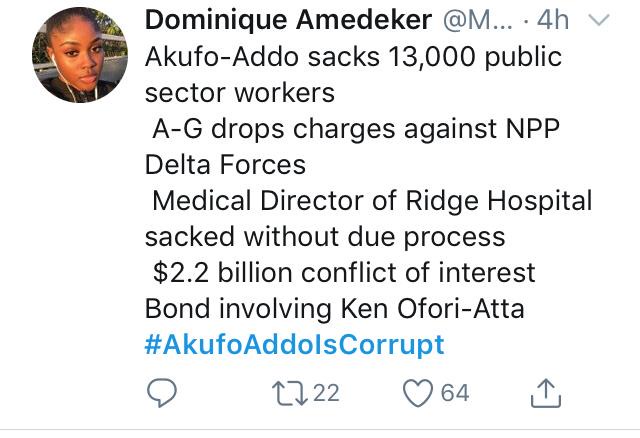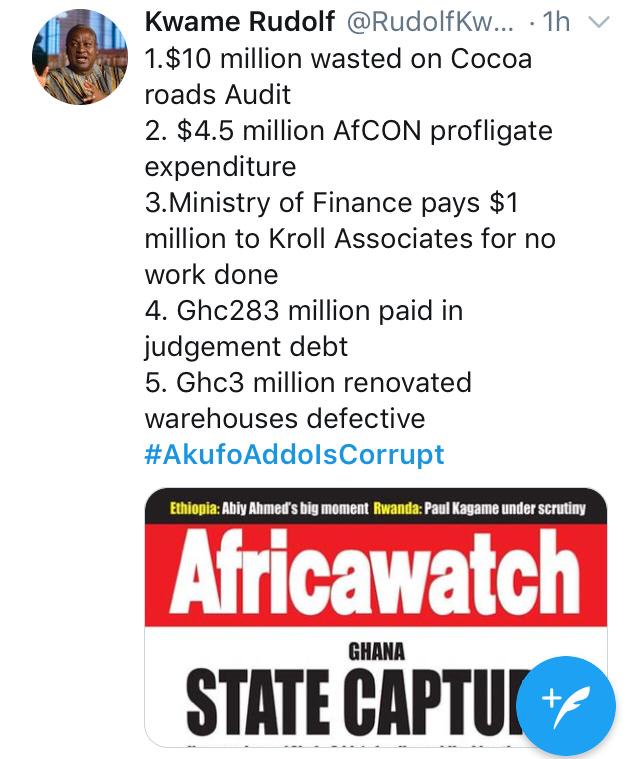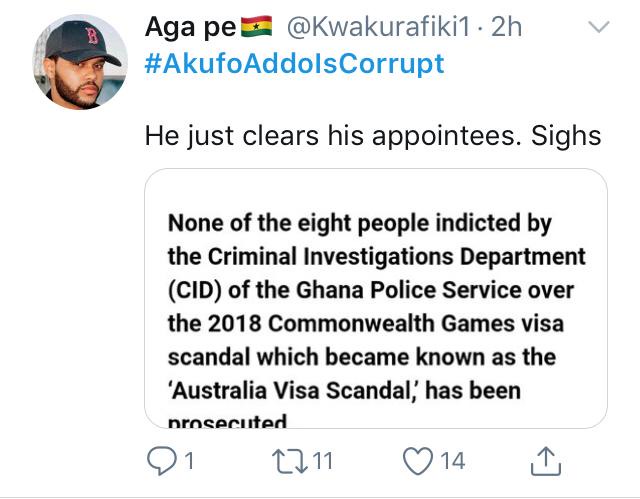 READ ALSO; NPP And NDC Customers At Kumasi Mall Fight Among Themselves Over Which Political Party Built The Mall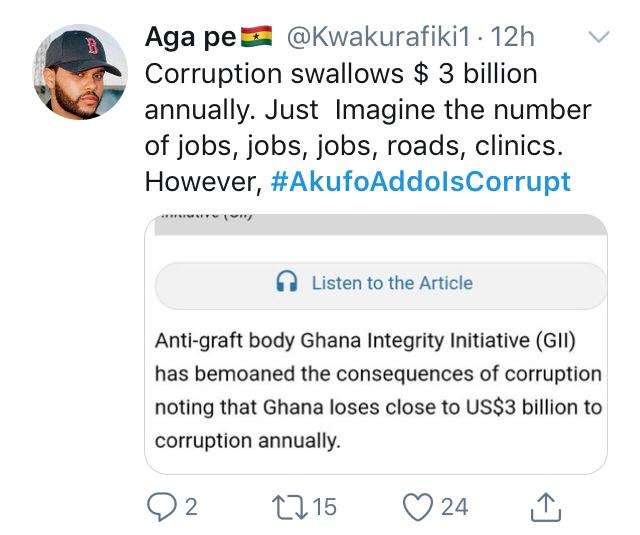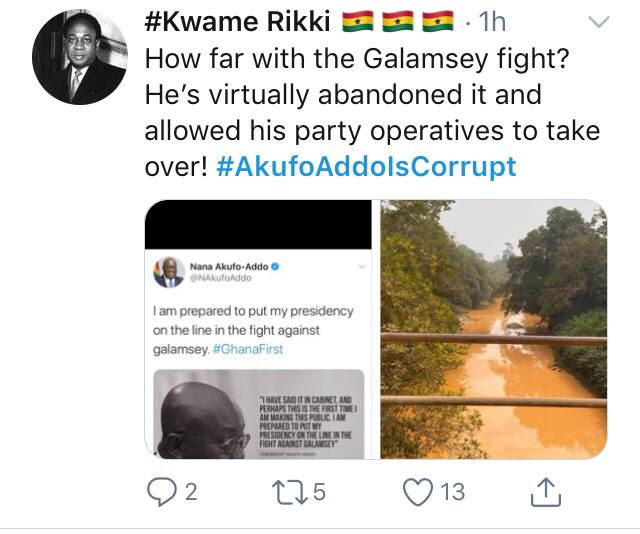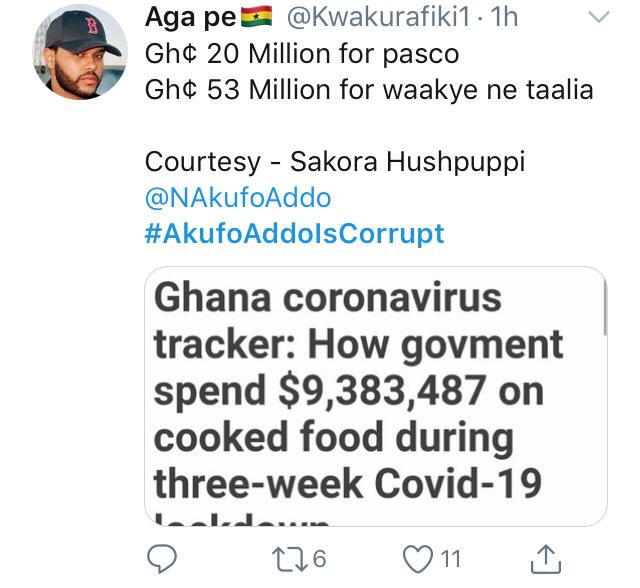 Kindly check this link to follow the conversation;
https://twitter.com/search?q=%23AkufoAddoIsCorrupt&src=trend_click
RAED ALSO; Ex-Prez Mahama Announces $10bn BIG PUSH Infrastructural Plan
Our Vigilance Has Reduced Foreigners On Number Of Voters- John Boadu
The General Secretary of of the governing New Patriotic Party (NPP), Mr John Boadu says the vigilance of the party's polling agents during the mass voters registration exercise which ended last week has led to a drastic reduction in the number of voters in constituencies along Ghana's borders.
According to him, this was achieved by the vigilance of the party's agents in challenging foreigners, mostly those close to the border towns from registering.
Join our Telegram Group to get notified when LATEST NEWS IN GHANA & JOBS IN GHANA are posted. Click Here to Join EnewsGhana Website Telegram Group
He said in some border constituencies, the number of voters on the register reduced by over 12,000 people as compared to what existed on the previous voters register.
Mr Boadu was addressing a press conference in Accra Monday afternoon, August 10, 2020 on the just ended mass voter registration exercise.
New Registration Helped To Reduce 'Bloated' Register
Arguing in support of the Electoral Commission's decision for the new voters register, Mr Boadu said the exercise has helped to prevent about three million names from staying on the electoral roll which hitherto should not have been there going by the law.
He said at the end of the voter registration exercise last week, the EC registered a little over 17 million people.
That, according to him, if the EC should have gone ahead to use the old voter register and conducted a limited registration exercise, per the statistics, the EC would have added three million more people who are not qualified to register, hence increasing the figure to over 20 million people.
Join our WhatsApp Group 3 to get notified when new Job Vacancies in Ghana are posted. Click Here to Join Our Jobs in Ghana Website WhatsApp Group 3