Young man charged in MP's murder
THE Portland man who was initially taken into custody and released in connection with the gruesome murder of Dr Lynvale Bloomfield was yesterday charged with murder after he was again called in for questioning.
Simeon Sutherland, 20, was charged by detectives from the Major Investigation Division MID after being questioned for several hours in the presence of his attorney Peter Champagnie.
Sutherland was detained last month as a person of interest in the Portland Eastern Member of Parliament's murder, but was released. However, he was rearrested last week after scientific evidence allegedly linked him to the crime scene.
The police have reportedly been examining a series of messages between the suspect and Dr Bloomfield.
Sutherland is scheduled to appear in the Portland Parish Court next week.
The body of the Opposition People's National Party PNP parliamentarian was found in his house in Passley Gardens, Portland, with multiple stab wounds on February 2.
Sources close to the probe said that bloodstains were in sections of the house, as well as in the yard.
However, there was no word regarding whether or not anything was taken from the house, and his motor vehicles were said to be intact.
Source: Jamaicaobserver.com
Ghanaians React After The Acting Auditor General Clears Osafo Marfo Just 24 hours Into Office
Concerned Ghanaians have raised concerns about how swiftly the acting Auditor General, Johnson Akuamoah Asiedu cleared senior minister, Osafo Marfo off all wrongdoings in the matter between him and the Auditor General Mr. Daniel Domelevo who is currently on forced leave as instructed by the president.
The Auditor-General, Mr. Domelevo and Osafo Marfo have both been litigating over the latter's failure to provide evidence of work done by Kroll Associates for which they received $1million as payment.
READ ALSO; Akuffo Addo Is The Most Corrupt President In The History Of Ghana – A Plus Alleges
The matter has been in court for months now pending the evidence of work to be provided by Osafo Marfo to proceed but in a letter dated 3rd July by the acting Auditor General Mr. Akuamoah Asiedu who took over just yesterday the 3rd of July, 2020 disclosed that he is satisfied with the inspection of the documents Osafo Marfo presented to Mr. Domelevo on the evidence of work done by Kroll Associates and that lawyers of the Senior Minister could inform the Supreme Court appropriately.
See the letter below;
This raised a lot of suspicion as to how the evidence available could be sufficient enough for the man who admitted he petitioned the president to instruct Mr. Domelevo to go on leave.
Many Ghanaians are of the view that the Auditor General was removed in order for the government to cover up a bad deed.
See some of the reactions below;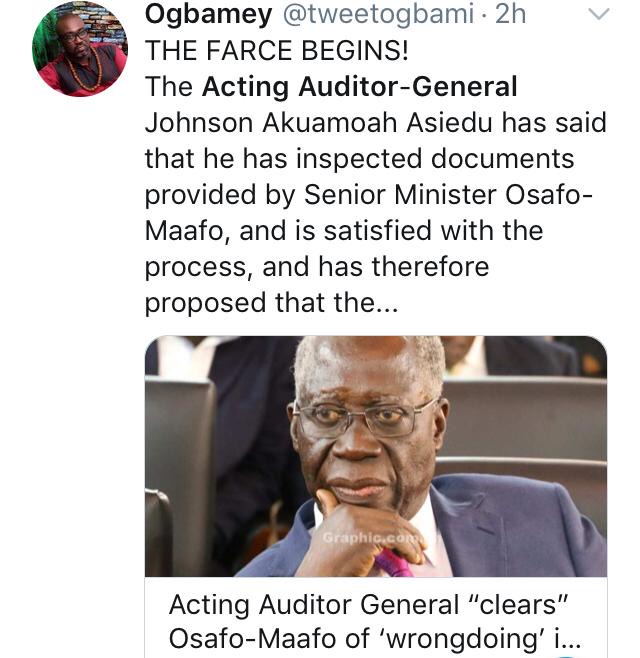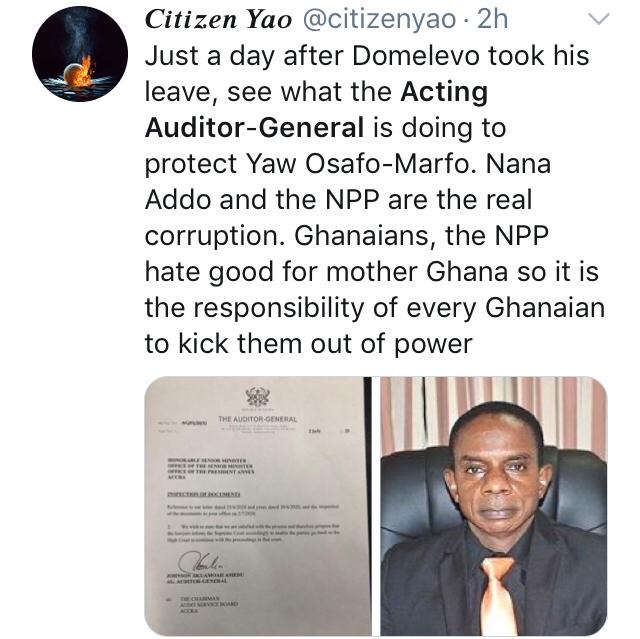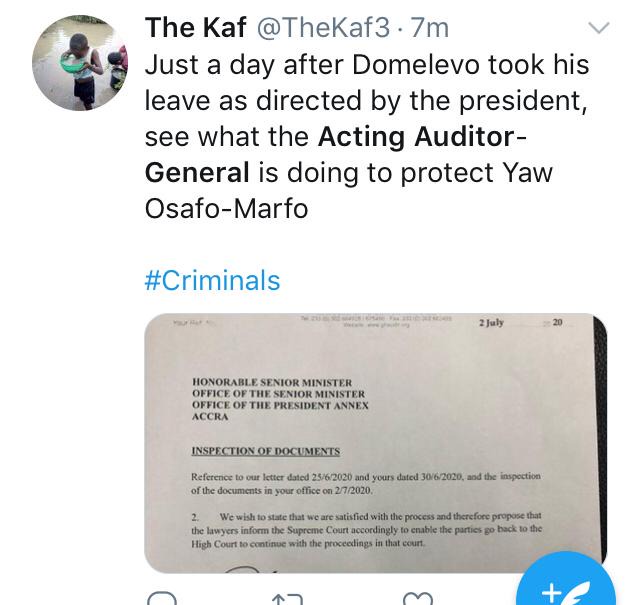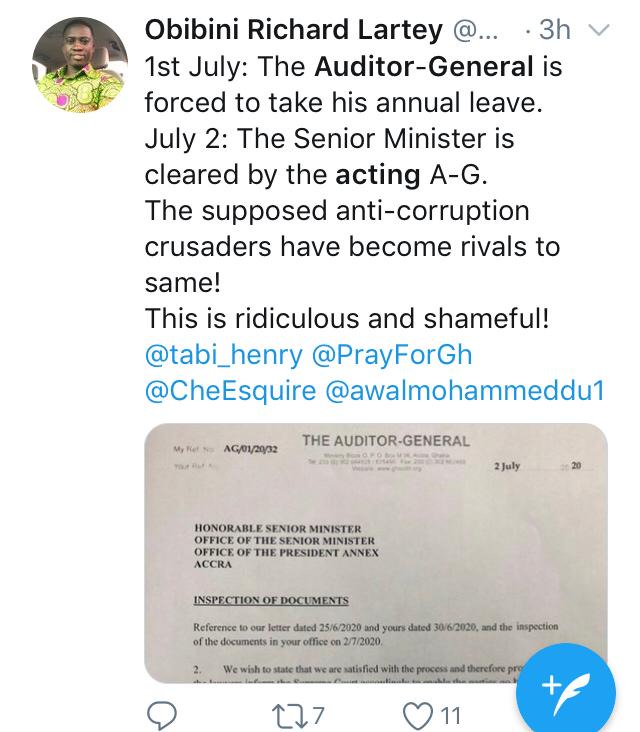 Join our Telegram Group to get notified when LATEST NEWS IN GHANA & JOBS IN GHANA are posted. Click Here to Join EnewsGhana Website Telegram Group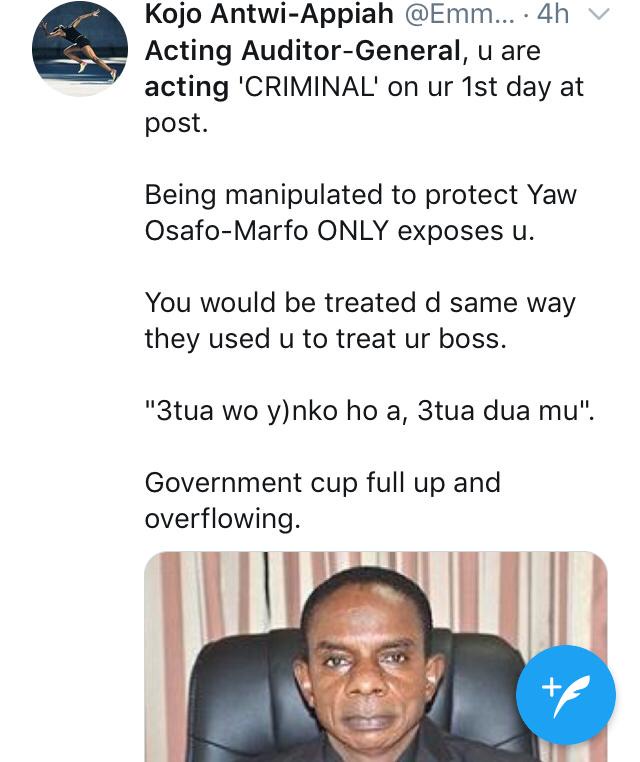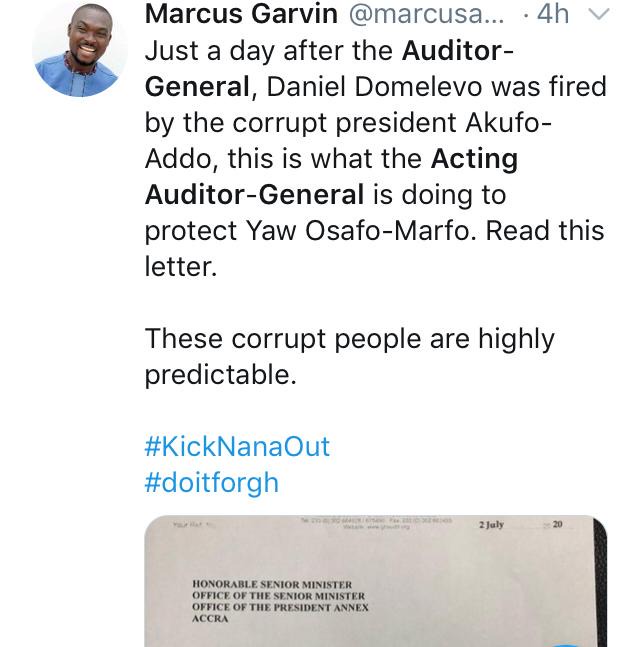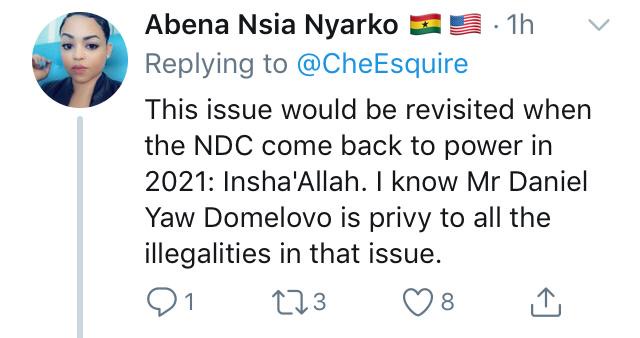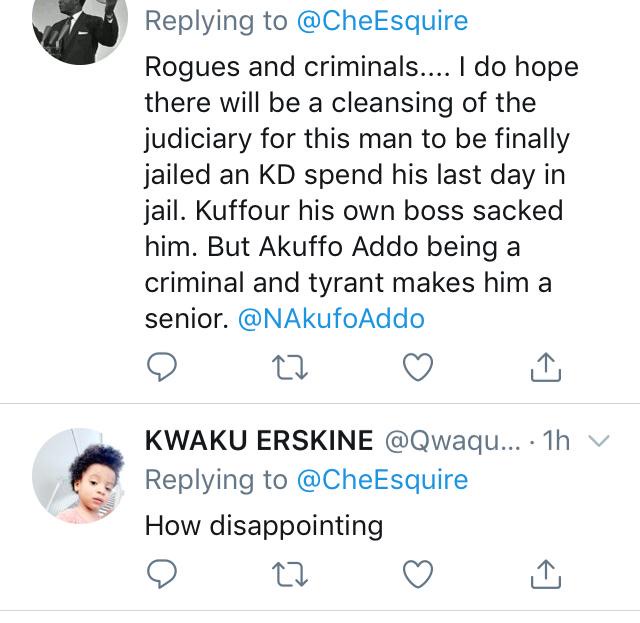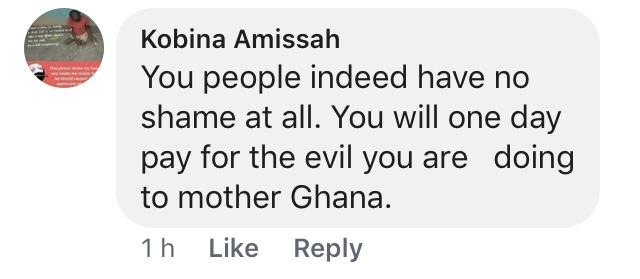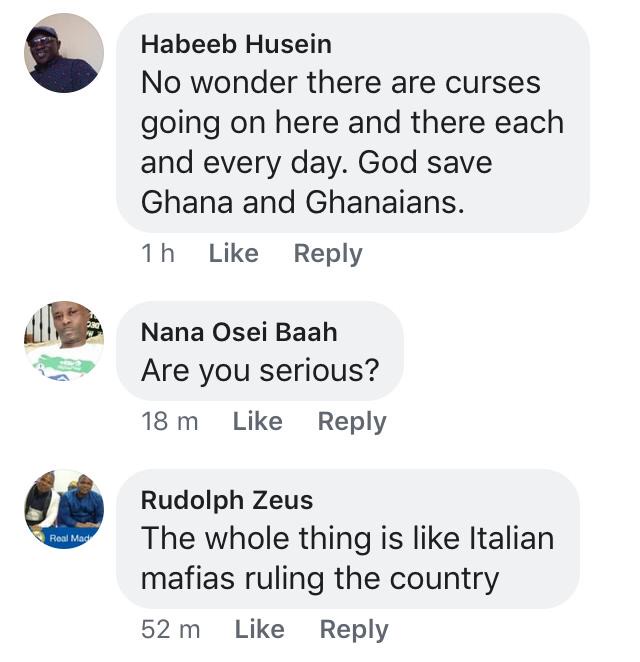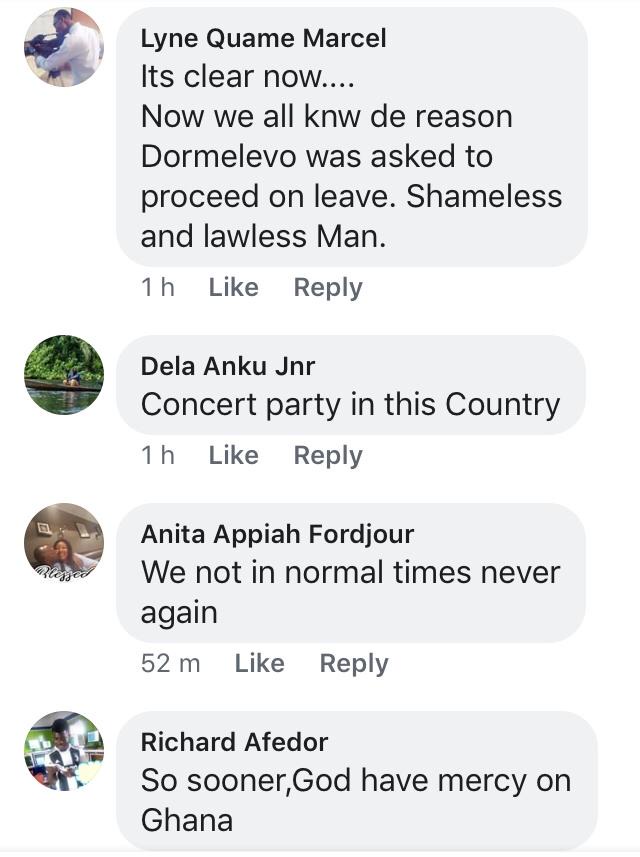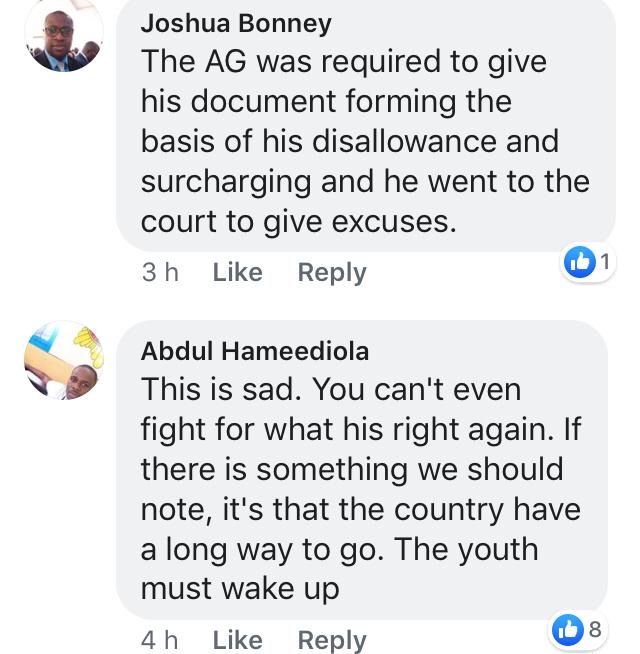 Join our WhatsApp Group 3 to get notified when new Job Vacancies in Ghana are posted. Click Here to Join Our Jobs in Ghana Website WhatsApp Group 3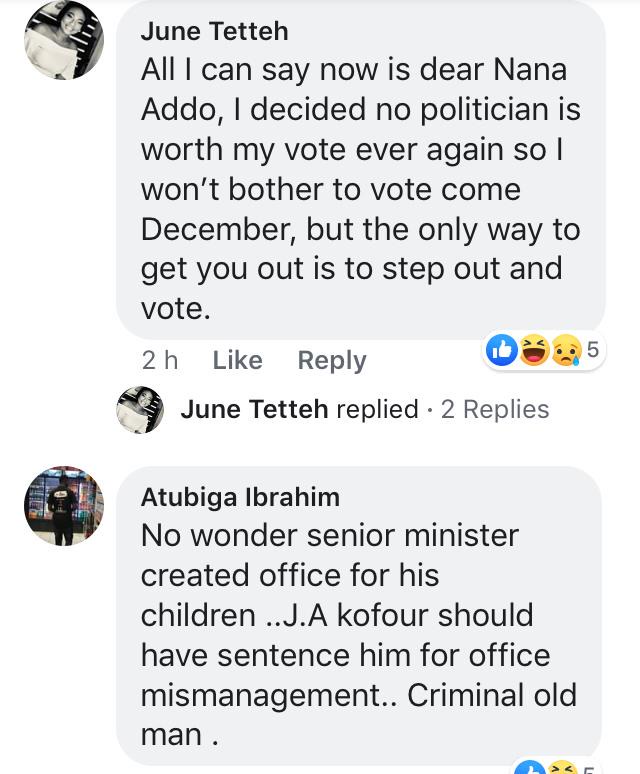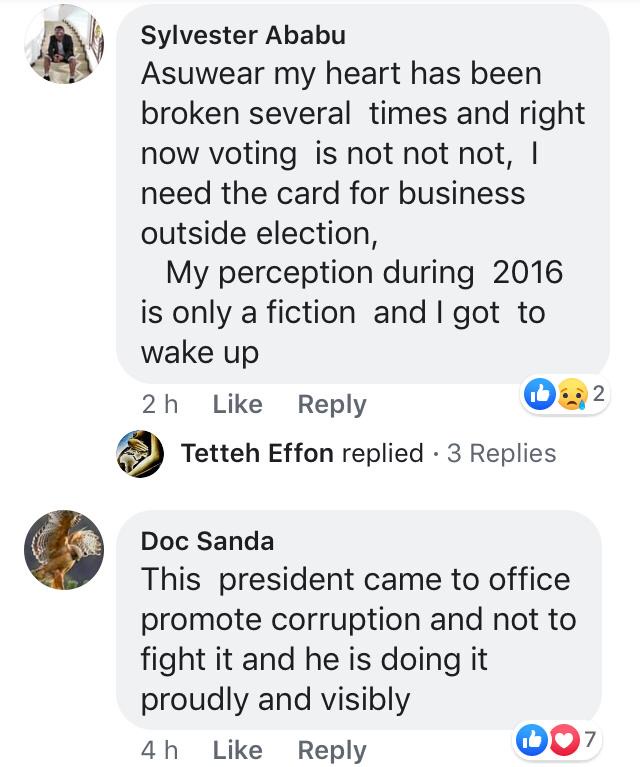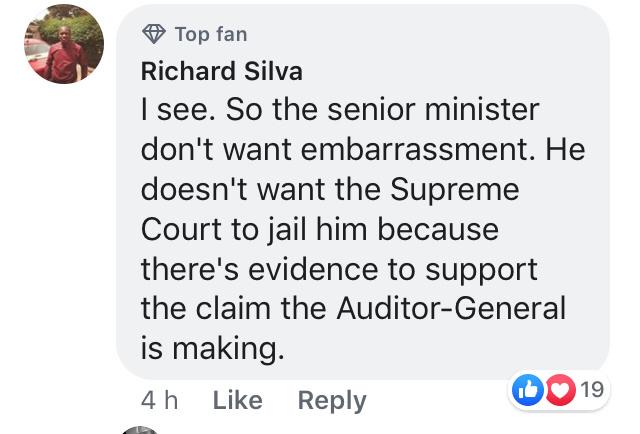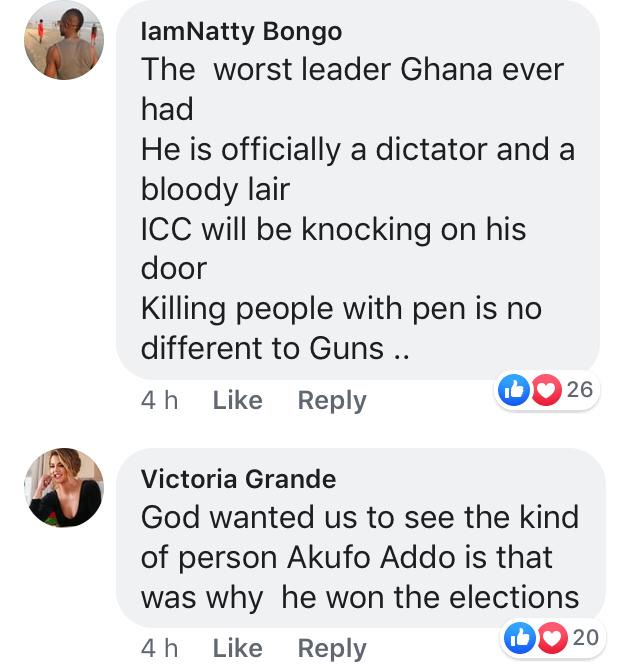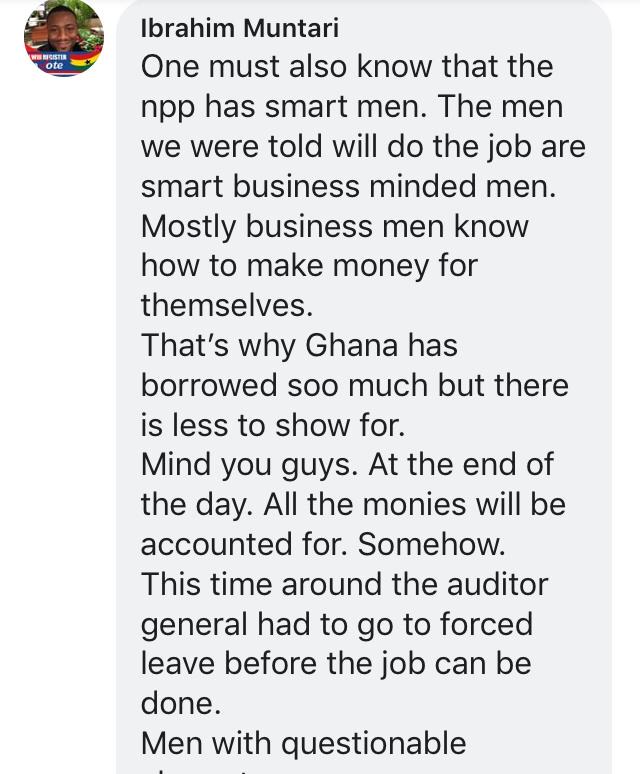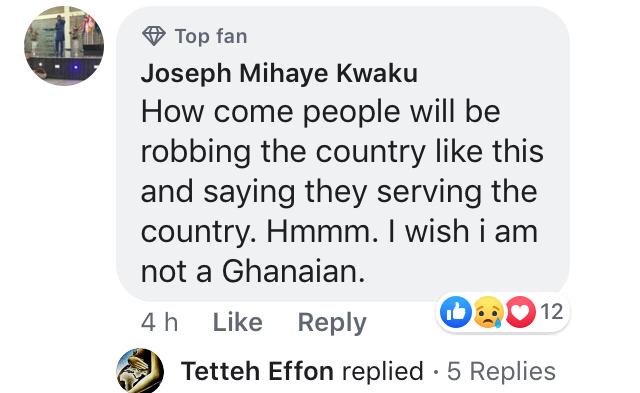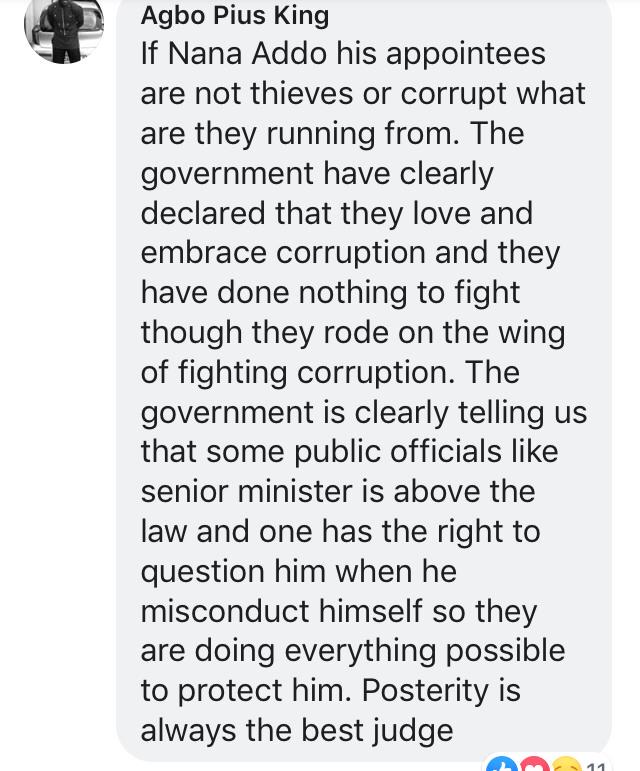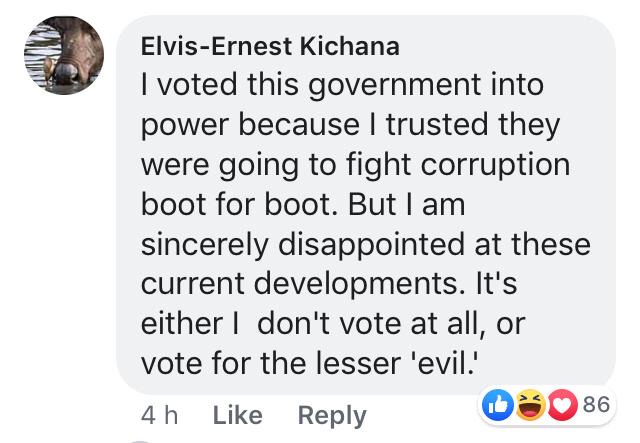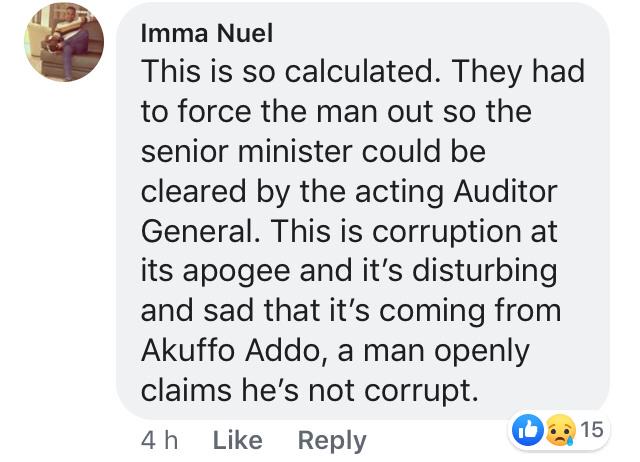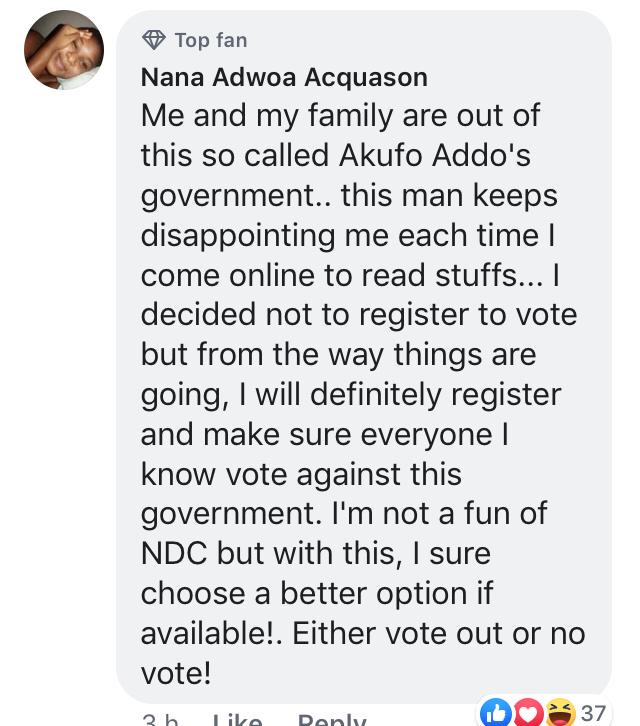 Akuffo Addo Is The Most Corrupt President In The History Of Ghana – A Plus Alleges
Mr. Kwame Asare Obeng popularly known in entertainment and social media as A Plus has descended heavily on the first gentleman of the land, president NANA ADDO DANKWA AKUFFO ADDO with no fear or favour.
He alleges the incumbent government govern has performed way below expectation with respect to campaign promises that led to a landslide victory over main opposition party, National Democratic Congress(NDC) in 2016.
A Plus angrily admonished Ghanaian politicians to be very careful, because the country folks are very angry and look very scary moving forward.
Kwame, however, focussed his post on his gross disappointment in president NANA ADDO DANKWA AKUFFO ADDO  where he expressed his regret for leading the campaign in 2016 for Akffuo Addo to assume power in 2017.
Join our WhatsApp Group to get notified when LATEST NEWS IN GHANA & JOBS IN GHANA are posted. Click Here to Join EnewsGhana Website WhatsApp Group
See excerpts of his post below;
I wished politicians speedy recovery in my previous post and almost everyone commenting is angry that I did. Ghanaian politicians must be careful. The people are very angry. It doesn't look good. One day the people will rise up against you. It is getting scary by the minute.

But you see, I blame Nana Addo. He is the cause of the mistrust in Ghana's political landscape today. He was our last hope. Ghanaians trusted him and gave him their full support but he is worse than his predecessors. He has failed so much that just after 4 years of winning with about a million votes he has to bring his own electoral commissioner and change the voter's register and send military who could not protect our environment in the galamsey fight to the Volta Region before he can win again. He is the reason why people have developed so much hatred for politicians. If you can't trust Nana who can you trust?

Now he has turned into an evening news presenter. Everyday, "Fellow Ghanaians, good evening, welcome to the evening news. My name is Nana, I'm here with my co-presenter, my beautiful Rebecca. Now the news at 9." – GBC corona correspondent.

As for Ghana all it takes is to speak good English and the people will be like awwwww!!! Even Junior Agogo was once our best striker. Tweaaaa!!!

In 2016 Nana Addo was very happy when I asked how the National Organizer of the NDC, former teacher Kofi Adams got his wealth from. But he Nana was at Eugene Arhin's baby naming ceremony. He Nana is aware what his people are grabbing and amassing. This is 2018, let me also ask you Nana, where do your boys get all the money from?Nana Addo is a very dishonest man. I've said it!!! Enough of his people his people. It's him!!!"
Source: EnewsGhana.com