Veep Counts NPPs Gains in New Year Message
The Vice President of Ghana, Dr. Alhaji Mahamudu Bawumia today in his new year message as  he ushered Ghanaians into  2019 used the opportunity to highlight the successes achieved by his government with respect to promises made by NPP prior to the 2016 elections.
He acknowledged the fact that it has been hard but fruitful work for the country since taking up the mandate. Dr. Bawumia further went on to thank  God to have President Nana Addo Dankwa Akufo-Addo as President of Ghana.
In his statement he said "As we come to the end of 2018, we have to thank God for all his mercies. We are thankful for what God has made possible for President Nana Addo Dankwa Akufo-Addo and the NPP to accomplish during our first two years in office".
Some of the policies listed by the vice president,Dr. Alhaji Mahamudu Bawumia, which he attributes to their successful two years  based on campaign promise and delivery basis includes but not limited to:
 Free SHS to reduce the hardship on parents.
Restore teacher training allowances to reduce the hardship on teacher trainees .
Restore nursing training allowances to reduce the hardship on nursing trainees.
Establish a Zongo Development Fund and we have delivered.
We promised a renewed focus on agriculture through the Planting For Food and Jobs program and we have delivered.
Issue National ID Cards and we are delivering.
Implement a National Property Digital Address System and we have delivered.
Digitise the clearance of goods at the ports through paperless ports and we have delivered.
Establish three Development Authorities (Northern, Middle Belt and Coastal) and we have delivered.
One District One Factory program and we are delivering.
We promised a One Village One Dam program and we are delivering.
We promised a One District One Warehouse program and we are delivering.
Implement a Nation Builders Corps program to reduce the hardships on the graduate unemployed.
Implement a National Entrepreneurship and Innovation Program to provide support and reduce hardships of entrepreneurs.
Rehabilitate VALCO to resume operations.
Leverage our natural resources to obtain a $2 billion innovative infrastructure financing arrangement with Sinohydro .
Establish integrated bauxite and aluminium industry and we are delivering.
Implement mobile money interoperability.
Reduce electricity prices.
Reduce the hardship in obtaining a drivers license.
Reduce the hardship in obtaining a passport.
Reduce the hardships in renewing the national health insurance.
Establish an Office of the Special Prosecutor on Corruption.
Revive Ghana's railways and we are on course.
Transparent allocation of Ghana's oil blocs.
Reverse the trend of declining economic growth.
Restore discipline in the management of our public finances and we have delivered with lower fiscal deficits.
Pass a fiscal Responsibility Act.
Establish a Fiscal Council.
 Establish a Financial Stability Council.
Reduce inflation to single digits.
Reduce interest rates and we are delivering.
Keep our exchange rate relatively stable even in the midst of global volatilities.
Reverse Ghana's trade position with the rest of the world from deficit to surplus.
Reduce taxes and we reduced and abolished 17 different taxes in two years.
Revive the NHIS and we have cleared the GHC1.2 billion arrears inherited under the NHIS. The NHIS is working again.
Move away from a predominance of sole sourcing to tendering in procurement.
Bring about a change from destructive galamsey activities to a more regulated small scale mining activities.
Reduce the hardships of the disabled and increase the share of the DACF to persons with disabilities by 50%.
Double the Capitation Grant.
Create six new region.
He ended his statement by saying "It has been an honour for me Dr. Mahamudu Bawumia to serve as his Vice-President.We look forward to a blossoming 2019.Happy New Year in advance".
Are you feeling the impact of the successes of the interventions underscored above by the Veep? Leave your thoughts in the comment section below.
Hot Evidence: Impeachment Against EC Boss Initiated; Franklin Cudjoe Supports Her Removal
Contrary to the belief that Jean Mensa will be a free woman to do her job, she was haunted by the courts over the week to present the legal basis of rejecting Old Ghana Voter's Identification Card as authentication to compile the New voter's register within this month.
She returned from the court to meet a document which has initiated her likely impeachment and removal from office as the boss of the Electoral Commission of Ghana.
Join our WhatsApp Group 2 to get notified when new Job Vacancies in Ghana are posted. Click Here to Join Our Jobs in Ghana Website WhatsApp Group 2
The document which has found itself in the media circles has stated some strong questions which failed to answer, which will spark a similar instance that sent Mrs. Charlotte Osei out as the Electoral Commission Boss. Charlotte Osei was thrown out on many bases. Notably among them was a breach of procurement protocols which the current Electoral Commission Boss has also been accused of.
Strongly linked in the letter is Franklin Cudjoe's IMANI Ghana which has provided strong evidence to the group to help put Mrs. Jean Mensa out of office.
Below is a copy of the Document containing the series of questions begging for answers or resigning from the office.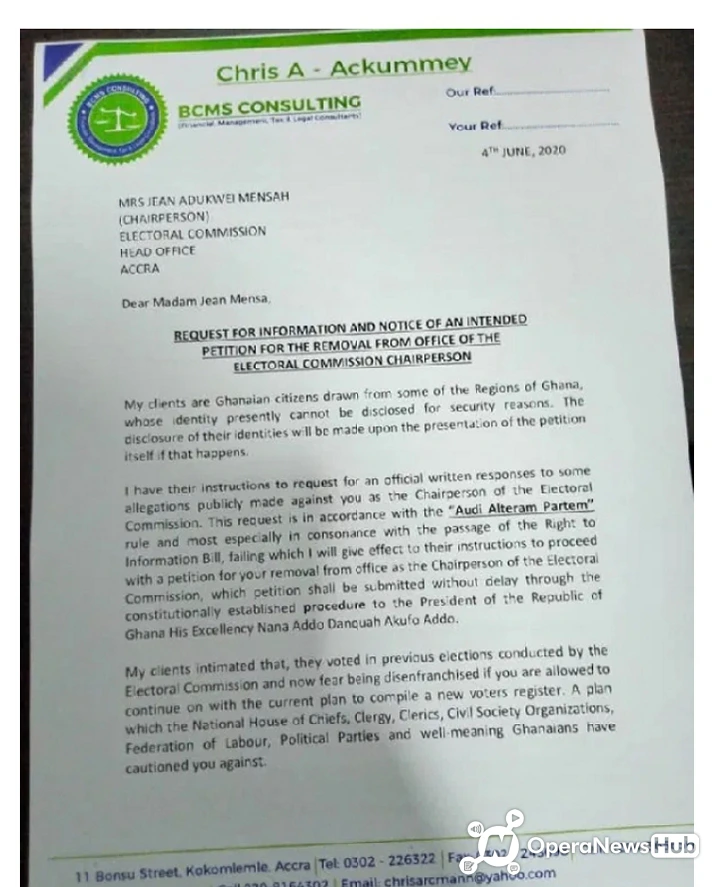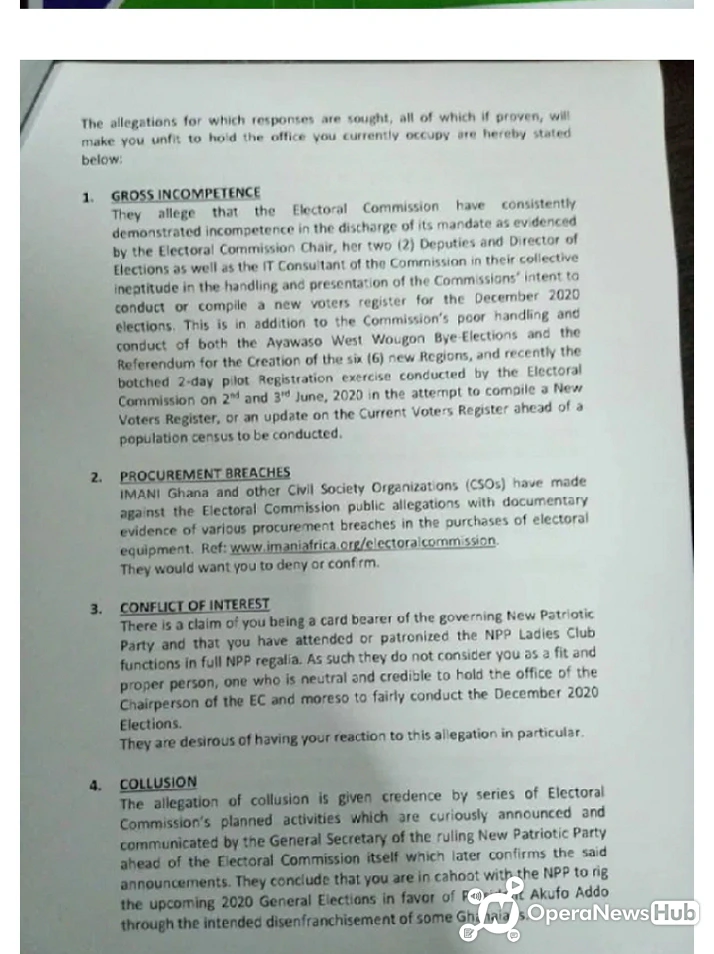 Source: theindependentghana.com
Deal With Tribalism In Ghana Before Talking About Racism In America – Ghanaians Tell Akufo Addo
Ghanaian president, Nana Addo Dankwa Akufo-Addo has finally reacted to the current unfortunate developments in the United States of America over the past few days.
Recall that in a viral video, George Floyd on Monday the 25th of May, 2020 died after he was pinned down by a police officer, his cheek pressed into the asphalt of the street just behind the right-back tire of the Minneapolis Police SUV. Before giving up the ghost, he was heard screaming, "Please, please. I can't breathe. "I can't breathe, officer." as one of the officers, identified as Derek Chauvin continues to kneel on Floyd's neck, till he stopped breathing.
Following the unfortunate incident, there has been an outpour of solidarity messages across the world to the family of George Floyd while demanding justice for the deceased.
Join our WhatsApp Group 2 to get notified when new Job Vacancies in Ghana are posted. Click Here to Join Our Jobs in Ghana Website WhatsApp Group 2
The latest to join is the president of Ghana, Nana Akufo Addo. He put out a post on his Facebook space expressing his deep condolences to the family and loved ones of the late George Floyd on behalf of Ghanaians.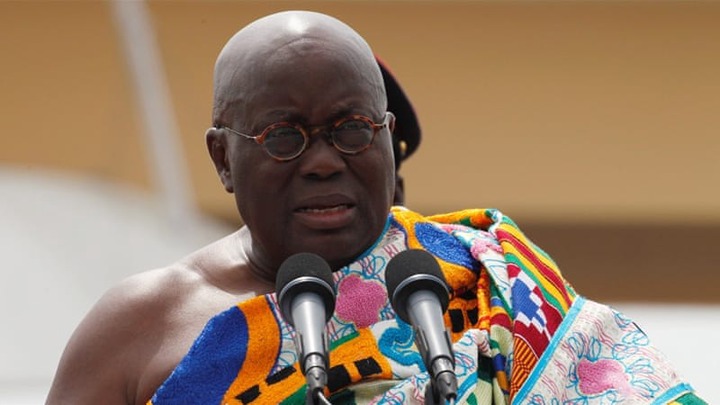 "It cannot be right that, in the 21st century, the United States, this great bastion of democracy, continues to grapple with the problem of systemic racism", he said.
Read the full post below;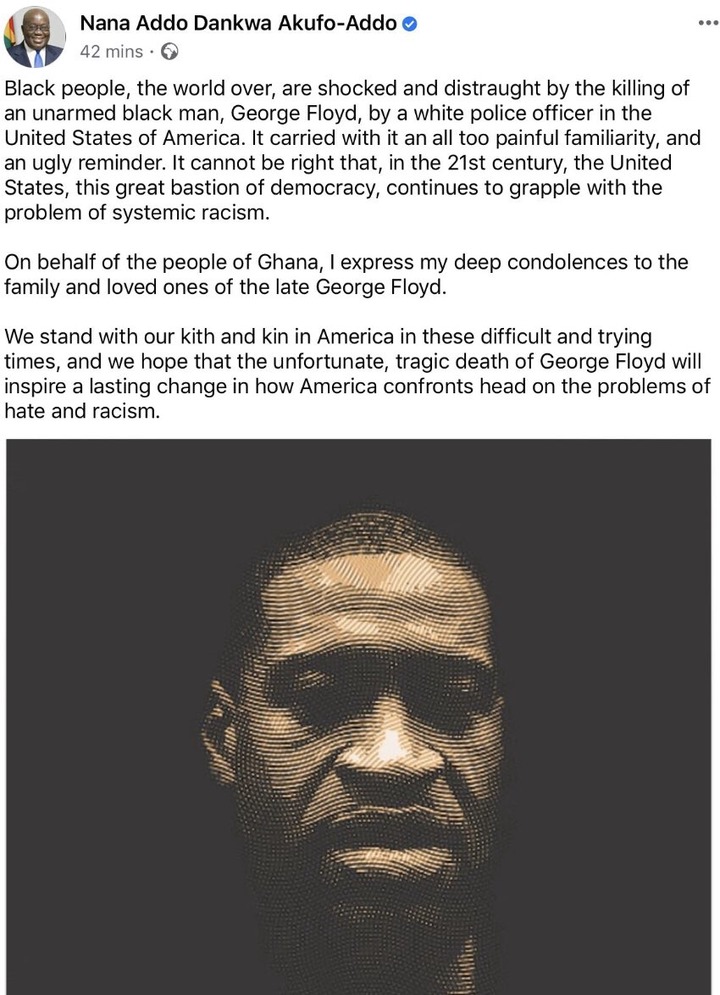 READ ALSO; All Final Year Students To Go Back To School On June 15
But unfortunately, his message was met with unexpected reactions from Ghanaians. As it was originally expected that they would side with the president to send kind words to their fellow Africans in America, many are of the view that he is not in the position to do so since same incidents occur in his own backyard (Ghana) and he has done nothing to solve them.
Some angry Ghanaians took the opportunity to remind president Akufo Addo about his failed promises of finding the missing and now dead 3 Takoradi girls, the killers of undercover journalist, Ahmed Suale and even his own member parliament, J.B Danquah Adu amongst others.
Join our WhatsApp Group to get notified when latest news in Ghana AND JOBS IN GHANA are posted. Click Here to Join EnewsGhana Website WhatsApp Group
Many also believe that the president okays tribalistic bigotry in his government which is perpetrated by his own government appointees and some party leaders against other tribes.
It was argued that tribalism is similar to racism. Some people even believe that it is even worse than racism since this one is towards your own native – the only difference is language.
See some of the reactions below;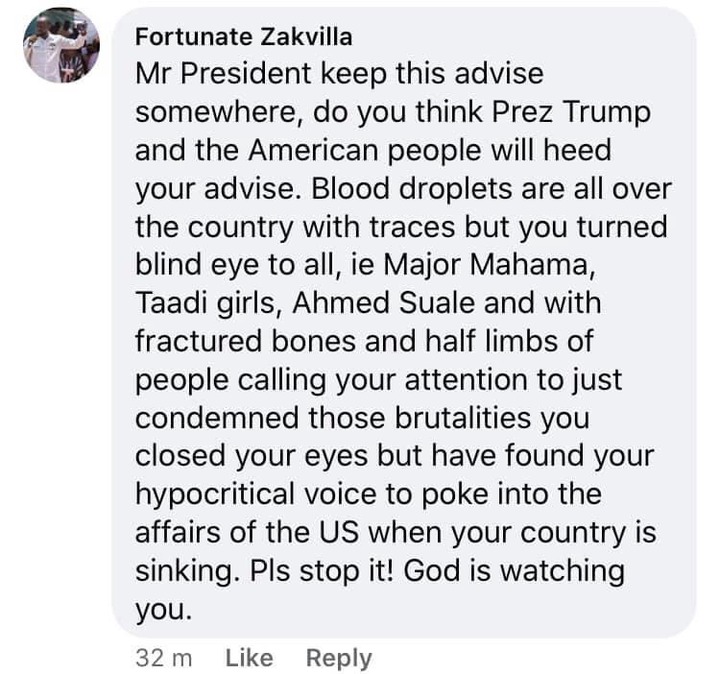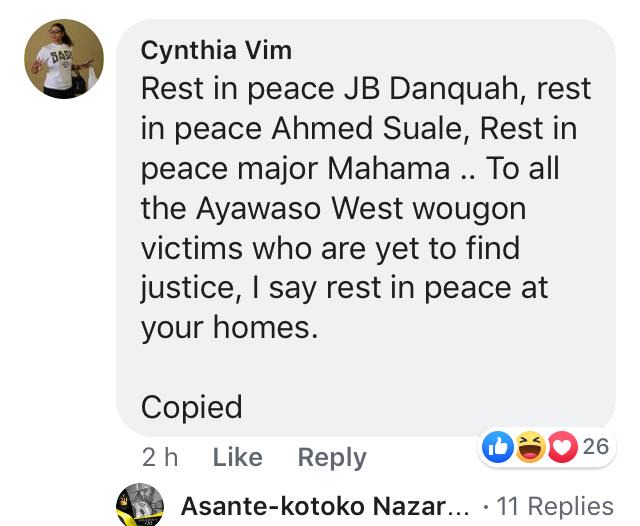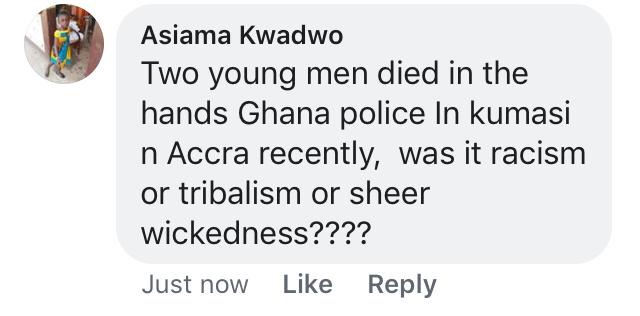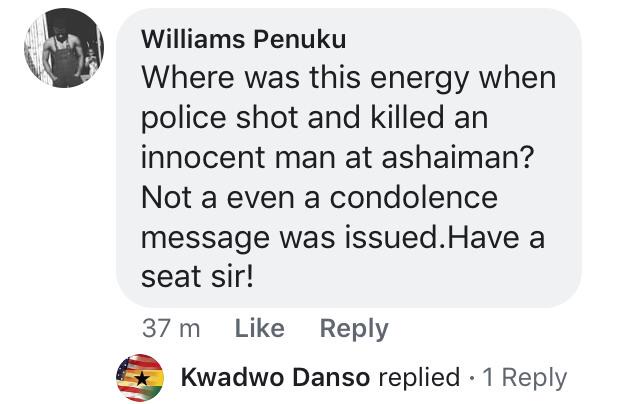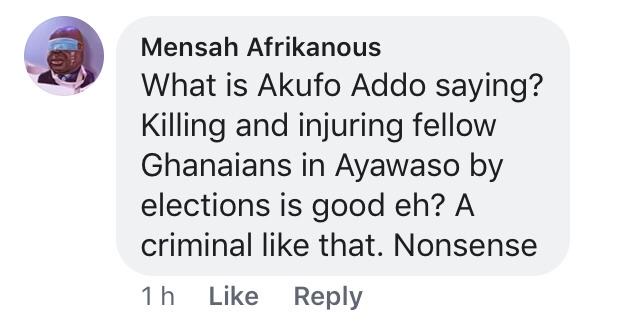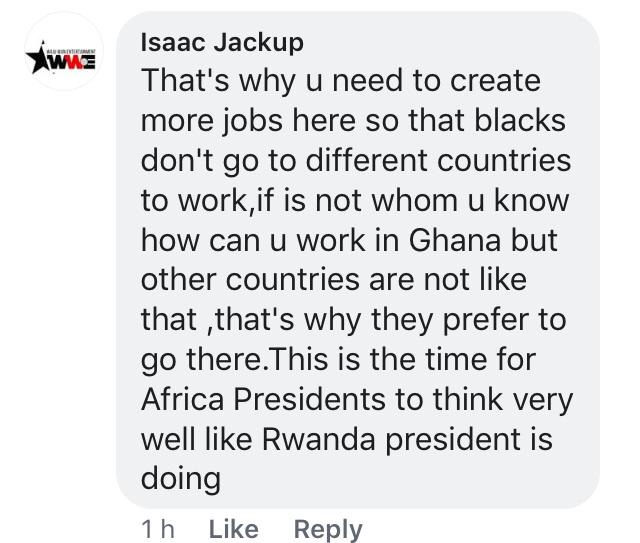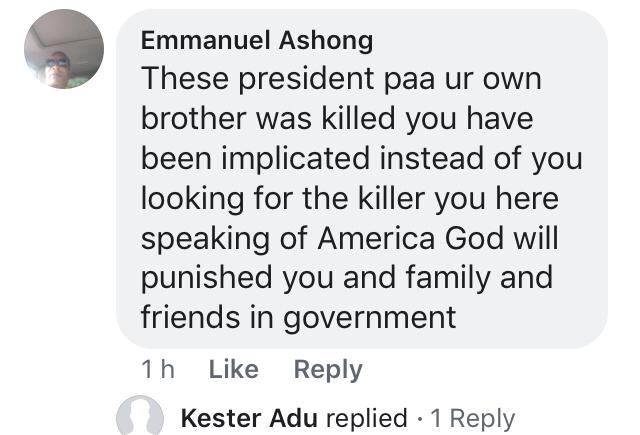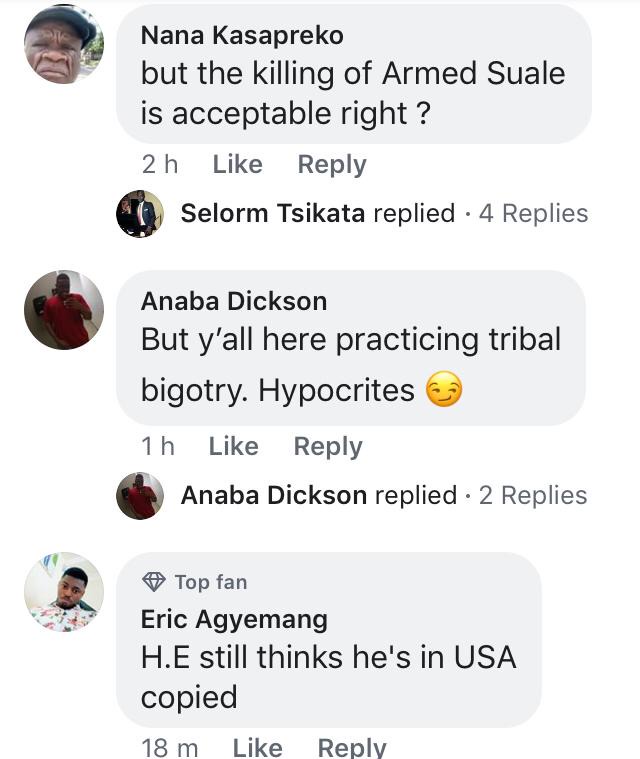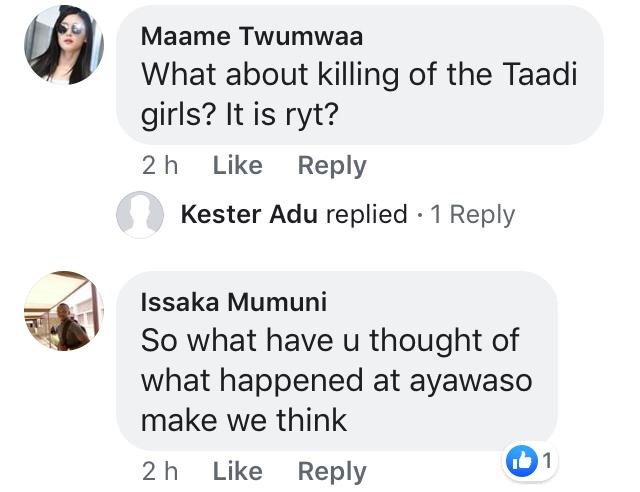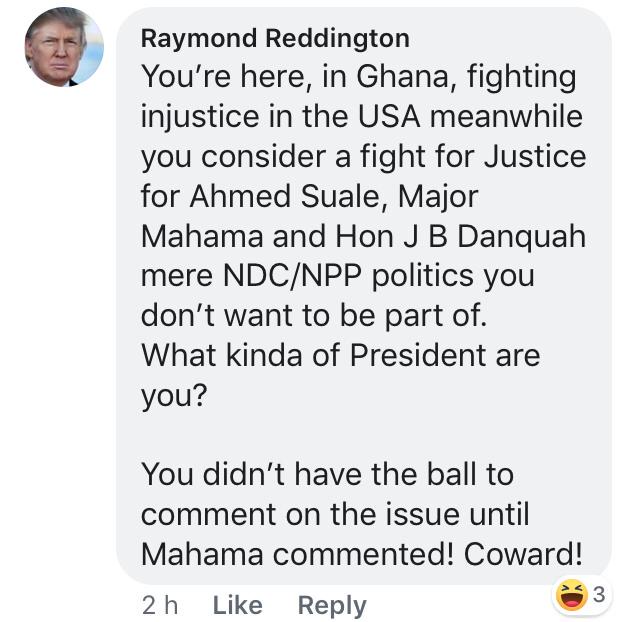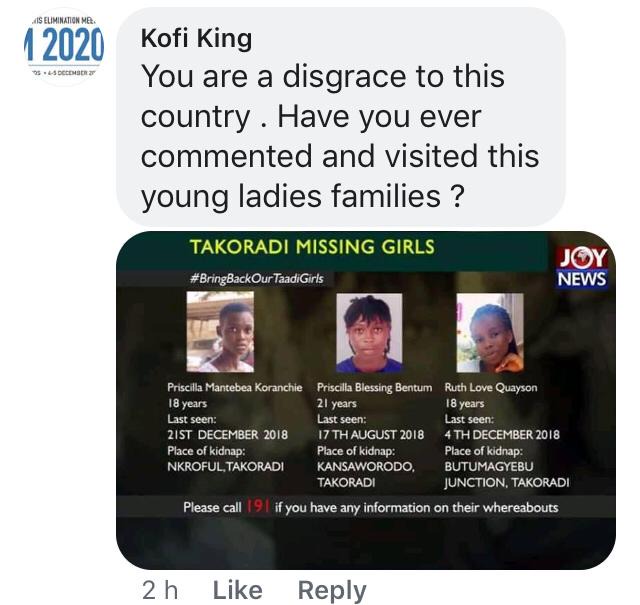 What do you make of the reactions towards the president's message? kindly leave your opinion below.
Source: ENewsGhana.com