NPP Youth Organizer Caught Campaigning In Senior High Schools In Kumasi (Photos)
The president, Nana Akufo-Addo, the Education Minister, Mathew Opoku Prempeh, and the NPP assured Ghanaians and parents that no one was going to have access to the children including their parents and guardians.
Today the National Youth Organiser of the running party, the NPP, Henry Nana Boakye Nana-B is in the Ashanti Region with an entourage visiting these students on their campuses. This is such a gross abuse of incumbency, further deepening the risk of exposing these innocent kids to the deadly pandemic.
Join our WhatsApp Group 3 to get notified when new Job Vacancies in Ghana are posted. Click Here to Join Our Jobs in Ghana Website WhatsApp Group 3
Ghanaian parents have been deeply disrespected. It is very obvious, that by what is going on, at this point, if parents do not walk to the schools to pick up their wards, before the WAEC examinations commence on July 20, the infection rate will be uncontrollable.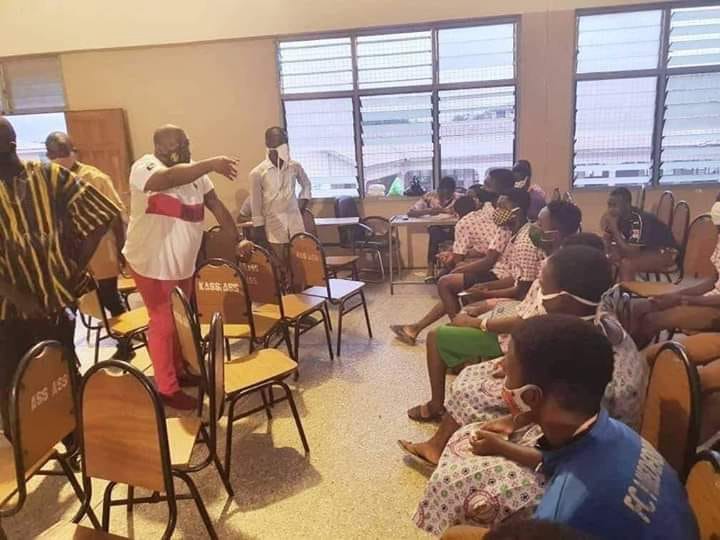 Does it however mean that all other political parties can also now visit the SHS schools even after the exercise to inquire how it went?
READ ALSO; See Full List of Senior High Schools in Ghana with COVID-19 Cases so far
What if Nana B or any of his team members is positive for the Coronavirus since some campaign team members are known to have contracted the virus.
None of them was wearing hand gloves yet they are seen in pictures touching some surfaces as they visit the schools.
As we can see, the students are also not being coordinated to observe the social distance.
See the photos below;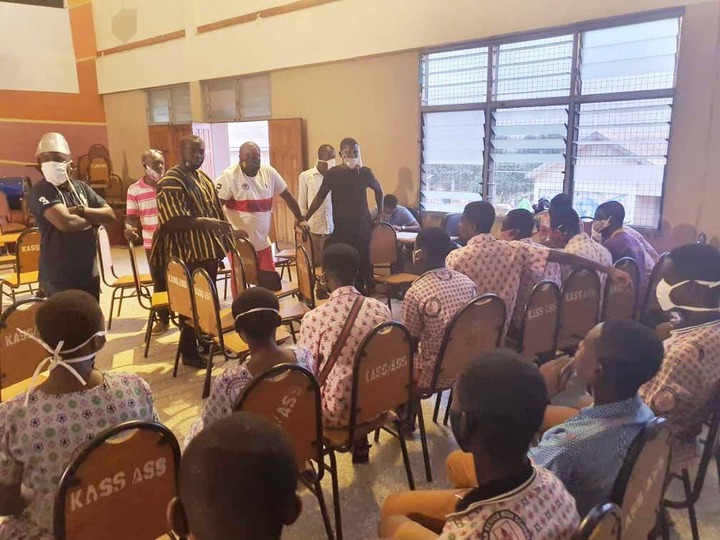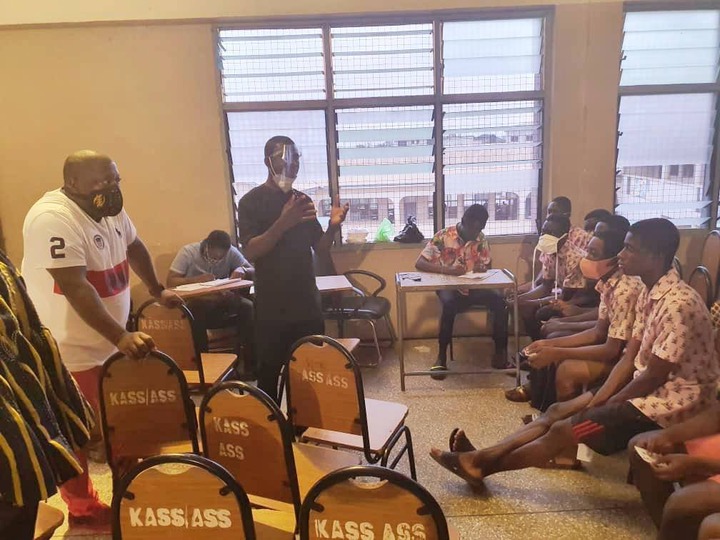 READ ALSO; Ursula Owusu Publicly Disgraced By Her Own Fan After She Attacked John Mahama's Running Mate
Why Is Government Not Preventing Foreigners In Kumasi From Registering To Vote? – A Plus Asks
Popular Ghanaian musician and political activist, Kwame Asare Obeng, popularly known as A Plus has come out to ask a very important question pertaining to the ongoing voters' registration exercise.
According to him, it is a well-known fact by everyone that there many foreigners in Kumasi and Kyebi but no military personnel was deployed there to prevent them from registering but only Volta Region.
READ ALSO; Christian Council Endorses The Use Of The Military To Intimidate Ghanaians Who Support Their Opponents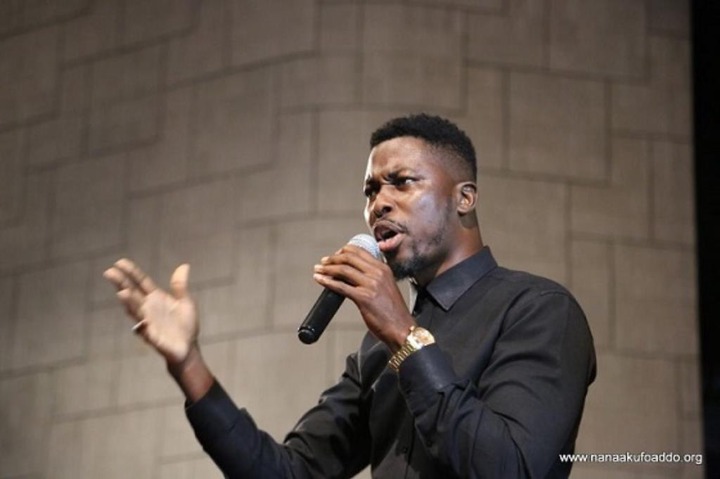 He said this in response to the latest claim by the Minister of Inner-City and Zongo Development, Mr Mustapha Abdul-Hamid that the military are in Volta Region to prevent Togolese from crossing the border to register to vote.
But it's well-known fact and rightly said by the minister himself that there are many Burkinabes in Kumasi, many Fulanis in Agogo and the likes but there are no military presence there.
This means that those people are registering to vote. He believes that the latest development by this government is nothing but state-sponsored discrimination against Ewes.
Taking to his official Facebook page, he wrote;
READ ALSO; NDC Invigilators Not Allowing Us To Cheat – Koforidua WASSCE Candidates Cry
"The minister makes a lot of sense here. The election is a Ghanaian election and not a West African one. But my question is, why didn't the government send the military to Kyebi and Kumasi to ensure that foreigners don't register to vote in our election? Are all the Fulani herdsmen in Agogo Ghanaians? Why didn't the government send the military there to ensure that those who are not Ghanaians don't register? Are there no Burkina Moshie people in Kumasi, Tamale and Nima? Are there not many Nigeriens and Chadians in our Zongo communities? So why is the military in only the Volta region and moving from center to center to decide who is a Ghanaian and who is not?
The answer is very simple – the real owners of Ghana sent the military to prevent Ewes from registering to vote because they think Ewes are not Ghanaians. Kindly allow them to leave with Papavi!!! This is nothing but state-sponsored discrimination against Ewes!!"
See the post below;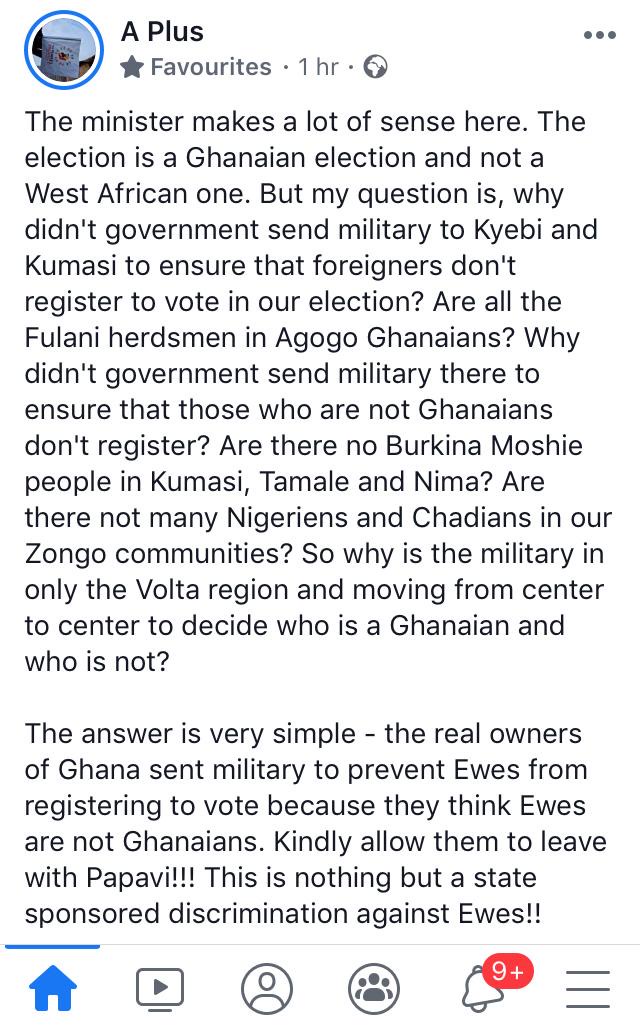 Link to the post below;
https://web.facebook.com/watch/?ref=saved&v=296337571692465
READ ALSO; Top 4 Ghanaian Celebrities Whose Parents Are pastors (Photos)
Christian Council Endorses The Use Of The Military To Intimidate Ghanaians Who Support Their Opponents
It is no news that the voter's registration exercise has been marred with many instances of a "deliberate agenda of tribal discrimination,…to frustrate and disenfranchise Ghanaians of certain tribes from acquiring Voter ID Cards that will qualify them to exercise their democratic right to choose a President and Members of Parliament on 7th December 2020".
This is very evident in the Volta Region, specifically the Ketu South District and the Banda in the Bono region, where there are Voltarians there who are perceived to vote against the ruling government.
READ ALSO; You Do All – President Akufo Addo Finally Congratulates Shatta Wale For His Collaboration With Beyonce
There are confirmed reports and videos where Voltarians who can not speak Twi or Ga but only Ewe are told by the military personels not to register.
There are also reports from Banda where Voltarians who have lived there all their lives are being prevented from registering to vote.
However, the NPP has said that the NDC has resorted to undermining the simple, civil and peaceful exercise of voter registration into one of ethnocentrism through outright fabrications, needless exaggerations and old-fashioned fear-mongering and propaganda tactics.
There is a loud public outcry from the general public to get leaders to address the unfortunate issue but the president publicly stated that he has absolutely no knowledge of any incident at any polling station in the country.
READ ALSO; Policemen Allegedly Attacks People In A Vehicle To A Funeral In The Volta Region On Suspicion Of Going To Register To Vote
Surprisingly, the Christian Council of Ghana has come out to say that God will deal with politicians using tribalism to score political points.
In an interview with Samuel Eshun on the Happy Morning Show, Chairperson of the Christian Council, Rev. Professor Joseph Obiri Yeboah Mante noted that the use of tribalism to win political points is not a new tactic used by politicians.
"Tribalism in politics is not a new thing. Since we have a lot of tribes in Ghana, any time there will be any political process, people will trigger tribalism. However, the leaders in politics and anyone who has studied political science knows that at a point, when you feel you are losing out in politics, tribalism can help. So they know how to use that tactic", he said.
While he prayed that these politicians repent from their ways, he was confident that those who did not will face God's wrath. "These are all political tricks and for the politicians engaging in that I pray that they will repent or else God will deal with them. We have only one Ghana. Anyone who uses tribalism to destroy our country will be dealt with by God", he added.
READ ALSO; Top 4 Ghanaian Celebrities Whose Parents Are pastors (Photos)
From an objective point of view, the Cristian Council is corroborating with the NPP.
It can therefore be inferred that the Cristian Council endorses politicians using the military and others to visit injustices on those that predominantly support their opponents.
Instead of investigating with righteousness the cry of those enduring injustice, because ours is a system of patronage where one must be in the good books of the King to enjoy some of the electoral spoils, truth is far even from the hearts and lips of those who should be demonstrating the love of Christ to the world.