(Video) 18-Year-Old Son Of Pastor Love And Obaapa Christy Exposes Dad's Ritual Activities
The 18-year-old son of the controversial Ghanaian preacher, Pastor Love and gospel musician Obaapa Christy has allegedly exposed his dad for being fake a man of God.
According to the boy in a video sighted online, his father has been performing ritual activities in his room secretly to fortify his ministry.
Join our WhatsApp Group 2 to get notified when new Job Vacancies in Ghana are posted. Click Here to Join Our Jobs in Ghana Website WhatsApp Group 2
It is common knowledge for him but because he doesn't want to reveal his evil activities, he left his father's house to go stay with his mother.
He disclosed this while speaking on Net2 TV's expose` program with Manasseh as he details how he got to find out that his dad has been engaging in rituals.
This revelation has reawakened the conversation among social media users who were not sure of similar revelation made by Kennedy Agyapong a few weeks ago about the same Pastor.
Watch the video below;
Source: www.ENewsGhana.com
Wenchi NPP delegates hold press conference to refute Kennedy Agyapong's allegations
It has emerged, remarks made on Oman FM political talk show (The boiling Point) on 14th May, 2020 by outspoken Honourable Kennedy Agyapong, the Member of Parliament of Assin Fosu Constituency has not gone down well with NPP delegates in the NPP delegates in Wenchi constituency. 
To address their displeasure, a press conference was held on the 25th May to set the records straight as party members believe, the comments are unfortunate and have the potential to cause unnecessary tension and mistrust within the rank and file of NPP party and by extension have a negative impact on the Ghana general elections come December 2020.
Join our WhatsApp Group to get notified when latest news in Ghana AND JOBS IN GHANA are posted. Click Here to Join EnewsGhana Website WhatsApp Group
The key points the press conference seek to clarify as follows;
It is inaccurate that, the Wenchi constituency parliamentary seat was captured from NDC in president's Kufour's era as alluded to by honorable Kennedy Agyapong

It is  also untrue  that NDC has penetrated the ranks of we the delegates through monetary inducement
They urged Kennedy Agyapong to disregard the feedback from 'false intelligence' gathered by his investigative team as they believe some of his utterances and unsubstantiated conclusions could jeopardize the efforts of the parties target of #4More4Nana come the December general elctions.
Find the full press conference See below:
See Full Wenchi NPP delegates Press conference to refute Kennedy Agyapong's allegations
Source: ENewsGhana.com
Sad Video: Black Man Dies After US Officer Kneels On His Neck For Over 7 Minutes While Arresting Him
An upsetting video going viral online shows moments a Minneapolis police officer pinning down a defenseless black man identified as George Floyd with his knees for well over 7 minutes until he became unconscious and later died in police custody a few hours later on Monday the 22nd of May, 2020.
George Floyd
In the video, a police officer is seen holding George down after he "physically resisted officers". One of the officers pinned him down by the knees on his neck while the other controlled the concerned crowd around.
Join our WhatsApp Group to get notified when latest news in Ghana AND JOBS IN GHANA are posted. Click Here to Join EnewsGhana Website WhatsApp Group
"I can't breathe," he kept saying but the arresting officer won't have none of it but was heard telling George to get up and get in the car.
"I can't," George told the cops.
At some point, George starts screaming for his "grandma" and also complained; "My stomach hurts, my neck hurts, everything hurts" but the officer kept applying pressure to keep George down to the floor.
Bystanders who could not take it anymore approached the scene and told the officer to get off of the man. One person pointed out that the man's nose had started to bleed but they didn't listen.
George then stopped moving and became unresponsive as the ambulance arrived at the scene and placed him on the gurney and carted away but later confirmed dead in custody.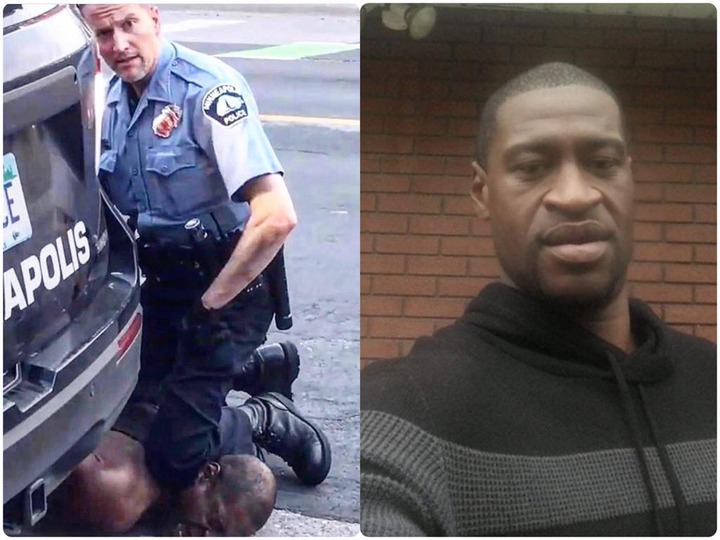 Watch the video below;
https://www.instagram.com/tv/CAqV83UHqnR/?utm_source=ig_embed
As at the time of making this report, only two of the police officers involved are known; Devan Shoven – the one with his knee on the neck of George Floyd and Tu Tao.
New reports coming in points out that the four police officers involved were fired by the Minneapolis Police Department and supported by the mayor, Jacob Frey as confirmed by the Minneapolis Police Chief, Medaria Arradondo in a short address to the press.
The reports also noted that the FBI has begun an investigation into the incident and will turn in their report to the US attorney's office for possible charges.