Rejecting A Guy's Proposal Because He Is Short Is Racism – Ghanaian Men Protest
The fight against racial injustice has been ensuing since time. The fight has heightened after the broad daylight killing of an African American, George Floyd last week by a white police officer during his arrest over an alleged forged $20 note by Derek Chauvin.
In the US, UK, and elsewhere in Europe, many have taken that fight from social media to the streets making their voices heard through protests with some turning violent.
Here in Ghana, some concerned citizens have also joined the fray.
Join our WhatsApp Group 2 to get notified when new Job Vacancies in Ghana are posted. Click Here to Join Our Jobs in Ghana Website WhatsApp Group 2
With what started as a mere protest on Twitter with the hashtag, #GhAgainstRacism, many have trooped onto some major streets in Accra to also make their voices heard.
As the protest unfolds, some men have decided to use the opportunity to voice out their reservations about they are treated by some Ghanaian women.
READ ALSO; (Photos) Meet The Beautiful Wife And Children Of Late UTV's Kwadwo Wiafe Who He Has Left Behind
According to them, racism comes in many forms in the world, and here in Ghana, when a guy proposes to a lady the lady rejects him, she's being racist hence the act needs to be frowned on just as the rest.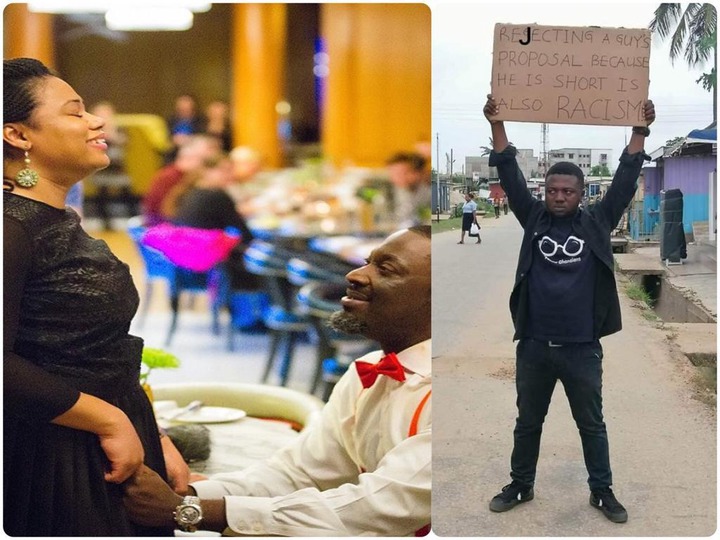 Taking to the streets of Accra with placards, they wrote;
"Rejecting A Guy's Proposal Because He Is Short Is Racism" #GhAgainstRacism
"Whatever affects one directly, affects all indirectly." – Martin Luther King Jr. #GhAgainstRacism
See some of the photos and tweets below;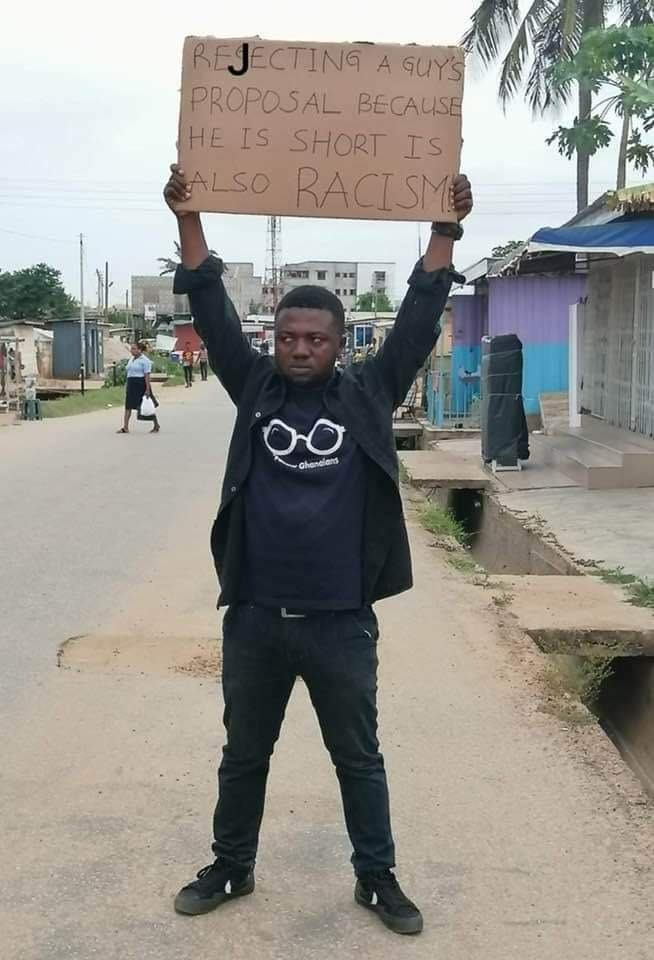 Dear ladies, please be fair to Kwabena Wan and associates. #GhAgainstRacism pic.twitter.com/xdLFnP7GBE

— Fiifi Yeboah (@thisisfiifi) June 5, 2020
Do you think they are right to demand justice for being rejected for being short? Kindly leave your comment below.
Source: ENewsGhana.com
Video: FDA Boss spotted in Anas Aremeyaw Anas Latest Exposé
(Video) Sammy Gyamfi, Spio-Garbrah, Adongo et al Clash With Security At Tema port
It was a chaotic situation at the long room and revenue unit of the Tema port following the visit of some NDC officials including National Communications Officer Sammy Gyamfi, former Minister for Trade and Industry Ekwow Spio-Garbrah and Bolgatanga Central Member of Parliament Isaac Adongo.
The purpose of their visit was to ascertain the difficulties with the newly introduced Integrated Custom Management System (ICUM), also referred to as UNIPASS.
Join our WhatsApp Group 3 to get notified when new Job Vacancies in Ghana are posted. Click Here to Join Our Jobs in Ghana Website WhatsApp Group 3
Since the introduction of this new port-clearing system, which processes documents and payments through one window and intended to depart from the previous system where valuation and classification and risk management and payment were handled by different entities, there has been controversies regarding its efficiency.
Freight forwarders in particular have complained about some difficulties with the new system.
Some say they are either unable to clear their goods or are unable to clear the goods in good time.
Upon arrival at the long room, Sammy Gyamfi addressed the press on the contingent's mission and proceeded to introduce members.
READ ALSO; Questions, More Questions; But Who Is In Charge Of The Ongoing Lawlessness In Ghana?
"We came here to engage with the stakeholders and to better understand what the challenges are," Sammy Gyamfi told journalists.
"We came here to see for ourselves whether the UNIPASS system is working smoothly or it is not working at all."
Not long into the address, security men stormed the place and asked them to leave, causing a momentary melee.
The team was compelled to move out of the long room to continue with their address.
READ ALSO; You hold primaries but act as if churches are COVID-19 distribution centres – Bishop Charles Agyinasare
Watch the video below;
READ ALSO; 18 Reasons Why Ghanaians Should Vote For John Dramani Mahama In The 2020 Election