GPCC rejects 'unacceptable' church legislation proposal
GPCC rejects 'unacceptable' church legislation proposal
The Ghana Pentecostal and Charismatic Council (GPCC) has kicked against a proposal by parliament for the legislation of churches in Ghana.
Parliament, on Wednesday, 29 May 2019 advocated legislation to clamp down on what the chamber termed the abuse of congregants, especially by one-man churches.
In a statement on the floor of the house on the activities of the churches, the MP for Mfantseman Constituency, Mr Ekow Hayford said it was about time the state took drastic action against pastors who abused people's rights.
He called for legislation and an independent body to manage church activities in the country.
Contributing to the statement, the MP for Ablekuma Central, Mr Ebenezer Nartey, argued that some pastors do not deserve the title.
He cited instances where some of them distribute lotto numbers, sell paraphernalia at exorbitant prices, among others, as things that should be condemned.
The Speaker of Parliament, Prof Aaron Mike Oquaye gave the joint committees of Youth, Sports and Culture as well as the Constitutional, Legal and Parliamentary Affairs Committee a one-month ultimatum to investigate and report back to the house, how best to regulate the activities of churches in the country.
However, the National Executive Council of the GPCC has said they are gravely concerned about the Speaker's call.
A press statement signed by the General Secretary of the GPCC, Rev Emmanuel Barrigah, issued on Wednesday, 5 June 2019, noted that: "The Ghana Pentecostal and Charismatic Council views this as unacceptable and completely rejects the proposal".
The faith-based organisation with a membership of over 200 Pentecostal and Charismatic Christian church denominations and para-church organisations in Ghana, indicated that Christian bodies in the country are addressing the issues raised by parliament and, therefore, needless for legislators to intervene, since they can deal with the matters by themselves.
Source: classfmonline.com
Rejecting A Guy's Proposal Because He Is Short Is Racism – Ghanaian Men Protest
The fight against racial injustice has been ensuing since time. The fight has heightened after the broad daylight killing of an African American, George Floyd last week by a white police officer during his arrest over an alleged forged $20 note by Derek Chauvin.
In the US, UK, and elsewhere in Europe, many have taken that fight from social media to the streets making their voices heard through protests with some turning violent.
Here in Ghana, some concerned citizens have also joined the fray.
Join our WhatsApp Group 2 to get notified when new Job Vacancies in Ghana are posted. Click Here to Join Our Jobs in Ghana Website WhatsApp Group 2
With what started as a mere protest on Twitter with the hashtag, #GhAgainstRacism, many have trooped onto some major streets in Accra to also make their voices heard.
As the protest unfolds, some men have decided to use the opportunity to voice out their reservations about they are treated by some Ghanaian women.
READ ALSO; (Photos) Meet The Beautiful Wife And Children Of Late UTV's Kwadwo Wiafe Who He Has Left Behind
According to them, racism comes in many forms in the world, and here in Ghana, when a guy proposes to a lady the lady rejects him, she's being racist hence the act needs to be frowned on just as the rest.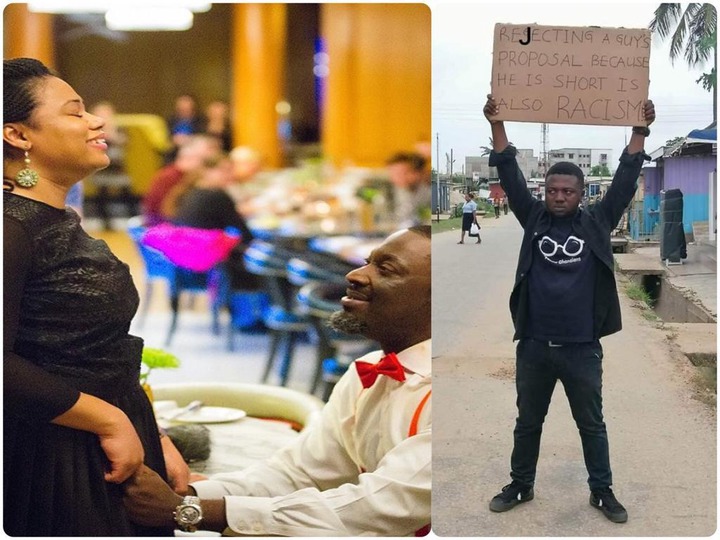 Taking to the streets of Accra with placards, they wrote;
"Rejecting A Guy's Proposal Because He Is Short Is Racism" #GhAgainstRacism
"Whatever affects one directly, affects all indirectly." – Martin Luther King Jr. #GhAgainstRacism
See some of the photos and tweets below;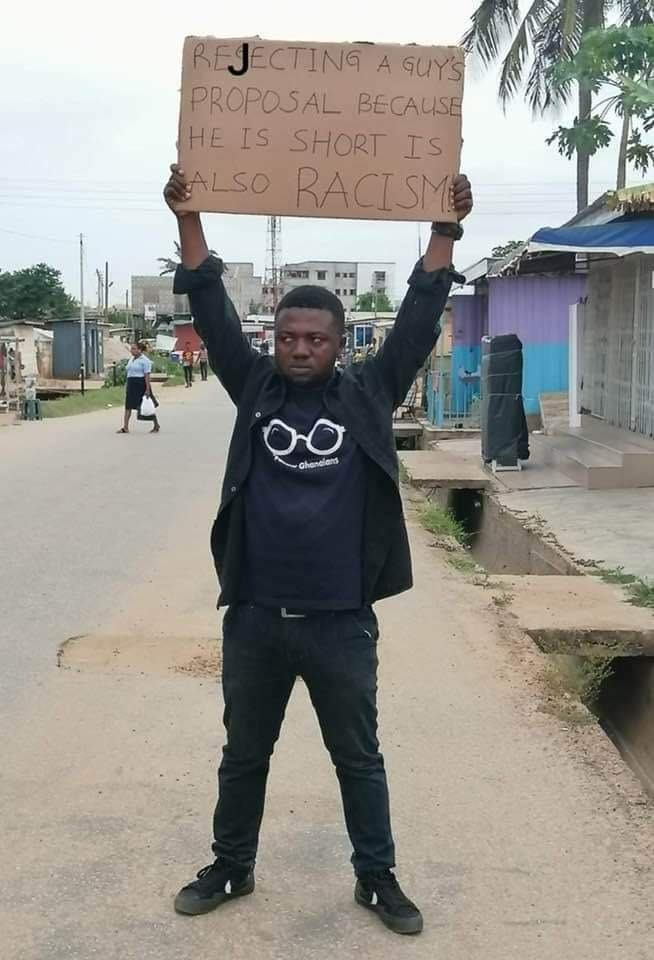 Dear ladies, please be fair to Kwabena Wan and associates. #GhAgainstRacism pic.twitter.com/xdLFnP7GBE

— Fiifi Yeboah (@thisisfiifi) June 5, 2020
Do you think they are right to demand justice for being rejected for being short? Kindly leave your comment below.
Source: ENewsGhana.com
List Of All The Pastors Who Have Gone To Kennedy Agyapong To Apologise
Finally, this group of pastors who have stepped on the toes of Kennedy Agyapong has gone to him to apologize.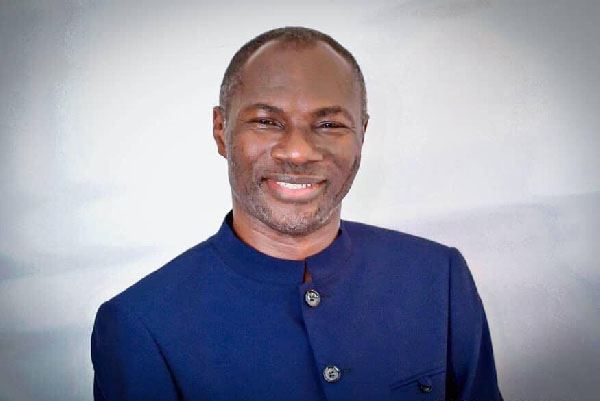 Prophet Emmanuel Badu Kobi born. The Founder and General overseer of Glorious Wave Church International, President of Kingdom Bible College, Emmanuel Kobi Ministries, and the author of several publications and books.
Not too long ago, the Assin Central MP Hon. Kennedy Agyapong made shocking revelations about Prophet Emmanuel Badu Kobi. He said the self-acclaimed man of God is a ritualist.
And to this he as evidence of him performing rituals in his Church. He added that Badu Kobi also killed one of his associate Pastors.
This and many more revelations led Prophet Emmanuel Badu Kobi to come and beg me in my house said, Hon. Kennedy Agyapong.
Join our WhatsApp Group 2 to get notified when new Job Vacancies in Ghana are posted. Click Here to Join Our Jobs in Ghana Website WhatsApp Group 2
Mr. Hammond Love, the ex-husband of Christiana Love. And popularly known as Pastor love has been on the screens of Net2 TV following the revelation about his evil deeds as a Pastor.
However, the Assin north member of Parliament Hon. Kennedy Agyapong on the Hot seat of Net2 TV revealed that Mr. Hammond Love as know as Pastor love has channeled his apology through his friend in the USA.
Hon. Kennedy Agyapong added that his friend in the US called him and detailed to him how Pastor love has run to him to apologize on his behalf. Pastor referring his apology said that all the evil deeds that have been said about him is true.
The founder and leader of Jericho miracle Church international Prophet Naakwaa Isaac and Popularly known by his congregants as Chairman General. Who was on the screens of Net2 TV recently for selling Verna mineral water, ointments, candles, and oils as miracle items.
READ ALSO; Ghanaians React To Baby Bump Photos Of Ghanaian Lesbian Couple
Nonetheless, The Assin North MP Hon. Kennedy Agyapong announced on Net 2 TV that Prophet Nakwaa Issac has run to Danquah Smith who is my brother with tears and apologizes. Of which the self-acclaimed man of God wants Danquah Smith to beg Hon. Kennedy Agyapong on his behalf.
The Assin North MP narrating how the self-acclaimed man of God rendered his apology to his brother. Prophet Naakwaa Isaac on his knees and in tears begged and said that if his Church collapse he will die.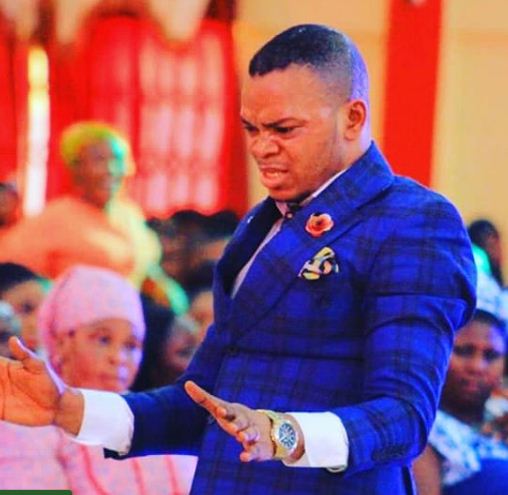 Bishop Daniel Obinim the leader and founder of the international Gospel way Church who has been on top of Kennedy Agyapong's list following his fake miracles and evil acts.
However, the Assin North MP said that Obinim has channeled his apology in different ways but he won't accept it until he brings him down.
Hon Kennedy Agyapong yesterday added that six more men of God have come to Apologise to him. But that wouldn't stop him from revealing their evil deeds until they repent.
To this, the Assin Central MP said there are six another 2 men of God who have come to beg him and he will bring them out soon.