Peace Hyde delivers keynote speech at Flourish Africa Conference
Peace Hyde delivers keynote speech at Flourish Africa Conference
Unstoppable Peace Hyde just gave an incredibly powerful keynote speech for Africa's richest woman whilst suffering from her leg injury.
Peace Hyde's verbal delivery brought power to her words and tears to the eyes of over 1000 women at the 2019 Flourish Africa conference in Lagos, Nigeria. Hyde's speech to the group of millennial women had the hallmarks of what you'd expect from a master orator: personal stories, wisdom, insights, humour and short, motivational sayings that are pure gold on social media.
The founder of education non-profit Aim higher and the head of digital media and partnerships for Forbes Africa graced the prestigious event, created by one of the wealthiest women on the African continent, Folorunso Alakija, with an estimated net worth of $1.1 billion according to Forbes. It comes after Hyde suffered a grade three ligament tear to her right ankle over a month ago.
Still badly injured and struggling to walk in a cast, Hyde's speech which stirred the audience's emotions was focused on her remarkable journey where she overcame challenging obstacles to make the transition from a science teacher in the UK to one of the continent's most successful media personalities and education activists.
She encouraged the women to not be scared to move in order to disrupt their environments and to use their skills to achieve their fullest potential through faith, hard work and perseverance.
Watch highlights below:
Source: Brenda Omawumi
"I Don't Believe In Falling In Love" – Nadia Buari
Multiple award-winning Ghanaian screen goddess, Nadia Buai has shared her thoughts on love and relationship.
Nadia Buari has stated that she does not believe in falling in love rather, growing in love.
According to the beautiful mother of three, love was instituted by God therefore it is the source of everything even in a relationship.
Below was her opinion as shared on Instagram;
"I don't believe in falling in love..I believe in growing in love. In reality, we all already have love… We were equipped with love since creation of the world.
Love is something that has to be developed and sharpened with focus and determination, and a full understanding that God is the only source of our love. But know it is ur choice in what u invest your love in."
Taking to her Instagram page, the light-skinned actress cautioned fans against the people they invest their love in.
See the screenshot below;
I'm Getting You Pregnant Again- Davido Tells Chioma
Award-winning Singer and Father-of-three, Davido seems to be having the urge to father another child if his recent comment on his wife, Chioma's page is anything to go by.
The love story between Nigerian couple Davido and his girlfriend Chioma seems to be growing stronger and stronger each day despite several claims that wanted to break them apart.
The singer Davido has revealed his plans of having more children than he has now and not with any other person than his girlfriend Chioma.
Chioma shared pictures on her Instagram page which got her boyfriend's attention and Davido reacted to the picture saying he loves her, his dear wife and he will be getting her pregnant again.
Davido trooped into the comment section and wrote;
"U so sexy I'm gettin U pregnant again…. I love u my dear wife … who ever near u nah 6 FT!!"
See screenshot of post below ;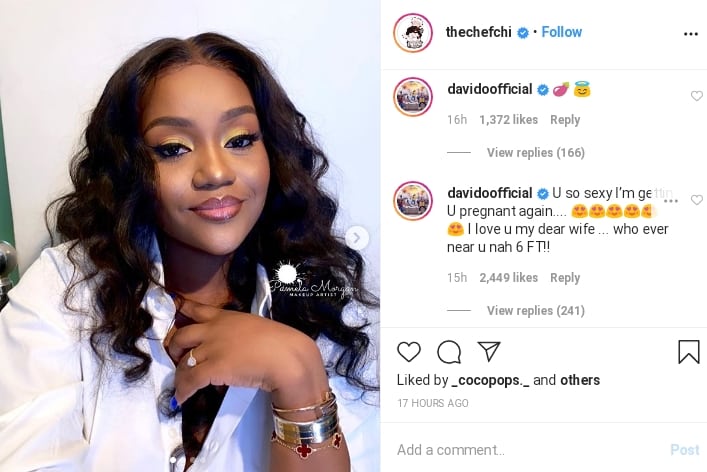 My Business With Tyson Fury Is Far From Over – Deontay Wilder Finally Speaks After His First Defeat
Deontay Wilder has confirmed he will be exercising his rematch clause for a third fight with Tyson Fury and has blamed his heavy outfit for the defeat on Saturday.
Fury handed Wilder the first defeat of his career at the MGM Grand to become WBC heavyweight champion.
But the 'Bronze Bomber' has told The Athletic that his business with the 'Gypsy King' is far from over.
The 34-year-old has echoed the claims of co-trainer Jay Deas that his suit of armor weakened his legs entering the fight.
He is also said to be re-evaluating keeping his assistant trainer Mark Breland after his corner threw in the towel during the seventh round.
Wilder has reportedly insisted that his team knows:
"I'd rather die in the ring than have the towel thrown in. I'm a warrior."
The American fighter has also criticized referee Kenny Bayless for not confronting Fury about 'a slew of punches to the back of his head and neck'.
A lock punch saw Wilder floored in the third round after Fury caught him in the ear.
He collapsed to the mat and never got back into the fight after the vicious shot.
Many fans were anticipating Fury moving on to fellow British heavyweight Antony Joshua for a title unification match.
'AJ's' promoter Eddie Hearn is keen on a match between the two and tweeted his support for the bout being organized as soon as possible.
However, it seems that fans will have another serving of Fury vs Wilder before that.
Who do you think will win the trilogy bout between Wilder and Fury and what do you make of Wilder's comments?