Government withdraws from AFRIMA due to unsuccessful industry collaboration – Barbara Oteng Gyasi
Government withdraws from AFRIMA due to unsuccessful industry collaboration – Barbara Oteng Gyasi
Barbara Oteng Gyasi has disclosed the withdrawal of the Tourism, Arts and Culture ministry from the All Africa Music Awards – AFRIMA due to unsuccessful industry collaboration.
The decision to withdraw from AFRIMA, the Tourism, Arts and Culture minister, Barbara Oteng Gyasi revealed was due to the discontentment from many industry players in the creative arts industry because of the contractual financial obligations.
Speaking to Nana Adwoa of Atinka TV, the minister explained the initial agreement was to host AFRIMA for 3 consecutive years from 2018 to 2020 but because of the unsuccessful industry collaboration, the ministry has withdrawn to the benefit of the industry.
"The initial agreement was to host AFRIMA for 3 years but the industry collaboration as expected was unsuccessful. Many industry players were discontent with it: and if AFRIMA is for the industry and the players are discontent with it then we will have to withdraw and relook at it so that the next time we are going to organize such event, it will be properly done to the delight of everyone,"she said.
"AFRIMA is always there. We saw it prudent to withdraw for a while for another country to host to enable us to put things in order so that the next time we are to host AFRIMA, it will be more beneficial to the industry," she added.
In 2018, Catherine Afeku acquired a 3 years right to host Africa's biggest music awards scheme from 2018 to 2020 at the total amount of $4.5 million. This contractual obligation brought a lot of discontentment from the creative arts industry.
However, when Madam Catherine was reassigned by the President of Ghana, the minister-designate for Tourism, Arts and Culture Barbara Oteng-Gyasi during her vetting with the Appointment Committee on March 15, 2019, expressed her commitment in reviewing the controversial AFRIMA contract.
"Since we have a contract to host for three (3) years, at least we have the benefit of hosting for the first year. So we will review and look at the cost-benefit analysis of the first year that we have done, and if it's not beneficial to us, then we will look at the terms of the contract and if we can get out of it with minimum consequences, we will do that in the interest of the industry," she said
The All Africa Music Awards – AFRIMA is consistent with the government's national development agenda to the growth of culture and the creative arts. It is estimated to boost the tourism economy of Ghana and the creation of opportunities for artists and investors in the culture and creative arts industry of Ghana.
Source: kasapafmonline.com
"I Don't Believe In Falling In Love" – Nadia Buari
Multiple award-winning Ghanaian screen goddess, Nadia Buai has shared her thoughts on love and relationship.
Nadia Buari has stated that she does not believe in falling in love rather, growing in love.
According to the beautiful mother of three, love was instituted by God therefore it is the source of everything even in a relationship.
Below was her opinion as shared on Instagram;
"I don't believe in falling in love..I believe in growing in love. In reality, we all already have love… We were equipped with love since creation of the world.
Love is something that has to be developed and sharpened with focus and determination, and a full understanding that God is the only source of our love. But know it is ur choice in what u invest your love in."
Taking to her Instagram page, the light-skinned actress cautioned fans against the people they invest their love in.
See the screenshot below;
I'm Getting You Pregnant Again- Davido Tells Chioma
Award-winning Singer and Father-of-three, Davido seems to be having the urge to father another child if his recent comment on his wife, Chioma's page is anything to go by.
The love story between Nigerian couple Davido and his girlfriend Chioma seems to be growing stronger and stronger each day despite several claims that wanted to break them apart.
The singer Davido has revealed his plans of having more children than he has now and not with any other person than his girlfriend Chioma.
Chioma shared pictures on her Instagram page which got her boyfriend's attention and Davido reacted to the picture saying he loves her, his dear wife and he will be getting her pregnant again.
Davido trooped into the comment section and wrote;
"U so sexy I'm gettin U pregnant again…. I love u my dear wife … who ever near u nah 6 FT!!"
See screenshot of post below ;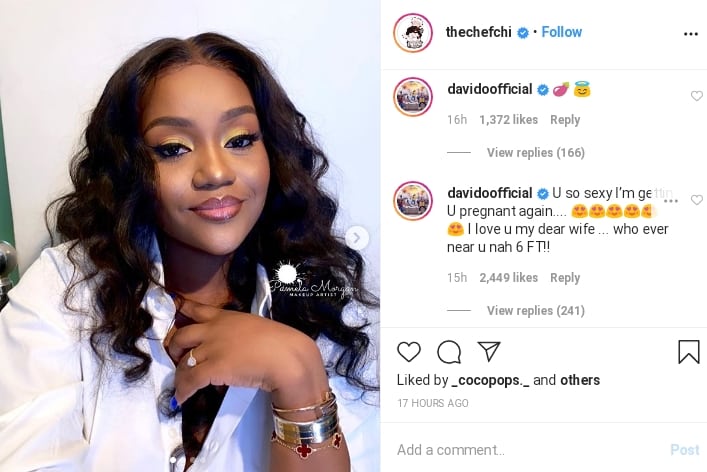 My Business With Tyson Fury Is Far From Over – Deontay Wilder Finally Speaks After His First Defeat
Deontay Wilder has confirmed he will be exercising his rematch clause for a third fight with Tyson Fury and has blamed his heavy outfit for the defeat on Saturday.
Fury handed Wilder the first defeat of his career at the MGM Grand to become WBC heavyweight champion.
But the 'Bronze Bomber' has told The Athletic that his business with the 'Gypsy King' is far from over.
The 34-year-old has echoed the claims of co-trainer Jay Deas that his suit of armor weakened his legs entering the fight.
He is also said to be re-evaluating keeping his assistant trainer Mark Breland after his corner threw in the towel during the seventh round.
Wilder has reportedly insisted that his team knows:
"I'd rather die in the ring than have the towel thrown in. I'm a warrior."
The American fighter has also criticized referee Kenny Bayless for not confronting Fury about 'a slew of punches to the back of his head and neck'.
A lock punch saw Wilder floored in the third round after Fury caught him in the ear.
He collapsed to the mat and never got back into the fight after the vicious shot.
Many fans were anticipating Fury moving on to fellow British heavyweight Antony Joshua for a title unification match.
'AJ's' promoter Eddie Hearn is keen on a match between the two and tweeted his support for the bout being organized as soon as possible.
However, it seems that fans will have another serving of Fury vs Wilder before that.
Who do you think will win the trilogy bout between Wilder and Fury and what do you make of Wilder's comments?