"Dr Kwaku Oteng Slapped & Sacked Akua GMB For Cheating On Him" – Afia Schwarzenegger
Popular and Outspoken media personality, Afia Schwarzenegger is making some weird claims against the 4th wife of a renowned businessman, Dr. Kwaku Oteng, Sally Akua Amoakowaa Mensah popularly known as Akua GMB.
Afia Schwarzenegger is alleging that Dr. Kwaku Oteng recently discovered that Akua GMB was cheating on him.
When he discovered it, he reportedly slapped her right inside her office at Angel TV and drove her out of the company.
According to Afia Schwarzenegger, a few days ago, Dr. Kwaku Oteng went to the office of Akua GMB's wife with a bottle of Schnapp and asked her to invoke curses if she has never cheated on him since they married, however, Akua refused and said that she is a Christian.
Akua's statement reportedly got her husband angry to the point that he gave her some beatings. Akua GMB.
Afia Schwarzenegger even mentioned some people she claims were the lovers of Akua.
Watch the video below;
Delay Leaves Fans Confused With Her Pregnancy Photo
Deloris Frimpong Manso, popularly known in the entertainment circles as Delay has surprised fans and social media users with a post about her being pregnant.
The post Delay made was both confusing and tricky at the same time as it could mean two things at the same time; on one hand, it could mean that she is really pregnant or on another hand, it could probably be a figurative speech for a post.
READ ALSO; List Of Things 'Slay Queen' Lawyer, Sandra Ankobiah Does To Make Money Finally Revealed
In August of 2019, the host of "The Delay Show" caused a stir on social media when she uploaded a photo that fans claim she hid her baby bump.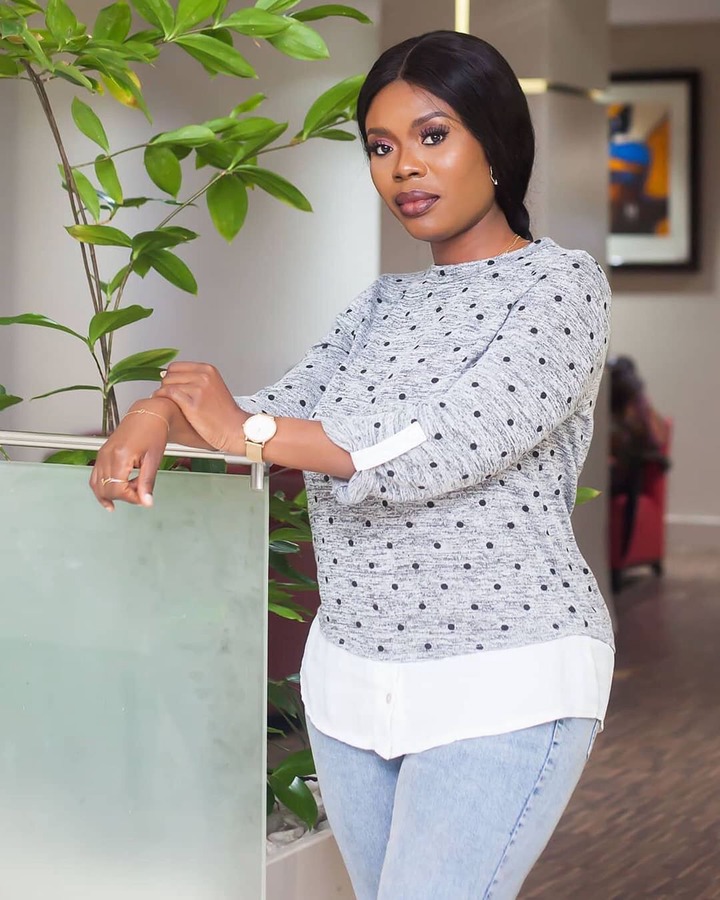 She posted the beautiful new photo with the caption, "Pregnant with Joy" which indeed leaves most of her fans surprised and confused as to whether she is pregnant or not, taking into consideration the fact that she deleted the post just a few hours after posting it.
See the screenshot of the post below;
List Of Things 'Slay Queen' Lawyer, Sandra Ankobiah Does To Make Money Finally Revealed
Popular Ghanaian lawyer and media personality who is famous on social media for carrying herself as a 'slay queen' instead of a professional law practitioner, Sandra Ankobiah has left many in shock with her professional credentials.
From this, Ghana has got to know the kind of things she does to fetch her money.
Join our WhatsApp Group 2 to get notified when new Job Vacancies in Ghana are posted. Click Here to Join Our Jobs in Ghana Website WhatsApp Group 2
Sandra Ankobiah is widely known in Ghana as a lawyer but guesses only a few knew she has other professions apart from working as a lawyer and being a slay queen on part-time bases.
In a recent post on her Instagram page, it was revealed to us that the other things she does to earn a living aside being a lawyer and that could explain her lavish lifestyle.
READ ALSO; Tracy Sarkcess Reacts After A Sark Fan Said 'Sarkodie Should Have Married Efya Instead
Per the post, aside from the lawyer that almost everyone is aware of, she's also the CEO of Emerald Energy Ghana, Executive Director of the Women's Institute, and PRO for FIDA Ghana.
Now that's a boss lady indeed! Respect to Sandra.
See the post below;
Source: ENewsGhana.com