Amakye Dede twisted the story against Ghana's Ambassador to China
Amakye Dede twisted the story against Ghana's Ambassador to China
In September 2018 the manager of Amakye Dede, Akwasi Aboagye, begun discussions with Ghana's Ambassador to China regarding his artist performing in China. The conversations were mostly via WhatsApp and took place over some weeks.
This was part of The Ambassador's efforts to promote the creative arts industry in China and to give Ghanaian artistes exposure. In June 2018, The Ambassador worked with the UN to invite Steve Bedi to perform at a UN event and then later in Beijing and Senzhen to large audiences. Steve's performances were well received by the Chinese community. Steve Bedi became the first Ghanaian musician to perform in mainland China according to available records.
In light of the President's state visit to China and the Focac summit, H.E Edward Boateng suggested a local Ghanaian artist to perform as part of the visit and the broader Focac programs. About 50 African Heads of State and several leaders of international organisations including the UN Secretary General attended the summit in Beijing in September 2018. The Ambassador recommended Amakye Dede. Unfortunately, due to security considerations the event had to be cancelled by the authorities.
When the Ambassador informed Amakye Dede's manager, he was upset and demanded that his artist be paid the full performance amount alleging Amakye had cancelled a contract in the US. The Ambassador was surprised since the discussions were ongoing and he had not signed an agreement with them as required in such a situation especially since it was going to be a Government paid for event .
Nevertheless, in the spirit of cooperation and maintaining good relations, the Ambassador offered to pay Amakye USD 4000.00 which he did from his own resources as compensation for his alleged ticket back to the USA. The Ambassador told both Amakye and his manager that he would work to find new opportunities for Ghanaian artists in China and would duly include Amakye in any subsequent event.
As a result, The Ambassador is perplexed that Amakye Dede, who he has worked with severally would announce publicly that that he is owed money by the Ambassador, which is utterly false and obviously with the intention to defame The Ambassador.
H.E Edward Boateng has been a phenomenal pillar in the growth of the Ghanaian creative arts and music industry over the last 20 years with evidences for all to see. Several artistes from Agya Koo Nimoh to Nana Ampadu, Amakye himself and several important and other artists would testify to his support. From music to fashion, the Miss Ghana pageant, Art, sports and the Ghana Blind Union he has always offered his unwavering support.
H.E. Edward Boateng has been instrumental to the industry and can be described as one of the best of the industry over the years to which Amakye Dede has benefitted from.
The first Ghanaian to finish in the top three of The Miss World beauty pageant, was mentored by etv a company founded by the Ambassador. His company has also featured Amakye on the same bill with African legends like Hugh Masekela Yvonne Chaka, Chaka and Femi Kuti on the African Legends Night platform.
Amakye's false remarks questions whether he is bitter as a result of the 2019 African Legends Night bill, which features Kojo Antwi, Awilo, 2face Idibia, Ofori Amponsah and more? Furthermore if the $4000 was not satisfactory why was this accepted?
The focus should be on driving growth and innovation in the creative industry, members of this industry need to practice unity and give appreciation where it's due. The motive should be to create a respectable industry where aspiring artistes can be proud to be part of. Grievances need to be communicated in absolute truth.
Signed
Edmund Kyei
Asokwa Constituency 1st Vice Chairman and NPP National Communication Member
"I Don't Believe In Falling In Love" – Nadia Buari
Multiple award-winning Ghanaian screen goddess, Nadia Buai has shared her thoughts on love and relationship.
Nadia Buari has stated that she does not believe in falling in love rather, growing in love.
According to the beautiful mother of three, love was instituted by God therefore it is the source of everything even in a relationship.
Below was her opinion as shared on Instagram;
"I don't believe in falling in love..I believe in growing in love. In reality, we all already have love… We were equipped with love since creation of the world.
Love is something that has to be developed and sharpened with focus and determination, and a full understanding that God is the only source of our love. But know it is ur choice in what u invest your love in."
Taking to her Instagram page, the light-skinned actress cautioned fans against the people they invest their love in.
See the screenshot below;
I'm Getting You Pregnant Again- Davido Tells Chioma
Award-winning Singer and Father-of-three, Davido seems to be having the urge to father another child if his recent comment on his wife, Chioma's page is anything to go by.
The love story between Nigerian couple Davido and his girlfriend Chioma seems to be growing stronger and stronger each day despite several claims that wanted to break them apart.
The singer Davido has revealed his plans of having more children than he has now and not with any other person than his girlfriend Chioma.
Chioma shared pictures on her Instagram page which got her boyfriend's attention and Davido reacted to the picture saying he loves her, his dear wife and he will be getting her pregnant again.
Davido trooped into the comment section and wrote;
"U so sexy I'm gettin U pregnant again…. I love u my dear wife … who ever near u nah 6 FT!!"
See screenshot of post below ;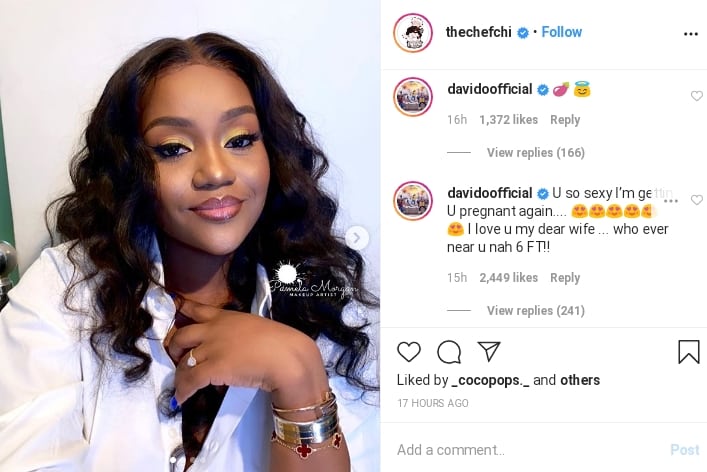 My Business With Tyson Fury Is Far From Over – Deontay Wilder Finally Speaks After His First Defeat
Deontay Wilder has confirmed he will be exercising his rematch clause for a third fight with Tyson Fury and has blamed his heavy outfit for the defeat on Saturday.
Fury handed Wilder the first defeat of his career at the MGM Grand to become WBC heavyweight champion.
But the 'Bronze Bomber' has told The Athletic that his business with the 'Gypsy King' is far from over.
The 34-year-old has echoed the claims of co-trainer Jay Deas that his suit of armor weakened his legs entering the fight.
He is also said to be re-evaluating keeping his assistant trainer Mark Breland after his corner threw in the towel during the seventh round.
Wilder has reportedly insisted that his team knows:
"I'd rather die in the ring than have the towel thrown in. I'm a warrior."
The American fighter has also criticized referee Kenny Bayless for not confronting Fury about 'a slew of punches to the back of his head and neck'.
A lock punch saw Wilder floored in the third round after Fury caught him in the ear.
He collapsed to the mat and never got back into the fight after the vicious shot.
Many fans were anticipating Fury moving on to fellow British heavyweight Antony Joshua for a title unification match.
'AJ's' promoter Eddie Hearn is keen on a match between the two and tweeted his support for the bout being organized as soon as possible.
However, it seems that fans will have another serving of Fury vs Wilder before that.
Who do you think will win the trilogy bout between Wilder and Fury and what do you make of Wilder's comments?