Coronavirus Case Count in Ghana Hits 2,074 With 403 New More Cases Confirmed; Here is The Regional Breakdown
The coronavirus cases in Ghana is now spiraling out of control. Today the 30th of April, 2020, Ghana's health ministry confirmed 403 more coronavirus infections taking total cases to 2,074.
Join our WhatsApp Group to get notified when new Job Vacancies in Ghana are posted. Click Here to Join Our Jobs in Ghana Website WhatsApp Group
Breaking down details on their official Covid-19 website, the Service says 212 people have recovered from the disease.
But unfortunately, one more person has died, increasing to death toll to 17.
Check the breakdown below;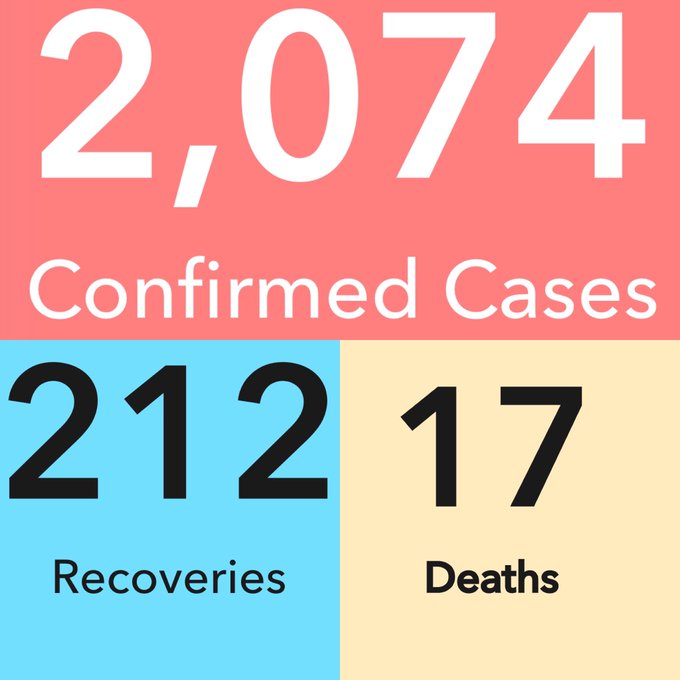 Join our WhatsApp Group to get notified when the latest news in Ghana is posted. Click Here to Join EnewsGhana Website WhatsApp Group
Source: ENewsGhana.com
Patapaa's Father Breaks Silence On 'Poisoning' Of Son
One corner hitmaker, Patapaa's father, Kwesi Amoah, has opened up in an exclusive interview with Adomonline.com following reports that his son has been poisoned.
A video showing his sick son is already making rounds on social media.
The video has the One Corner hitmaker on a hospital bed receiving medications.
The One Corner hitmaker is said to be in critical condition after surviving what is suspected to be food poisoning on Sunday, August 9.
A colleague musician, Bow Tyre who confirmed this to Adom News said that Patapaa complained of stomach pains after a night out with some friends.
"We suspect the guys we met at the pub might have put poison in Patapaa's drink," he added.
He said Patapaa was rushed to a local clinic in Agona Swedru where their suspicions were confirmed.
But, in an interview with his father, he said his son wasn't poisoned but confirmed he had been sick for weeks now.
It is not poison, he is sick. It is not confirmed but he is not well for almost two weeks now. He was even supposed to be in Accra.
His dad told Adomonline.com that, he only visited the hospital for first aid, adding that his son is not a fan of going to the hospital.
It is a small hospital and he went there for first aid. He couldn't even drive. Though there is a government hospital, people don't like going there.
He, however, said he doesn't know why some of his team members would decide to put such a video out in the public.
KUMASI: Two Passengers Shot By Armed Robbers
Two passengers have been shot by armed robbers after a vehicle they were travelling in from Techiman to Kumasi was attacked.
The incident which happened at Ahinkro near Offinso in the Ashanti region saw one person shot in the stomach while the other in the leg.
The victims were rushed to the hospital by some police personnel who arrived at the scene.
According to a report by JoyNews' Nurudeen Mohammed, that was the second attack on vehicles by armed robbers within two hours along the Kumasi-Techiman road.
The earlier attack he reported occurred at Tanoso near Techiman. However, many drivers got the clue and made a U-turn to a nearby town.
Speaking to Nurudeen, the driver of the vehicle said he saw about five robbers during the attack. According to him, while one stood in the middle of the road to stop vehicles, two others stood at each side of the road.
He stated that he had tried to run past them but the robbers starting shooting at his vehicle.
Out of the 14 people in the car, two sustained injuries.
He tells JoyNews, the passenger shot in the stomach is currently at the emergency ward of the Offinso Hospital.