5 Reasons Why Ghanaians Must Vote Against Nana Akufo Addo In The 2020 Election
Former President, John Dramani Mahama is staging a comeback as the flagbearer of the biggest opposition party, the National Democratic Congress.
The fine gentleman was historically kicked out of power in his first term as the president of Ghana when the then opposition leader, Nana Akufo Addo won in a landslide victory in the 2016 election.
Barring any unforeseen circumstances as Covid-19 still lurks in the shadows, Ghana will head to the polls in December this year. It's obvious the Nana Akufo led government has failed Ghanaians in translating all the promises they made before they assumed power.
Join our Telegram Group to get notified when LATEST NEWS IN GHANA & JOBS IN GHANA are posted. Click Here to Join EnewsGhana Website Telegram Group
Despite the good manner the President has managed the Covid-19 situation in Ghana and scoring high marks on the political scoresheet, Nana Akufo still remains unpopular and we think that gives his closest rival, John Dramani Mahama the edge.
Invariably, NanaAkufo Addo's failings has reinforced why John Dramani Mahama should be the next option in the next election.
1. Hardship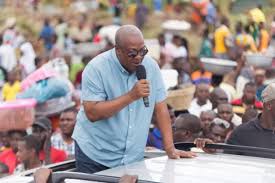 READ ALSO; Voters' ID Registration On Hold In Ketu South As Registration Kits Stopped Working (Watch)
The hardship under Nana Akufo Addo has been very unbearable. The cost of living keeps soaring while the cedi continue to lose its value against the major foreign currencies. There's no money in the system and people are struggling to eat three times daily.
2. Corruption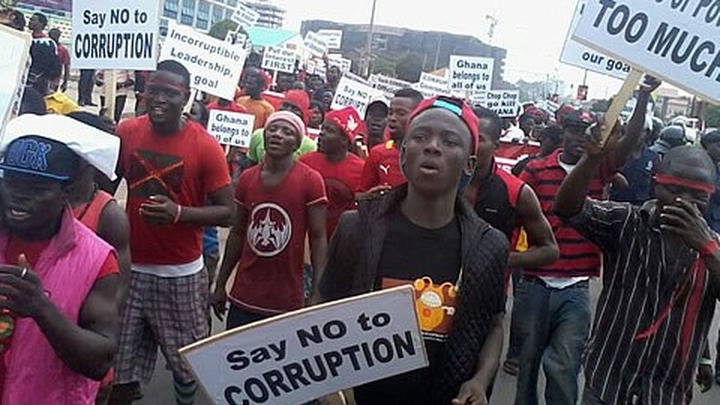 The embezzlement of public funds by civil servants and government officials in Ghana seems to have reached an all-time high and the canker has pervaded the fabric of public sector institutions, posing grave repercussions for the socio-economic growth of the country. The current administration has not found any financial malfeasance after conducting investigations into the various projects initiated by the past government.
3. Intimidation under NPP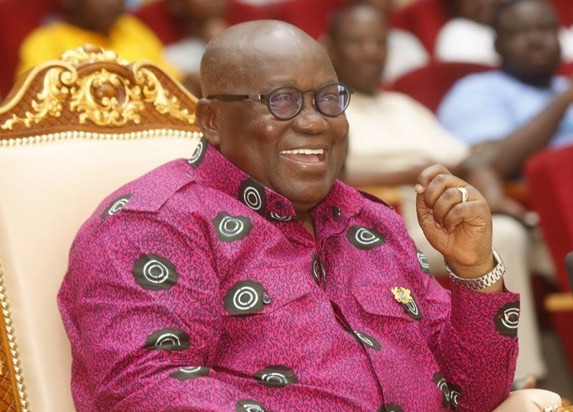 There's no doubt about this- under the current administration, people are freely insulted and intimidated if they speak against Nana Akufo Addo and his government. There have also been high profile killings that have not been solved.
The gruesome murder of investigative journalist Hussein Ahmed-Suale, the harassment and intimidation of journalists like former Joy FM employee Manesseh Azuri, Star FM's Edward Adeti, Radio XYZ's Kwame Minka etc., as well as the Gestapo shutdown of Radio Gold, Radio XYZ and other media organisations is an intimidating and silencing political.opposition.
4. Elephant Sized Government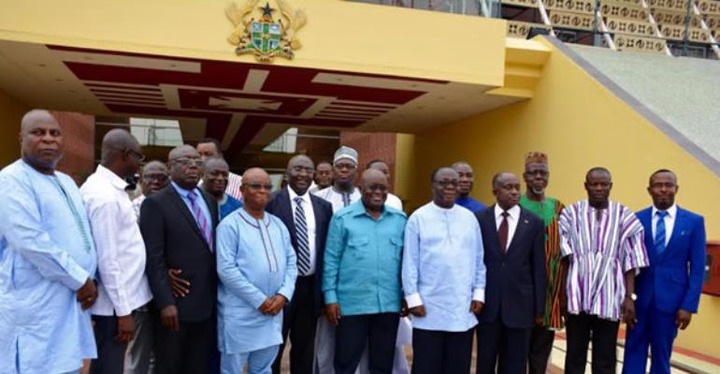 READ ALSO; The President Must Protect The Auditor General Rather Than Remove Him Indirectly
Nana Akufo Addo's ministerial cabinet is unprecedented in the political history of Ghana. There's a total of 110 ministerial appointments. As you can imagine, this will invariably promote corruption.
5. Cedi not performing well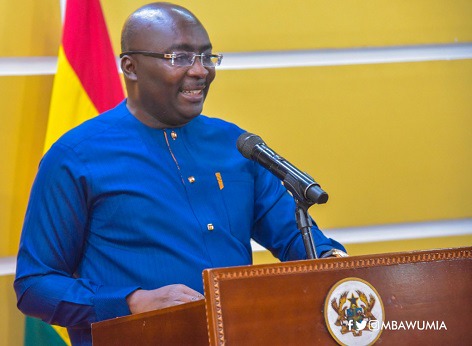 Dr Mahamudu Bawumia touts himself as an economic guru who haunted John Dramani Mahama and the late Kwesi Ammissah Arthur with his so-called '170 questions' about the economy after a lecture on the state of the economy. However, since the assumption of office, the cedi has been depreciating at an alarming rate yet Bawumia seems to be clueless about how to salvage the situation.
READ ALSO; Imagine Mahama Had Asked Chief Justice, Georgina Wood To proceed On Leave By Force
Ghanaians List Reasons Why They Think Akufo Addo Is Corrupt
Currently trending at number one on Ghana Twitter today the 11th of August, 2020 is #AkuffkAddoIsCorrupt.
Well apparently, some Ghanaians have decided to chronicle their various reasons why they think Ghana's president, Nana Akufo Addo is corrupt.
This came after many state officials in his government have not been prosecuted after they have been found guilty of being corrupt.
READ ALSO; Why Is Government Not Preventing Foreigners In Kumasi From Registering To Vote? – A Plus Asks
Ghanaians have decided to come at the president today for reneging on his promise of tackling corruption when he comes into power.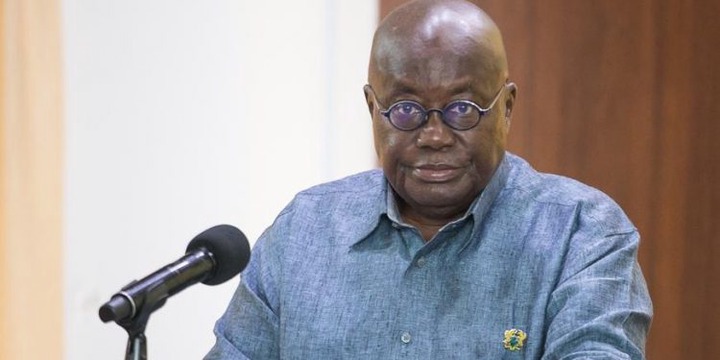 However, when he came into power, he has rather allowed corrupt officials to walk free even when they are found guilty.
According to some of them, corruption has always been characterised by many successive government but this NPP administration has rather taken the social canker to an unprecedented another level.
So, they have taken to the Twitter App to chronicle the various instances they believe Nana Addo allegedly demonstrated how corrupt he is as a leader of Ghana today.
Check some of the tweets here;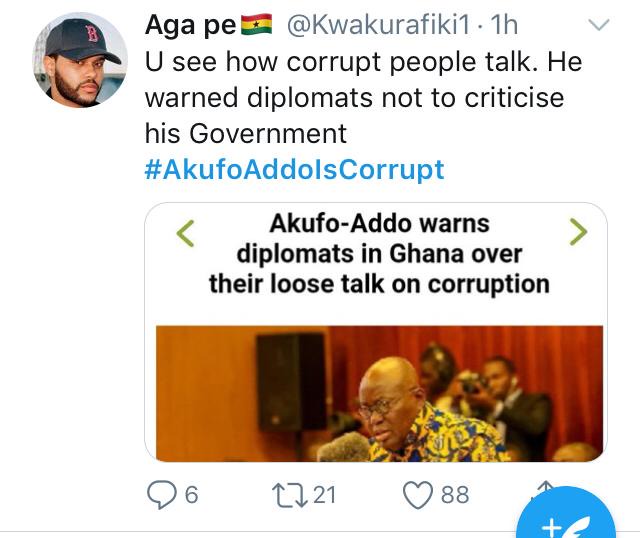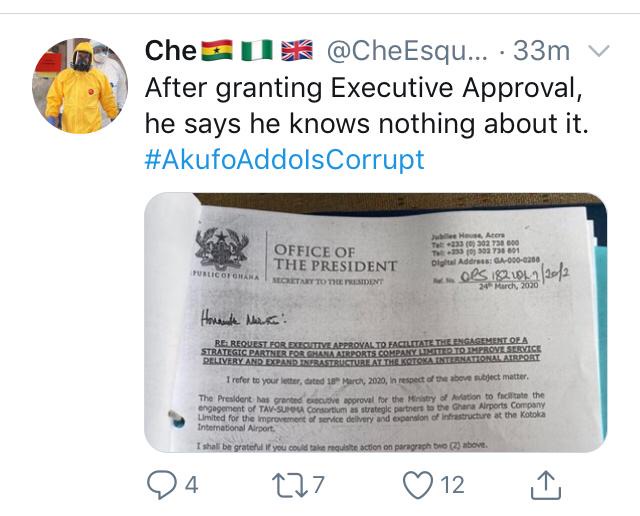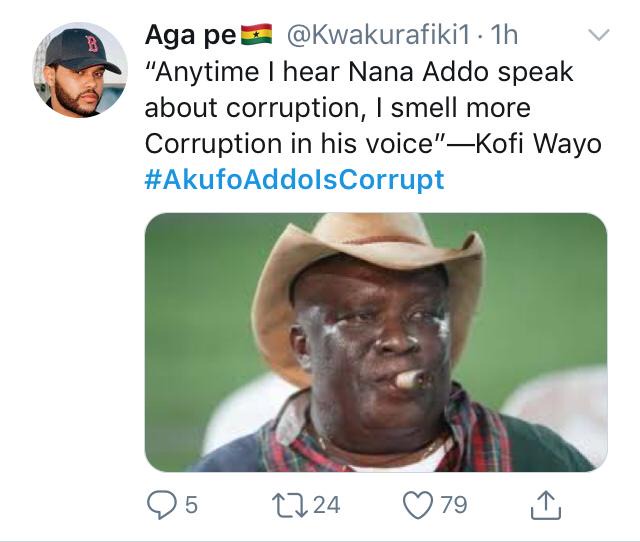 READ ALSO; Video: One Dead As NPP And NDC Supporters Clash At Nkrankwanta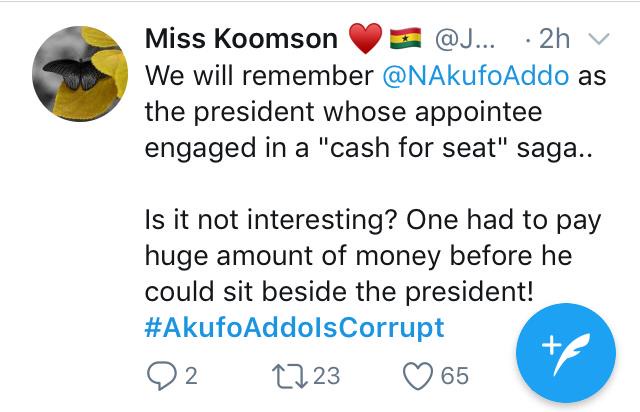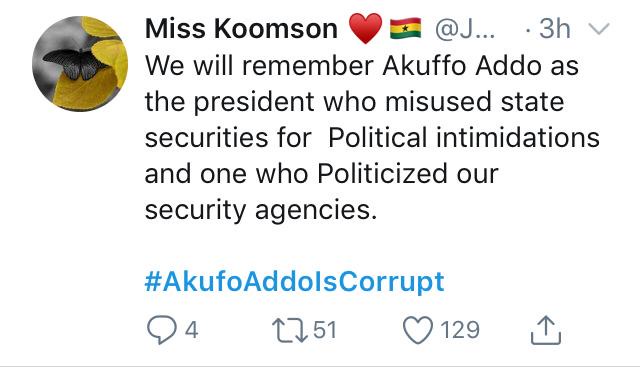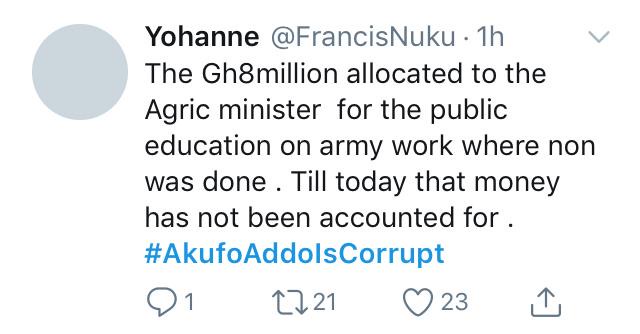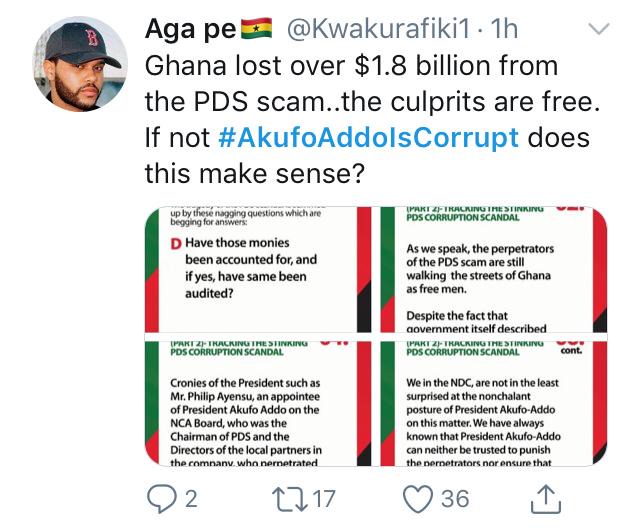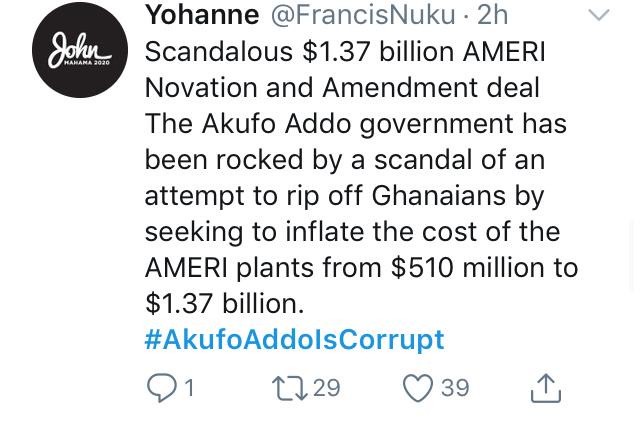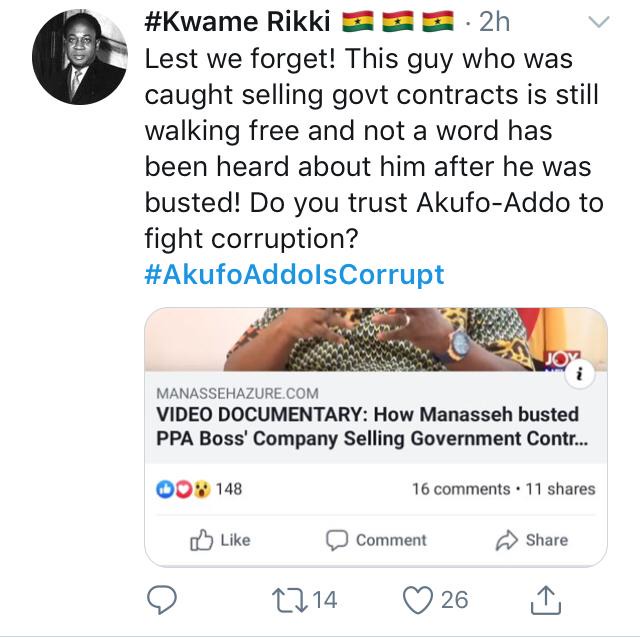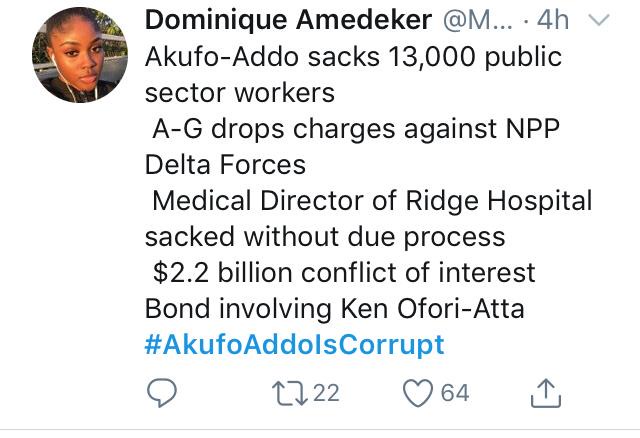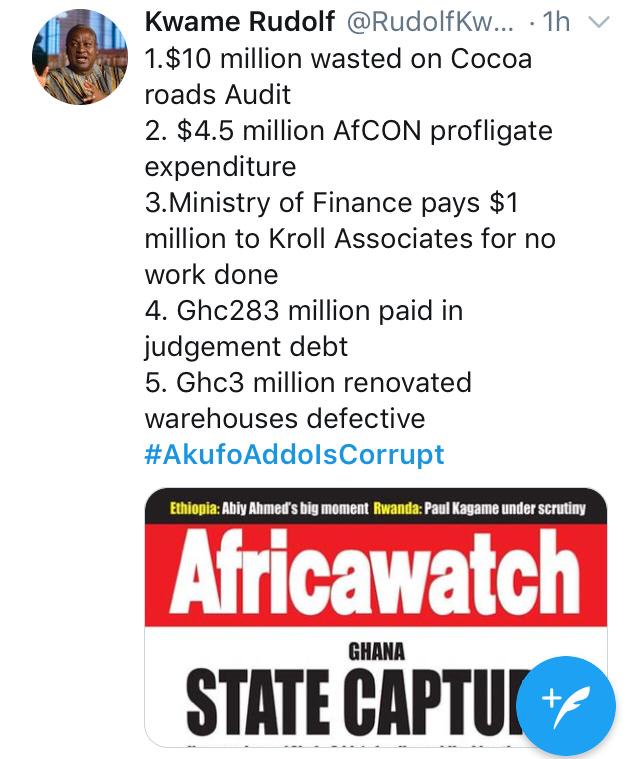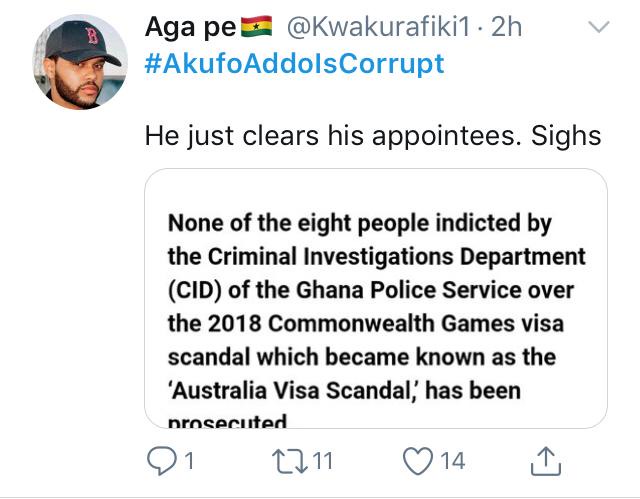 READ ALSO; NPP And NDC Customers At Kumasi Mall Fight Among Themselves Over Which Political Party Built The Mall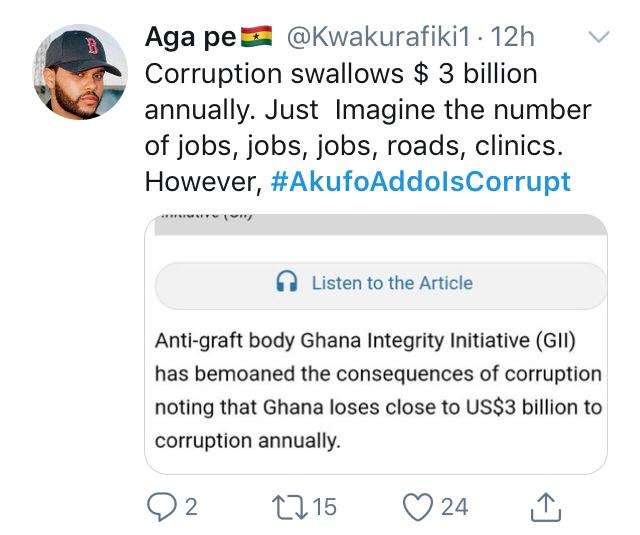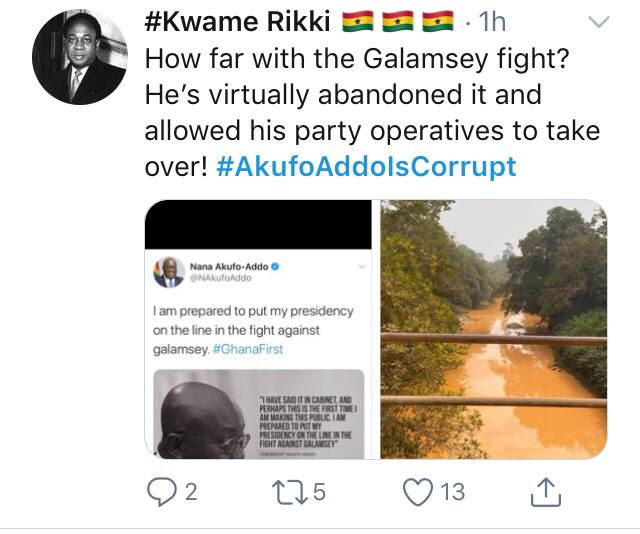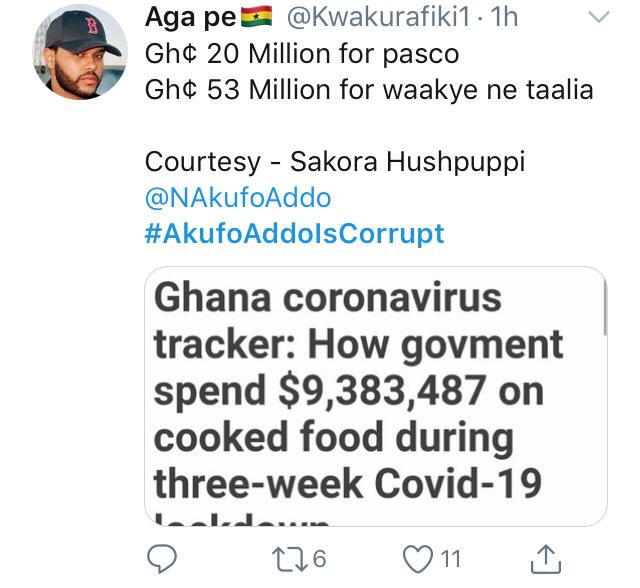 Kindly check this link to follow the conversation;
https://twitter.com/search?q=%23AkufoAddoIsCorrupt&src=trend_click
RAED ALSO; Ex-Prez Mahama Announces $10bn BIG PUSH Infrastructural Plan
Our Vigilance Has Reduced Foreigners On Number Of Voters- John Boadu
The General Secretary of of the governing New Patriotic Party (NPP), Mr John Boadu says the vigilance of the party's polling agents during the mass voters registration exercise which ended last week has led to a drastic reduction in the number of voters in constituencies along Ghana's borders.
According to him, this was achieved by the vigilance of the party's agents in challenging foreigners, mostly those close to the border towns from registering.
Join our Telegram Group to get notified when LATEST NEWS IN GHANA & JOBS IN GHANA are posted. Click Here to Join EnewsGhana Website Telegram Group
He said in some border constituencies, the number of voters on the register reduced by over 12,000 people as compared to what existed on the previous voters register.
Mr Boadu was addressing a press conference in Accra Monday afternoon, August 10, 2020 on the just ended mass voter registration exercise.
New Registration Helped To Reduce 'Bloated' Register
Arguing in support of the Electoral Commission's decision for the new voters register, Mr Boadu said the exercise has helped to prevent about three million names from staying on the electoral roll which hitherto should not have been there going by the law.
He said at the end of the voter registration exercise last week, the EC registered a little over 17 million people.
That, according to him, if the EC should have gone ahead to use the old voter register and conducted a limited registration exercise, per the statistics, the EC would have added three million more people who are not qualified to register, hence increasing the figure to over 20 million people.
Join our WhatsApp Group 3 to get notified when new Job Vacancies in Ghana are posted. Click Here to Join Our Jobs in Ghana Website WhatsApp Group 3