2 Times Ghanaian Female Celebrities Allegedly Married The Indian Way
Today, in this articles, I will be sharing with you some popular female Ghanaian celebrities who were alleged of marrying the Indian way.
In Ghanaian culture, during marriage, the man is expected to pay the bride price and take care of everything concerning the marriage but there are some popular Ghanaian celebrities who did vice versa.
They rather went the India way where the woman rather marries the man.
Below shows some popular Ghanaian celebrities who got married the India way;
1. Afia Schwarzenegger
Popular Ghanaian comedienne and media personality, Afia Schwar is one of the Celebrities who rather married her husband instead of the husband marrying her.
Afia Schwar disclosed she borrowed money to wed her divorced husband, Abrokwa.
How she made this revelation
About a year ago, video circulated on social media where the controversial comedienne's ex-husband threated to pour acid on her after he caught her in the act cheating on him.
In the video, Afia Schwarzenegger was spotted begging for forgiveness from her ex-husband. In the process as she begs, she revealed that she had borrowed money for their wedding.
Why would she borrow money to marry a man
It was alleged by her former bestie, Mzbel that Afia knew that no man would ever show her love or care for her so he decided to go for loan from the bank to marry her ex-husband, Abrokwa.
2. Xandy Kamel
The popular actress and media personality was alleged of borrowing money to marry her husband.
Not long ago, Xandy Kamel tied the knot with one TV sports journalist King Kaininja in a beautiful wedding but it has been alleged that the actress had borrow money to wed her husband and she also takes care of all finances at home.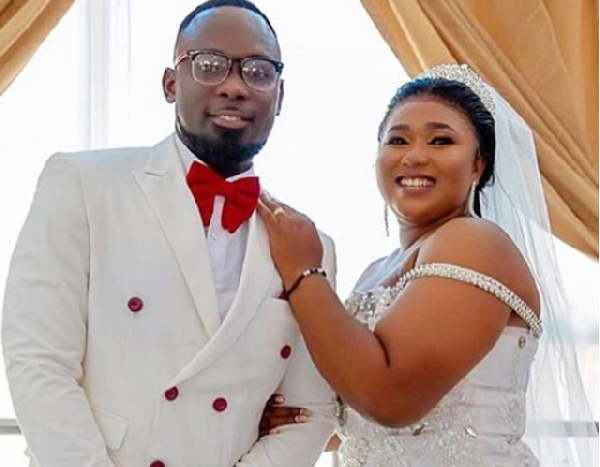 This allegation circualted on social media after Xandy Kamel was sued one million Ghana cedis by Salma Mumin for defamation.